Feb. 08, 2018
This part mainly focus on learning basic information about the gear train, cylinder head and valve system of Deutz 226B diesel engine.
3.4 Gear Train
When the l"cylinder piston is at TDC, the mark " 0" on the teeth of crankshaft gear is corresponding to the "O -0" mark on two tooth of camshaft gear, and the mark "O" on injection pump drive gear is corresponding to the mark "O - 0" on injection pump gear (see fig. 11).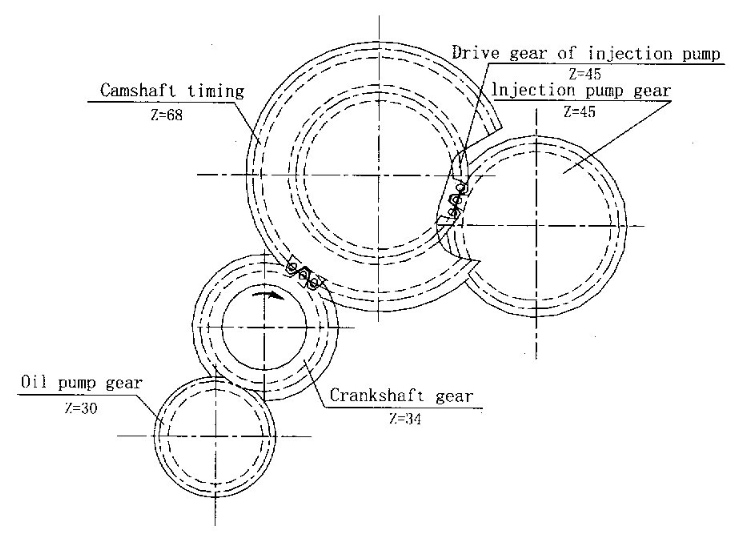 Camshaft gear is fastened on the camshaft with four M10 x l. 25 - 10. 9 bolts, and the four screw holes are uneven distributed for easy aligning of marks on the cam and the gear. The tightening force of these bolts are 85 +5Nm. Injection pump drive gear is connected with camshaft gear by four M8 - 12. 9 bolts, and the tightening force is 85 +5Nm. Injection pump drive gear and camshaft gear can be moved relatively. If the injection advance angle cant be reached by adjusting the injection pump, change the relative position of the two gears.
3.5 Cylinder head and valve system
Cylinder head: made of alloy cast iron, one cylinder one head ( with one intake valve and one exhaust valve). The intake/exhaust ports are at the same side of the head. There is a seat ring on he intake/exhaust port respectively. For turbocharged engine, the intake valve seat cone angle is 120°, and the exhaust valve seat cone angle is 90° (fig.12).
The width of valve sear face: 2.0-2.7 mm (intake valve seat)
1.4-2.0 mm (other valve seat)
The injector is at the opposite side of intake / exhaust ports and forms an angle of 65 with the bottom face of cylinder head. There are two water outlet ports available. One is on the top face of cylinder head and the other is at the intake /exhaust port flange.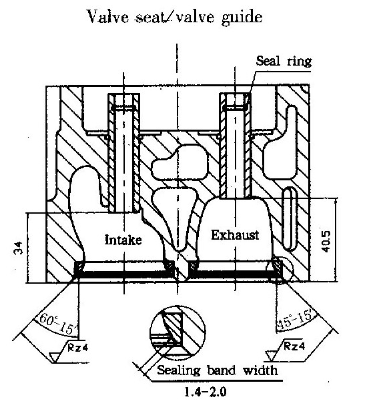 Valve guide: made of phosphor cast iron, and phosphate coating. Intake valve guide legth is 58mm, exhaust valve guide length is 51.5 mm. Mounting position of valve guides are shown in fig 12. there are grooves and a rubber seal ring on the inner wall of guide to prevent oil from entering into cylinder.
Valve system: composed of camshaft, tappet, push rod, rock arm bracket, valve, valve spring and some accessories.
Oil passage of valve system is shown in fig 14.
The oil cam from cylinder block enters into tappet and the spherical of push rod through the ring groove on the tappet, and then into the hollow push rod, the rocker arm adjusting screw, the maker arm and arm shaft to lubricate the friction surface of rocker arm and valve.
Cold clearance of valve:
Inlet valve clearance:0.2mm; exhaust valve clearance: 0.3mm.
Valve timing when the valve clearance is imm, Acceptable clearance:
±3°
Intake valve open:0°45' CA after TDC
Intake valve close: 8°15'CA after BDC
Exhaust valve open: 32°45' CA before BDC
Exhaust valve close: 0° 15'CA before TDC
Coat some clean oil on the surface of camshaft hole in cylinder block before mounting the camshaft. The fanlike stop plate for camshaft should be mounted. The stop plate is fixed with two M8-12.9 blots, it tightening force is 55+5Nm.
When mounting, coat some oil on the surface of rocker arm and rocker arm shaft. Rocker arm bracket is fixed with M10-8.8 bolt, tightening force is 40+5Nm. Lock up the rocker arm adjusting screw (M9x1) with a nut by force of 20+5Nm.
Valve: For turbocharged engine, the valve rod and valve head are made of different materials. valve rods are chrome plated. After the valve is assembled on the cylinder head, the valve cage is about l. 03 - 1. 42mm.
After cylinder heads are mounted en cylinder block, all intake/exhaust flanges must be on one plane to ensure the sealing of intake/exhaust manifold. Cylinder heads is fixed with four M14 -12.9 bolts coated with oil ( molybdenum disulfied is not permissible). The bolts should be tightened according to the sequence in Fig 15 by 3 times. First, tighten up with a force of 30Nm, then turn the nuts through an angle of 1200 , and then tum the nuts through another angle of 1200.
Caution: The cylinder head bolt w01 be elongated by 0. 2 - 0. 6mm. If the length from the end the bolt to山e support face is up t0 160.5mm, the bolt must be changed.
3.6 Fuel supply system
Fuel supply system is composed of injection pump, governor, fuel supply pump, fuel filter, injector, high pressure pipe, low pressure pipe and some accessories. (Fig. 16)
Injection pump and governor assembly:
Generally , injection pump, governor and fuel supply pump fall into one assembly. 226B diesel Engine adopts type AD and P Bosch injection pump and type RSV governor, some other types of injection pumps and governors are also adopted (see " Fuel system matching table" ).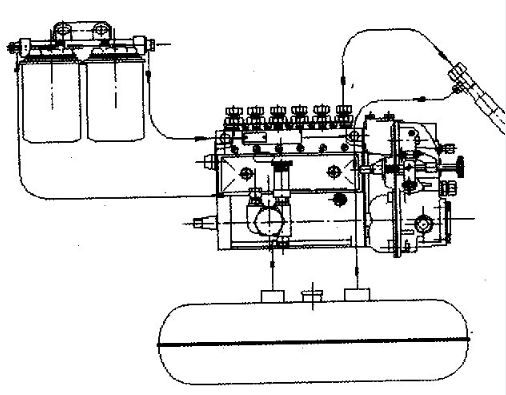 There is a mounting flange on the end face of injection pump and there is an 0 - ring on the end face stop. The injection pump is fixed with 4 studs, and tightening force is 35 +5Nm. When mounting of injection pump gear, the mark " 0" on injection pump gear should be faced with the ,- 0 _0" mark on the drive gear for injection pump (fig. 11).
We supply Deutz diesel generator set from 24KW to 500KW. For more information about Deutz 226B series operation and maintainance manual, please visit:
Deutz 226B Series Diesel Engine Basic Information
Deutz 226B Series Generating Diesel Engine