Feb. 06, 2018
226B series diesel engine is manufactured by Weifang Weichai Deutz Diesel Engine Company Ltd (composed of Weifang Diesel Engine Works and Germany Deutz Company).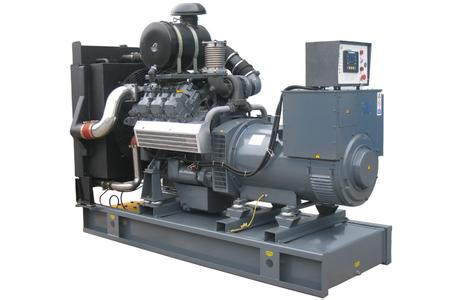 According to intake mode, 226B series diesel engine is divided into natural aspirating, turbocharging, turbo-charging and inter-cooling type. With 3,4 and 6 cylinder, it is a high speed, 4-stroke, water-cooled, in-line and direct-injection engine. It has advantages of reliable and economical in working, advanced technical data, low emission, good low-temperature star, simple operation and convenient maintenance. The speed range is 1500r/min-1800r/min and power range is 30-135KW. The symbols in each type of engine represent the following meanings: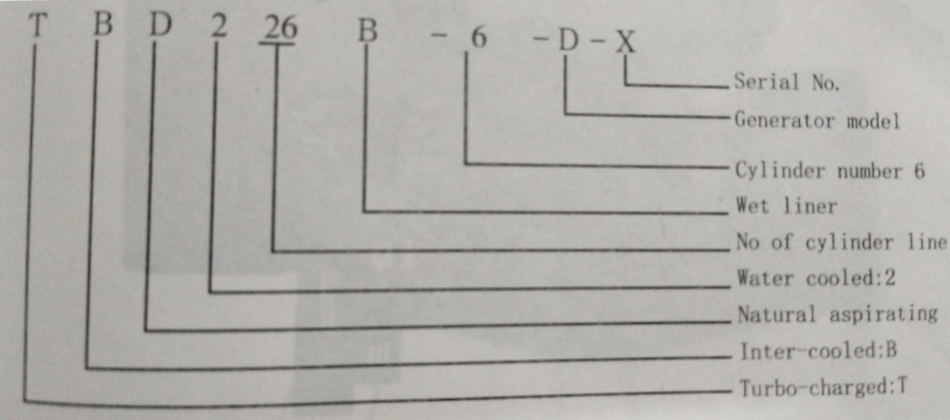 Nameplate is fitted on the engine in delivery, model, design number, power, speed, special number, manufacturer, address, manufacturing date and weight are marked on the nameplate. Each design number corresponds to certain engine, each model may has several design numbers. The serial umber is marked on the cylinder block and located under the oil filter seat. This manual introduces the main technical data, construction features, operation and maintenance methods and inspection points of 226B series diesel engine. It applies to all the generator engine model for the customers.
In order to make 226B series diesel engine provide better service for you, it is better for users to know the basic to refer to structures and the engine operating methods so as to play its active role. With the development of the production technology, the construction, accessories and performance parameters of 226B engine will be improved gradually. The product in the manual may be slightly different from the supplied one, pay attention to the supplementary manual. It is subjected to change without notice.
3.2 Cylinder Block Subassembly
Cylinder block subassembly mainly consists of cylinder block, liner, gear case, rear oil seal cover, flywheel housing and oil sump.
Cylinder block is made of high-strength cast iron, it has good strength and rigidity. For 3, 4 and 6-cylinder engine, cylinder block has 4, 5 and 7 main bearings separately. The thrust ring is fitted on the first main bearing (flywheel end). the main bearing cap is tightened by M14-10.9, the torque is about 70Nm and then the cap is turned for 90°. tightening order is shown in fig 2. first tighten the main bearing in middle, then tighten the bearing on both ends. For camshaft bearing holes in cylinder block, only the last one (free end) is fitted with bronze camshaft bushing. There are two holes in the bushing, one of them is aimed at the oil hole in cylinder block in mounting, another one should be upwards. For turbocharged engine and and turbocharged and inter-cooled engine, a jet per cylinder is mounted on the right of cylinder block (viewed from flywheel end) for cooling piston.
226B series diesel engine adopts wet cylinder liner. In order to guarantee sealing after assembling, there are two rubber seal rings on the upper and lower locating position of the liner respectively. The lower seal ring is set up in the seal groove on cylinder block and upper one is set up in the seal groove on the upper end of cylinder liner.
Before mounting, coat some lubricate grease on the seal rings.
The front end and rear end of cylinder block are connected with gearbox cover and rear oil seal cover and flywheel respectively. When mounting, coat some Loctite 5910 (or other alternatires of the same charas teristic) sealant on the contact surfaces of gear housing bolts (M8-8.8) is about 20-25 Nm.
There are SAE1 and SAE3 flywheel casings are available for different engines and applications. There is a observation window on the top or the bottom of flywheel casing for viewing the graduation on flywheel and defining the TDC and adjusting the fuel supply advance angle of injection pump. The flywheel and defining the TDC and adjusting the fuel supply advance angle of injection pump. The flywheel is fastened on cylinder block with M10-12.9 and M12-12.9 bolts.
Oil sump has two structural forms: cast and steel-punched. The connecting position of oil sump and cylinder block, gear case cover and lower bottom surface of rear seal cover are coated with Loctite 5910. it is tightened through M8-8.8 bolts. Dust proof is fitted between oil sump and flywheel housing.
We supply Deutz Diesel Genenrator with power range from 24KW to 500KW. Please contact us for more details.