Jan. 31, 2018
Operators should abide with safety rules when they use or operate diesel engine or diesel generator. Power equipment is easy to cause a fire or explosion if improper operation. In this article, we mainly introduce Volvo engine operation safety rules.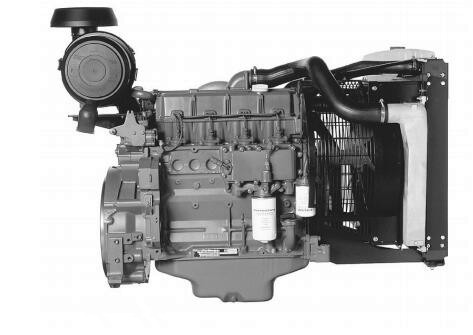 Daily checks
Make it a habit to give the engine and engine compartment a visual check before the engine is started and after operations, once the engine has stopped. This helps you to quickly discover fuel, coolant or oil leakages or any other abnormality that has occurred, or is about to occur.
Carbon monoxide poisoning
Only start the engine in a well-ventilated area. When operating in a confined space, exhaust fumes and crankcase gases must be ventilated.
Operation
The engine must not be operated in environments which contain explosive substance since none of the elec- trical and mechanical components are explosion proof.
Approaching a running engine is a safety risk. Hair, fingers, loose clothes, or dropped tools can catch on rotating components and cause severe injury.
When engines are supplied without safety guards, all rotating components and hot surfaces must be protected after installation in their application, if necessary for personal safety.
Fuel filling
There is always a risk of fire and explosion when filling fuel. Smoking is forbidden, and the engine must be stopped.
Never overfill the tank. Close the tank cap securely. Only use fuel recommended in the Operator's manual. The wrong grade of fuel can cause serious malfunctions, power loss or engine shutdown.
Cooling System
Avoid opening the coolant filling cap when the engine is hot. Steam or hot coolant can spray out and cause burns. At the same time the pressure built up is lost.
If the filler cap, coolant hose etc., have to be opened or removed when the engine is hot, undo the filler cap slowly and carefully, to let the pressure out before removing the filler cap completely and starting work. Note that the coolant can still be hot and cause scalding.
Hot surfaces and fluids
A hot engine always increases the risk for burns. Be on your guard against hot surfaces: exhaust manifold, turbocharger, oil sump, charge air pipe, engine preheater, hot coolant and hot lubricating oil in pipes, hoses etc.
Care and maintenance
Competence
Never carry out a job if you are not entirely sure how to do it. Contact your Volvo Penta dealer and ask for assistance instead.
Literature for more major tasks is available from your Volvo Penta dealer.
Prevent Start
Prevent the engine from being started by removing the ignition key and disconnecting the power with the main switch. Lock them in the "Off" position.
If the instrument panel does not have an ignition key, the engine compartment must be lockable, to prevent unauthorized persons from starting the engine. Alternatively, a lockable main switch may be used.
Stopping the engine
Stop the engine before opening or removing the engine hatch/hood. Service and maintenance work must be done with the engine stopped unless otherwise specified.
Fix a notice by the operator position to say that work is in progress.
Working with, or approaching a running engine is a safety risk. Hair, fingers, loose clothes, or dropped tools can catch on rotating components and cause severe injury. Volvo Penta recommends that all service work which requires the engine to be running be done by an authorized Volvo Penta workshop.
Lifting the engine
The lifting eyes fitted on the engine must be used for lifting. Always check that the lifting devices are in good condition and that they have the correct capacity for the lift (engine weight together with auxiliaries, if fitted). The engine must be lifted with an adjustable lifting boom for safe handling. All chains or cables must be parallel to each other and should be as square as possible to the top of the engine. Note that auxiliary equipment installed on the engine could change its center of gravity. Special lifting devices may then be needed to obtain the correct balance and safe handling. Never carry out work on an engine that is only suspended in a hoist.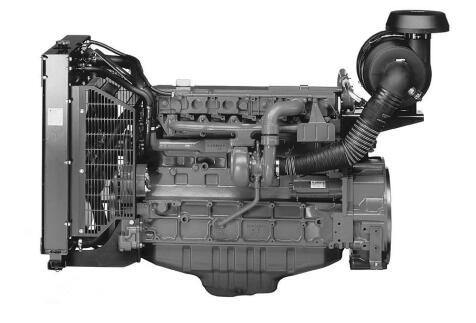 Fuel and lubrication oils
Always protect your hands when searching for leaks. Fluids which leak under pressure can force their way into body tissue and cause severe injury. There is a risk of blood poisoning (septicemia).
Only use the fuel recommended in the Operator's Manual. The wrong grade of fuel can cause malfunctions or engine shutdown.
Always change the oil, oil filter and fuel filter at the specified intervals.
Before re-starting
Re-install all guards which have been removed during service work, before re-starting the engine. Make sure that there are no tools or other objects left behind on the engine.
Never start a turbocharged engine without the air filter in place. The rotating compressor turbine in the turbocharger can cause severe injury. There is also a risk that foreign objects are sucked in, causing damage to the machinery.
Fire and explosion
Fuel and lubrication oil
All fuel, most lubricants and many chemicals are flammable. Always read and observe the advice on the packages.
Work on the fuel system must be done with the engine cold. Fuel leakage and spills on hot surfaces or electrical components can cause fires.
Store oil and fuel-soaked rags and other flammable material in a fireproof manner. Oil-soaked rags can self-ignite in certain circumstances.
Spare parts
Components in fuel systems and electrical systems on Volvo Penta engines are designed and manufactured to minimize the risk of explosions and fire, in accordance with applicable legal requirements. Using spare parts other than those by Volvo Penta approved spare parts may cause an explosion or fire.
Electrical System
Disconnect the power
Before any work is done on the electrical system, the engine must be stopped and the power switched off at the main switch(es). Any external power supply for engine heaters, battery chargers or other auxiliary equipment connected to the engine must be disconnected.
Electric welding
Remove the positive and negative cables from the batteries. Then disconnect all cables connected to the alternator. Disconnect both connectors from the engine control module.
Always connect the welder ground clamp to the component to be welded, and as close as possible to the weld site. The clamp must never be connected to the engine or in such a way that current can pass through a bearing.
When welding is completed: Always connect the cables to the alternator and engine control unit connector before reconnecting the battery cables.
Batteries
Batteries contain and give off an oxyhydrogen gas, especially during charging. This gas is easily ignited and highly explosive.
Smoking, open flames or sparks must never occur in or near to batteries or the battery compartment.
Incorrect connection of a battery cable or start cable can cause a spark which can be enough to make the battery explode.
Start spray
Never use start spray or similar preparations to aid starting an engine with air pre-heating (glow plugs / starting heater). They may cause an explosion in the inlet manifold. Danger of personal injury.
Batteries
Batteries contain a highly corrosive electrolyte. Protect your eyes, skin and clothes during charging and other handling of batteries. Always use protective goggles and gloves.
If acid comes into contact with your skin, wash at once with soap and a lot of water.
If you get battery acid in your eyes, flush at once with a lot of cold water, and get medical assistance at once.
Maybe You Also Like: Safety Precaution to Operate Volvo Engine