Jun. 06, 2018
On March 26, 2018, our company signed 12 sets ( 150KW, 300KW and 550KW) Volvo diesel generators with Pengxin Global Resources Co.,Ltd. The configuration is as follows:
Item names

Specifications

Quantity

Diesel Generator Set

XG-150GF Volvo engine TAD732GE

Starlight alternator TFW2-150-4

5

XG-300GF Volvo TAD1343GE

Starlight alternator TFW2-300-4

3

XG-550GF Volvo TWD1643GE

Starlight alternator TFW2-550-4

4

Spare Parts

Battery

720A, 830A, 930A




2 for each genset

Battery Line






1

Elbow pipe






1

Muffler






1

Data Box






1

Regulator

440 & 460

4 (Only for 550KW)

Relay






10 (Only for 550KW)

Fuse






10(Only for 550KW)
12 sets Volvo diesel gensets ordered by our clients adopt electronic fuel injection control technology, with high loading capability & reliable cold start performance.

Besides, the generating sets also have the following advantages:
* Stable voltage
* Reliable operation
* low emission
* Low noise
* Easy maintenance
* Good altitude adaptability
Our gensets meet ISO8528 international standard. Volvo engines meet ISO 3046, BS 5514 and DIN 6271 international standard.
Warranty: "three guarantees" ( for repair, replacement or compensation of faulty products), one year or up to 1,000 run time, whichever is sooner.
On May 23, 2018, the new Volvo electric generators were shipped to Democratic Republic of the Congo.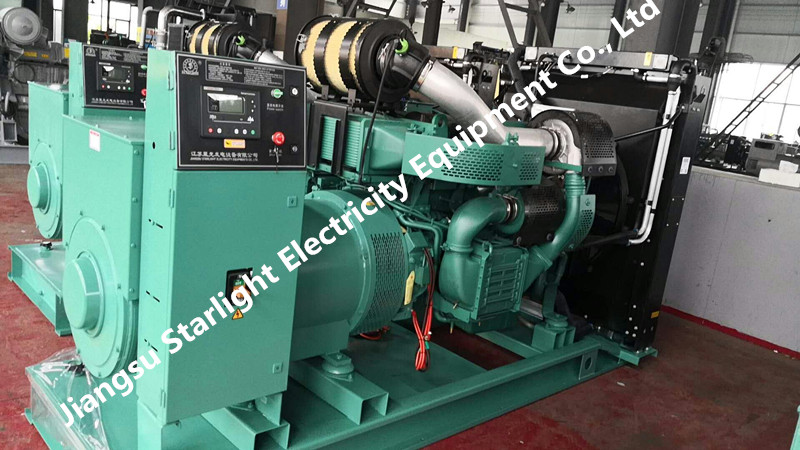 In 2009, the client purchased 4 sets Volvo power generators from our company. Power range is from 250KW to 350KW. According to client's feedback, Volvo genset is with good performance and it can effectively ensure the demand for electricity for all work. Due to the business expansion, the company chooses our Starlight company as their procurement supplier again. We are very grateful that cilent trust us.
Starlight company was established in 1974 and we are in the field of diesel generating sets manufacturing more than 43 years. All of our products are with CE/ISO approved. In recent years, Starlight company has cooperated extensively with Swedish Volvo, American Cummins, British Perkins, German Deutz, Korea Doosan Daewoo, German MTU, Ricardo, Yuchai, Shangchai, Weichai, Jichai, Tongchai, and Wudong and so on companies, and also become their OEM supporting factory and technology center.
Why Client Chooses Our Volvo Series Diesel Genset?
Starlight Volvo series environmental protection unit emissions reach Euro II and III and the European EPA environmental standards, it is in a leading position on the six cylinder engine and electronic injection technology, with small size, less fuel consumption, high precision, long life and other characteristics to win the praise of customers around the world.
* Powerful load-bearing capacity
* Smooth running,low noise
* Fast and reliable cold start performance.
* Exquisite and small shape design
* Low fuel consumption and low operating cost
* Low exhaust emissions, economic and environmental protection
* Service network all over the world, plenty of spare parts supply.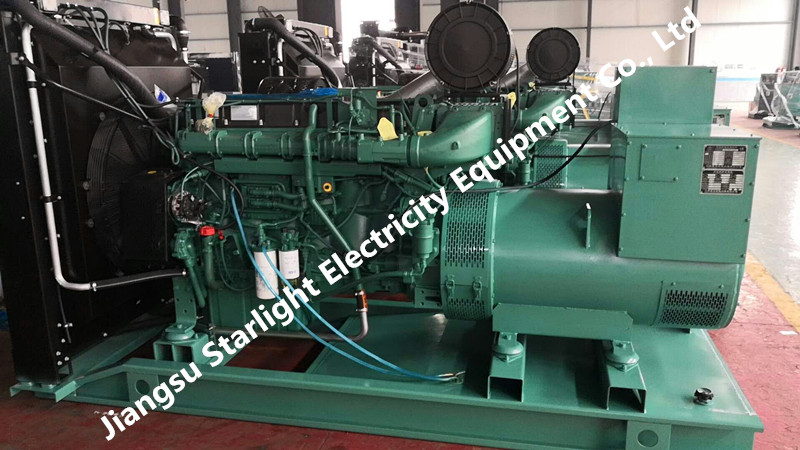 Cooling and ventilation system of Volvo gensets
* Standard Volvo diesel gensets use the closed cooling water cycle system
* Adopt fission type cooling system or heat exchanger system due to chamber conditions
* Air inlet and outlet should be in reasonable layout, to avoid the reflux of heating.
* Air inlet and outlet should meet the minimum clearance requirements.
Exhaust system of Volvo diesel gensets
*Volvo diesel gensets are equipped with an industrial muffler according to the standard.
*The exhaust system should reduce the quantity of elbow and shorten the total length of the exhaust pipe as far as possible.
*When the length and the quantity of elbow is beyond standard, should make an appropriate increase in the exhaust pipe diameter.
*The bellows shall be installed between the exhaust pipes and the sets for the purpose of isolation.
Noise suppression
*The noise reduction processing in the engine chamber can reduce the noise to 60 db (A). The noise-proof, super noise-proof, trailer noise-proof or vehicle noise-proof Volvo diesel genset can reduce the noise to 70-80 db (A).
Fuel supply system
* GF series Volvo diesel gensets need to be equipped with daily tank additionally .
* The height difference between the tank and the unit meets the requirements.
*The oil taking and returning pipe meets the size requirements.
* Installation of oil supply system conforms to fire protection rule.
* When the fuel is in poor quality, the installation of a oil-water separator is recommended.
Cable connection
*The air switch of Volvo diesel generator set below 500GF adopts moulded case air switch and hangs on the right side of generator (from the generator side).
* Soft connection is recommended in the cable connection.
* It is suggested that the cable should be prelaid in the cable slot and treated with impermeability and leakage prevention.