Oct. 09, 2018
This article will guide you to learn Leroy-Somer low voltage alternator - 4 pole installation and maintenance. It mainly introduces PMG excitation system. If you are interested, why not take a few minutes to read it?

SAFETY MEASURES
Before using your machine for the first time, it is important to read the whole of this installation and maintenance manual. All necessary operations and interventions on this machine must be performed by a qualified technician.
Our technical support service will be pleased to provide any additional information you may require.
The various operations described in this manual are accompanied by recommendations or symbols to alert the user to the potential risk of accidents. It is vital that you understand and take notice of the different warning symbols used.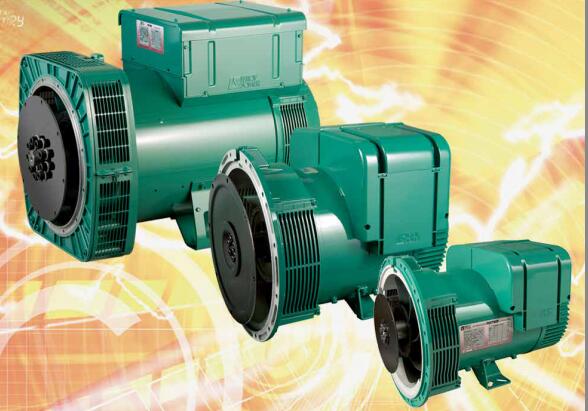 Warning symbol for an operation capable of damaging or destroying the machine or surrounding equipment.

Warning symbol for general danger to personnel.

Warning symbol for electrical danger to personnel.
WARNING SYMBOLS
We wish to draw your attention to the following 2 safety measures which must be complied with:
a) During operation, do not allow anyone to stand in front of the air outlet guards, in case anything is ejected from them.
b) Do not allow children younger than 14 to go near the air outlet guards.
A set of self-adhesive stickers depicting the various warning symbols is included with this maintenance manual. They should be positioned as shown in the drawing below once the machine has been fully installed.
WARNING
The alternators must not be put into service until the machines in which they are to be incorporated have been declared compliant with Directives EC and plus any other directives that may be applicable.
This manual is be given to the end user. The range of electric alternators and their derivatives, manufactured by us or on our behalf, comply with the technical requirements of the customs union directives (EAC).
© - We reserve the right to modify the characteristics of its products at any time in order to incorporate the latest technological developments. The information contained in this document may therefore be changed without notice.
This document may not be reproduced in any form without prior authorization.
All brands and models have been registered and patents applied for.
All servicing or repair operations carried out on the PMG and the alternator should be under-taken by personnel trained in the commissioning, servicing and maintenance of electrical and mechanical components; they must wear personal protective equipment appropriate for mechanical and electrical hazards.
1 - GENERAL INFORMATION
1.1 - Description
The PMG (Permanent Magnet Generator) is a system which is used to supply the short-circuit current to the alternator.
The PMG produces an AC current proportional to the speed, used as field excitation power by the AVR.
The PMG assembly forms a rotating part which can be fitted at the rear of the alternator as required.
Operating temperature:
- 20°C to + 70°C
Storage temperature:
- 55°C to + 85°C
1.2 - Identification
There are 7 types of PMG suitable for the LSA and TAL ranges of alternators.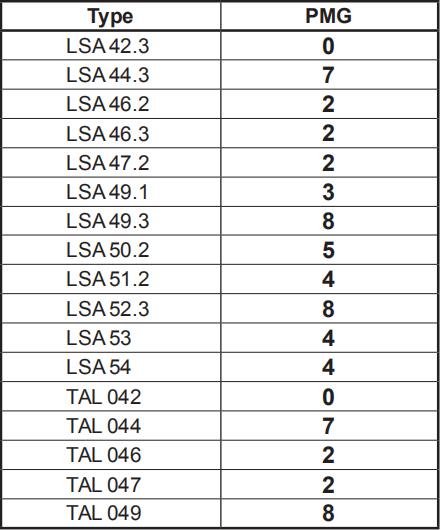 The PMG 0, 2, 3, 4, 5, 7 and 8 kits consist of a housing (A), a dummy shaft extension (B), a PMG rotor (C), a PMG stator (D), a cover plate (E), a spacer housing (F) (PMG 8 only) and a bag of accessories for mounting and electrical connection.
CAUTION: If mounting a PMG 0 on a SHUNT LSA 42.3 or TAL 042 alternator, choose a «PMG 0 + R438» kit.
If the voltage is higher than 480 V respect drilling according to the drawing below.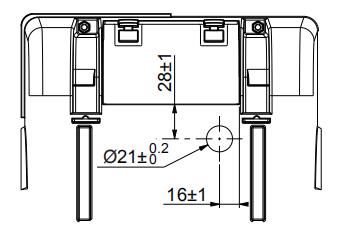 If mounting a PMG 2 on a SHUNT LSA 46.2 or LSA 47.2 or TAL 047 alternator, choose a «PMG 2 + R450» kit and on a SHUNT LSA 46.3 or TAL 046 alternator, choose a «PMG 2 + R450M/T» kit.
If mounting a PMG 7 on a SHUNT LSA 44.3 or TAL 044 alternator, choose a «PMG 7 + R438» kit.
If mounting a PMG 8 on a SHUNT LSA 49.3 or TAL 049 alternator, choose a «PMG 8 + R450M/T» kit.
It is not possible to associate these options: «regreasable bearing + PMG» for LSA 42.3 and LSA 44.3.
The regreasable bearing option is not available for TAL.
2 - OPERATION
2.1 - PMG excitation system
With PMG excitation, the permanent magnet generator (PMG) added to the alternator supplies the AVR with voltage which is independent of the main alternator winding. It is fitted at the rear of the machine and is connected to the AVR (the ST9 jumper must be disconnected).
As a result the machine has a short-circuit current capacity of 3 IN for 10 s.
The AVR monitors and corrects the alternator output voltage by adjusting the excitation current.
CAUTION: The PMG only works with R438, R450, R449 or D510C (incompatible with the R220 and the R250).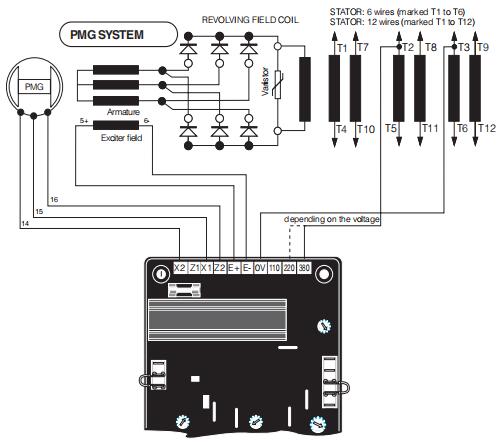 3 - TECHNICAL CHARACTERISTICS
3.1 - Electrical characteristics
| | | | | | |
| --- | --- | --- | --- | --- | --- |
| Type | PMG 0/7 | PMG 2/3 | PMG 4 | PMG 5 | PMG 8 |
| Stator phase/phase resistance at 20°C | 0.77 ohms | 2.1 ohms | 1.4 ohms | 0.87 ohms | 0.72 ohms |
| No-load voltage at 1500 min-1 | 85V | 125V | 204V | 130V | 146V |
| No-load voltage at 1800 min-1 | 105V | 150V | 245V | 156V | 175V |