May. 08, 2018
Leroy-Somer Alternators Company Development History
1919, Leroy-Somer was founded by Mr Marcellin Leroy, in Angouleme, France.
1960, Leroy-Somer's business expanded throughout Europe.
1960, Leroy-Somer began to expand its business worldwide.
1980, With the new offices in Singapore and Australia, Leroy-Somer officially entered the Asia Pacific market.
1990, Leroy-Somer was acquired by Emerson.
1995, Fufa-Magnetek Joint Venture was formed.
1999, Emerson acquired Magnetek and renamed it as Leroy-Somer (Fuzhou) Alternator Co., Ltd.
2004, Emerson acquired 100% company ownership of Leroy-Somer (Fuzhou) Alternator Co.,Ltd.
2005, The company name was changed to Leroy-Somer Electro-Technique (FuzHou) Co., Ltd.
2007, Leroy-Somer Fuzhou's new company was relocated at No.l Emerson Road, Gaishan Town, Cangshan District, Fuzhou.
2009, A new low voltage alternator production line was launched.
2010, The l.5-3MW wind turbine alternator production line was launched.
2012, Leroy-Somer FuZhou phase II extension was completed and took up an area of 10,000 sqms.
2013, Power range was extended to 6000 kVA with large number applications in marine industry.
2015, 11 kV High-voltage alternator production line was launched in 2012,and will reach 13.8 kV in 2015.
2017, Nidec acquires Leroy-Somer.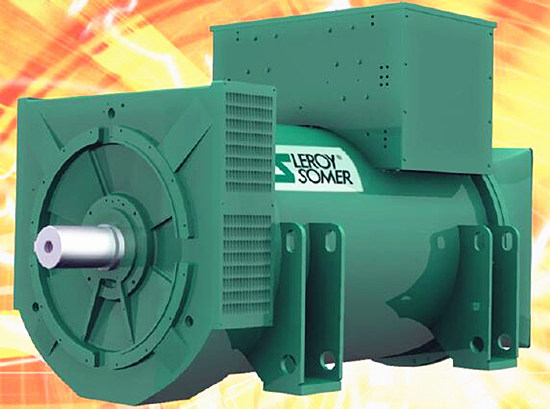 Leroy-Somer Electric Power Generation (EPG)
Leroy-Somer was founded in 1919. It is headquartered in Angouleme in southwestern France. Leroy-Somer EPG has more than 3,500 employees and generates around $1 billion in sales worldwide. It has total 10 production bases. Customers & products are supported by an international network of 470 sales and service centers which are capable of offering 24-hour uninterrupted sales support and technical assistance around the world. This ensures we can meet our customers' business development needs and provide them with high-quality services.
Since its inception, Leroy-Somer EPG has been the world-leading specialist in alternators with power ranging from 10 to 25,000 kVA.
Leroy-Somer Fuzhou
Leroy-Somer Electro-Technique (Fuzhou) Co., Ltd. is an important production base for the Asia-Pacific region, responsible for manufacturing high quality alternators, spare parts and for providing service support to customers in the Asia-Pacific and other regions.
Leroy-Somer Fuzhou manufactures alternators in accordance with the design, technology standards and quality control system requirements of Leroy-Somer France and North America. All the design, technology, material selection and quality control of our products are specified and supervised by the technical control center, located at the Leroy-Somer headquarters in France.
All Leroy-Somer Fuzhou products for particular applications or specific environments have obtained the necessary certificates issued by the following international organizations: LCIE, DNV, INERIS, EFECTIS, UL, BSRIA, TUV, CCC and GOST. Their technical performance complies with the standards and requirements of the respective certifications.
The Winning Advantages of Leroy-Somer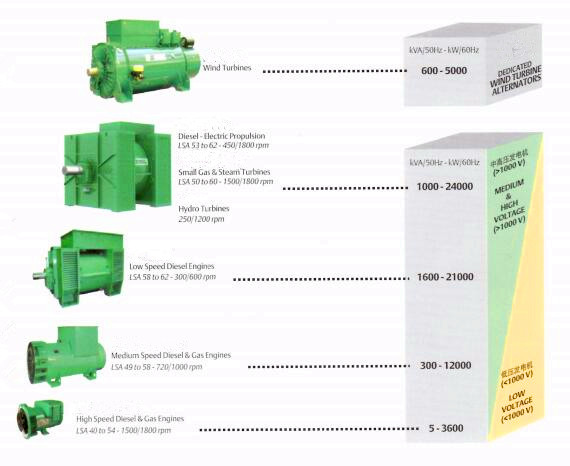 Global Leading Design
3D advanced design platform that uses FEA (Finite Element Analysis) to ensure a highly reliable design.
Compact structure design with high power density.
High Reliability
Independently developed AVR (Automatic Voltage Regulator) with a built-in LAM to effectively reduce the transient load impact on the engine.
High voltage adjustment accuracy for a stable electric power supply
Class H insulation used in the entire power range to ensure the excellent insulation performance.
MV/HV alternator form wound stator windings for excellent insulation performance during continuous operation.
Advanced Production Technology
VPI (Vacuum Pressure Impregnation) insulation process used in the entire power range for excellent insulating property.
Independently developed synchronous feedback test bench.
High Efficiency and Low Reactance
Higher efficiency and better energy savings for the same power output when compared to other brands.
Low reactance design for a good transient performance and good response capability for distortion load,which significantly improves the alternator starting ability in complex loading situations.
AREP - Patented Technology
AREP (Auxiliary Winding Regulation Excitation Principle) is a patented technology owned by Leroy-Somer. It is the optimal solution for dealing with the complex loads. The "AREP+PMI" (Permanent Magnet Insert) configuration can achieve all the functions of PMG (Permanent Magnet Generator), delivering higher reliability for various applications. For the past 40 years, Leroy-Somer AREP alternators have been adopted worldwide.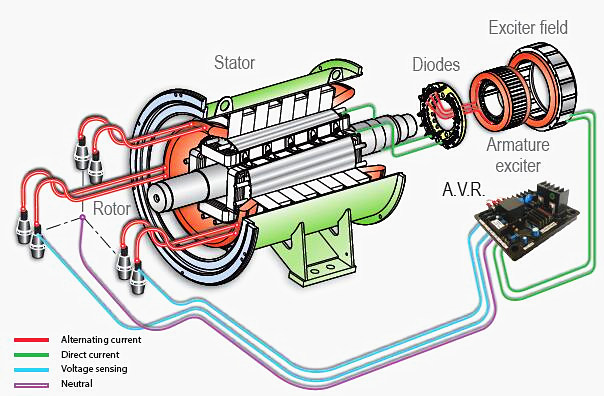 LAM Technology
LAM (Load Acceptance Module) is an electronic feature to help the engine in load change situations (load impact and load rejection) so as to comply with the stated results on voltage and frequency drop under ISO8528-3 and ISO8528-5 requirements,while allowing a larger load impact on the engine. For instance, in the case that the engine fails to take the load impact in G2 or G3 time criteria according to IS08528-5, the LAM device can help the engine recover. When LAM detects a change in frequency of more than 4%, it reduces rapidly the voltage by 13%, which reduces the load on the engine by 25%. That helps the engine recover speed and helps the alternator recover voltage faster.
Sales & Service Network
With its network of 470 expertise and service centers throughout the world, Leroy-Somer is capable of offering you the uninterrupted sales support and technical assistance you need, 24 hours a day, 7 days a week in any part of the world. Wherever you are, Leroy-Somer engineers equipped with the most advanced computer tools, can provide support on a daily basis for all stages of your project, including pre-engineering, project definition and alternator selection. Leroy-Somer can also train your technicians, either in our premises or on site. The company has at its disposal modern, high-performance computer tools to provide you with prompt service and to take into account of any operating constraints.
Product Applications
Commercial/Industrial: 15 KW to 2000 KW
Building & Construction: 5 KW – 4000 KW
Telecome: 5 KW – 2000 KW
Data Centers: 5 KW to 2500 KW
Nuclear: 100 KW – 10 MW
Prime Power Plants: 30 KW – 25 MW
Hydro: 400 KW – 25 MW
Mining: 5 KW -8 MW
Oil & Gas Onshore: 350 KW – 20 MW
Comprehensive Product Applications
Many genset companies have chosen Leroy-Somer as their preferred global strategic partner. As a result, every l in 4 alternators throughout the world is made by Leroy Somer. They are widely used in residential & commercial buildings, power plant, nuclear, hydropower, railway, marine, internet data center, oil & gas and military applications. Leroy-Somer alternators are highly compatible with all domestic and international prime engine brands. Wind turbines and marine generators that meet the technical standards of each classification society are also available. Leroy-Somer has been in the China market for more than 25 years. Leroy-Somer alternators have been used in the projects of Qinghai-Tibet Railway, China General Nuclear Power Group, China Mobile, Beijing International Financial Center, Shanghai Zhenhua Port Machinery, Daqing Oilfield, Chunxiao Oil & Gas field, Sinovel-Wind Turbine, Beijing Olympic Games and Shanghai World Expo, etc.
Oil & Gas Offshore: 350 KW – 20 MW
Marine: 15 KW – 20 MW
Defense: 400 KW – 20 MW
Traction: 15 KW -82 KW
Rail: 10 KW – 1000 KW
Aviation: 12 KW to 100 KW