Dec. 10, 2019
Silent generator set is a widely used generating equipment in the current market. This type of generator is suitable for noise in the urban environment. The special noise reduction and silencing material for silent diesel generator sets can greatly suppress the extension of mechanical noise and reduce the noise to less than 75 decibels.
Silent generator set recommended: Starlight Power
Starlight silent generator set adopts vibration isolation, noise reduction, sound insulation, sound absorption, fireproof, high temperature resistance, rainproof, anticorrosion and so on noise reduction technical measures, which can greatly reduce its noise index. This series of genset has remarkable low noise performance, multi-layer shielding impedance mismatch type soundproof cover, reducing the impact of noise on users. Starlight soundproof generator noise level can reach 70 dB even better, with low fuel consumption, reliable performance and easy operation features. Power range is from 20KW to 2000KW.
Starlight silent diesel generator set can be divided into two types, one is common silent type with power range from 20kw to 500kw. Another is container silent diesel genset with power range from 500kw to 2000kw. We can recommend suitable generator type according to users' requirements. No matter it is common silent generator or container silent generator, it is waterproof and anti-rust.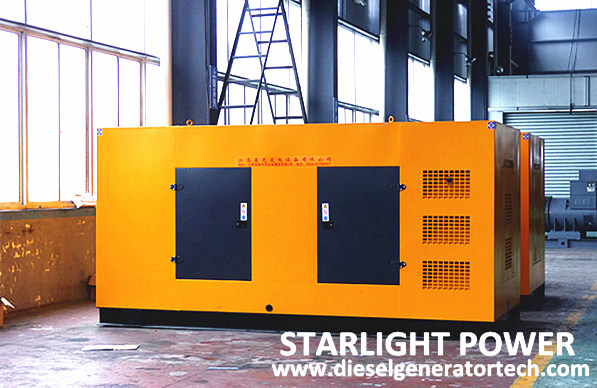 Brand Recommended: Cummins, Perkins, Volvo and Yuchai.
Advantages of Cummins generator: Good quality, low fuel consumption, low noise, big output power and reliable performance. Their reliable stability, economy, power performance, durability and environmental safety is welcomed by customers all over the world, and Cummins offers a warranty of the global "Three Gurantee". Besides, Cummins generator adopts electronic governor, with protection functions such as alarm and automatic parking for too high temperature in the cooling water, too low oil pressure or too high speed, etc.
Cummins has built a professional service network worldwide, which provides after-sales services and supplys spare parts for 24 hours a day.
Accessories: 24V DC free-maintenance battery, industrial silencer, elbows, and bellows, maintenance tool, etc.
Advantages of Perkins generator: Perkins is committed to product quality, environment and economy. Strict implementation of ISO9001 and ISO14001 standards, the product has high emission standards, high economy, high stability, high reliability and other characteristics. Perkins diesel generator usually adopts Stamford or Leroy-Somer brushless self- excitation AC generator. Perkins generator control cabinet is basically equipped with voltmeter, ammeter, water temperature gauge, oil pressure gauge, controller, emergency stop button, preheat button, battery voltmeter, timetable, phase selection switch, etc. Perkins features with stable running, small vibration, low fuel consumption, low oil consumption, long running life and short overhaul and low noise.
Advantages of Volvo generator: Volvo Penta is the only manufacturer in the world to focus on inline four-cylinder and six-cylinder diesel engines, and it is in a leading position on this technology. Volvo generator adopts full electronic fuel injection control technology, with high performance and high reliability. It has the advantages of excellent starting performance, stable voltage, reliable operation, low emissions, low noise, convenient maintenance, etc. It has good economics and good adaptability to plateaus.
Typical features:
1. High load-bearing capacity and fast and reliable cold-start performance, low-resistance supercharger and fast-response fuel injection system make the engine have higher load-bearing capacity in a short recovery time.
2. The heater is installed in the intake manifold, making it easy to start the engine when the ambient temperature is low.
3. The appearance is small and exquisite compared with other products.
4. Smooth operation, low noise, optimized design of shock-absorbing body, precisely matched supercharger, low-speed cooling fan. Low exhaust emissions, low operating costs, typical smoke exhaustion is less than 1 Bosch unit;
Advantages of Yuchai generator: Yuchai mainly produces 6-cylinder, 12-cylinder and 16-cylinder generator diesel engines. It is a well-known engine brand in China with a wide power range from 20kw to 2400KW. Yuchai not only produces diesel engines for land generators, but also produces marine generators and gas generators. Yuchai generator adopts four valves, supercharging and intercooling, electronically controlled high-pressure common rail, and electronically controlled single pump configuration. It is characterized by energy saving and environmental protection, high reliability, stable operation, good transient speed regulation, strong loading capacity, and low lubricating oil consumption, low vibration and easy maintenance.
Although Yuchai is a Chinese brand engine, it has 12 overseas marketing offices, 3 overseas marketing regions of marine and G-Drive engines throughout Africa, the Middle East, and Southeast Asia. Yuchai generator is cheap and good quality, is the preferred brand of silent generator.
As we know that daily maintenance of silent generators is very important. How should we maintain the generator? To keep all parts clean, always check the tightening of parts such as hub bolts, nuts and split pins to keep them secure and reliable. Grease shall be added to the swing shaft sleeve, front wheel shaft and steering knuckles, etc; check the oil level of idler wheel, guide wheel, track roller, etc. frequently, add lubricating oil if necessary, and clean and replace oil regularly as required. Only in this way can the service life of the generator set be improved. Baffles should be appropriately added near the ventilation inlet and outlet to reduce fan noise and reduce the adverse effects of external wind.