May. 30, 2020
1. Self-starting function
Remote monitoring function, equipment and supporting facilities status signal (current, voltage, frequency, power factor, temperature, oil pressure, charging voltage, charging current, etc. and fault signals) should be uploaded.
The following technical requirements apply to different brands of diesel generator sets.
Rated voltage: 400/230V
Rated power factor: 0.8 lag
Rated frequency: 50Hz
Phase and connection mode: 3 phase 4 wire, "Y" connecting
Rated speed: 1500rpm
Voltage regulation: Automatic
Starting way: Electric start
Steady state voltage adjustment rate: ≤ 0.5%
Transient voltage adjustment rate: ≤±15%
Transient frequency adjustment rate: ≤±10%
Frequency stabilization time: ≤3S
Voltage fluctuation rate: ≤±0.5%
Frequency fluctuation rate: ≤0.5%
Voltage harmonic distortion:<4%
No-load voltage stability range : 95% - 105%
Genset efficiency: ≥90%
Noise: 70dBA (at 7 meters distance.)
Shock absorption: With built-in shock absorption device and with anti-aging material, the unit can be directly placed on the floor of the machine room. Maximum amplitude <0.05 cm
Relative humidity: ≤95%
Working temperature:-10℃ ~ +50℃
Excellent low temperature starting performance
Automatically start within 3-6 seconds after the mains supply power off
Single-step loading capacity is 100%, and the rated voltage is reached within 30 seconds.
The storage capacity of the fuel tank can be operated for 8 hours at full load.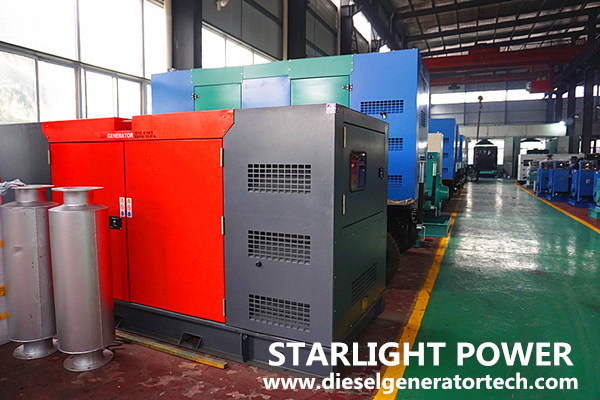 2. Diesel Engine
The engine shall be a four-stroke turbocharged diesel engine.
No. of cylinder: ≥ 4 (0KW), ≥ 6 (135KW)
Cylinder arrangement: In-line type or V type
Cylinder volume: ≥4.5L (90KW), 6.5L (above 135KW)
Compression ratio: ≥ 16:1
Rated speed: 1500 rpm
Diesel fuel: 0# diesel
Dailt fuel tank: not less than 8 hours fuel tank
Preheating device: Genset is equipped with a low temperature starting preheating device.
Fuel consumption rate: ≤ 2.7 g/kWh (100% load)
Starting mode: Electric start
Cooling way: Closed water cooling or air cooling
Maximum smoke output: ≤300 L/s (90KW), ≤ 500L/s (135KW), ≤ 800 L/s (200KW)
Maximum exhaust temperature: ≤580℃
Automatic speed adjustment
3. AC generator
Excitation mode: Brushless self-excitation
Insulation: Class H
Protection level: IP22 – IP23
Voltage regulation: AVR (automatic voltage regulation)
Can withstand large unbalanced current: Max. 25% rated phase current
When the generator is on a certain three-phase symmetrical load, any one phase plus 20% of the rated power resistive load, and the total load current of any phase does not exceed the rated value, it should be able to work normally for 1h. The difference between the maximum (minimum) value of the line voltage and the average value of the three-phase line voltage does not exceed 10% of the average value of the three-phase line voltage.
The generator can be overloaded 1.1 times the rated current at rated voltage for 2min. The generator should match to the overload capacity of the engine, that is, with a period of 6h, it can run at 110% rated load for 1h without exceeding the temperature rise limit.
Low-frequency oscillations shall not occur when the generator supplies power to the phase-controlled rectifier, switching power supply, UPS or other loads.
4. Generator is equipped with control cabinet
The control cabinet screen can display the following contents: three-phase line voltage, phase voltage and frequency, generator set, three-phase line voltage and phase voltage, three-phase current, frequency, power factor, active power, reactive power, leakage current, oil pressure, water temperature, speed, battery voltage, charging current, fuel level, operating time, input and output points, date, etc. It has the following functions:
Realize three remote monitoring system and microcomputer interface
Circuit breaker: frame type, using the same brand of circuit breaker as the low voltage system
With manual / automatic adjustment of output voltage / frequency
With emergency stop running switch, normal stop / run, warm-up, start and other function switches (manual operation / automatic operation / test)
With engine overspeed, low lubricating pressure, high water temperature, generator overload, output voltage too high / too low alarm and protection functions.
With various operation, alarm indicator and alarm light test functions
With three-phase mains detection
With static automatic charging system (including charger low voltage fault alarm)
5. Alarm system and display
The alarm display is based on the preset alarm value. When the operating parameters of the generator set exceed the alarm setting, which may affect normal use or damage the equipment, a protective action is implemented. The protective action can be set to start and stop. The alarm should include at least the following contents:
When the mains voltage is too high or too low, the phase is missing or the phase sequence is reversed, the genset is automatically commanded to start and switch to power supply by the genset.
Generator overload protection
Generator short circuit protection
Generator high and low voltage protection
Generator high and low frequency protection
Reverse power protection
Generator leakage protection
Generator phase sequence detection and protection
Engine low oil pressure protection
Engine high water temperature protection
Low cooling level protection
Start failure alarm
Low fuel level alarm
Low fuel level protection
High battery voltage alarm
Low battery voltage alarm
Charge failure alarm
Short circuit protection
Ground Fault
6. Protective measures
Noise reduction measures: adopt more advanced noise reduction technology, or take other noise reduction treatment (only for the noise reduction of the generator set, such as the use of noise reduction cabinet, the machine room does not do special noise reduction treatment. )
Smoke exhaust measures: Install smoke exhaust pipes with noise reduction function (supporting facilities)
Heat dissipation measures: install heat dissipation slots and one piece of each inlet / outlet shutter (supporting facilities)
The outdoor generator set must have effective measures against rain, sun, wind, theft and electrical safety.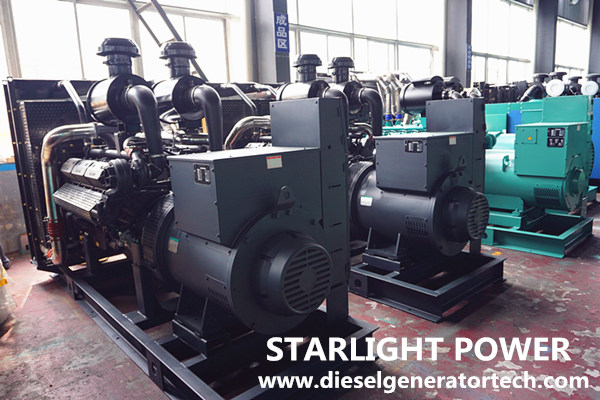 7. Automation performance
(1) Automatically maintain the ready-to-run state
The oil pressure, oil temperature, and cooling water temperature during emergency start-up and rapid loading of the unit shall be accordance with the technical requirements of product.
(2) Automatic start and load
(a) The unit shall be able to start automatically after receiving the automatic control or remote control startup command, For the standby generating set used in conjunction with the commercial power grid, when the grid voltage drops (380V ~ 20% ~ + 15% adjustable), or the power supply is interrupted or the phase is missing, the unit shall be able to start automatically after 5S delay.
(b) When the unit fails to start for the third time, it should send a start failure signal.
(c) Time from automatic start command to load power supply ≤ 12S (time can be set).
(d) After the genset is automatically started successfully, the first load ≥ 50% of the rated load.
(e) The unit should be able to operate automatically and reliably after being connected to the rated load.
(f) The success rate of unit self-starting is not less than 98%.
(3) Automatic shutdown
After receiving the automatic control or remote control shutdown command, the unit should be able to automatically shut down. For the standby unit used with the mains grid, when the grid returns to normal, the unit should be able to switch automatically after 60S delay. Power supply from the grid to the load, the unit automatically brake, and automatically slow down to the setting value, automatically stop after 2min of on-load operation. (time can be set)
(4) Automatic supply
The fuel is automatically replenished, and the storage battery is automatically charged when the genset starts. It should meet the requirements of the product technical conditions.
(5) Automatic protection
The protection items that cause the unit to stop automatically or send out a photoacoustic signal are as follows:
Output voltage is too low / high
The output current is too high
High / low frequency
Overspeed
Low speed
Emergency stop with emergency stop button
Start failure, three start failure alarm
The oil pressure is too low, below 1.5bar
The water temperature is too high, depending on the engine
Battery voltage is too low, there are warnings of battery voltage too high and too low.
Short circuit protection, according to the power of the generating set, the short circuit protection current can be set.
Ground fault
When the fuel level is too low, below 5%, the unit protection shutdown (the size can be set).
8. Other
(1) The automatic change-over switch requires both electrical and mechanical linkage. The two-way inlet and one-way outlet structure ensure that only one power supply can be connected in the entire circuit, avoiding the reverse power transmission caused by the simultaneous connection of two power sources. The automatic transfer switch has three positions of I-0-II, which is convenient for circuit maintenance, and is equipped with three remote monitoring interface and implementation software, which is convenient for automatic switching and manual switching of the monitoring switch.
(2) Both automatic shutdown and manual shutdown of the genset should have normal shutdown and emergency shutdown.
(3) The pre-lubrication, startup and shutdown, frequency and voltage regulation, power transmission and power failure of the generator set should be manually controlled.