Jul. 17, 2018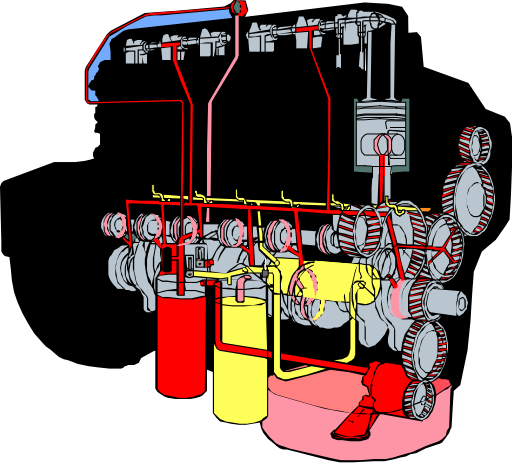 Function
General
*Lower the friction *Keep clean *Rust protection *Cooling *Seal
Specific
*Prevent deposits * Prevent cylinder polishing * Effective lubrication at high temp
Effective lubrication
at low temp start-up
Prevent carbonised coal in:
- Piston ring grooves
- Piston skirt
- Valves
Oil production process (simplified)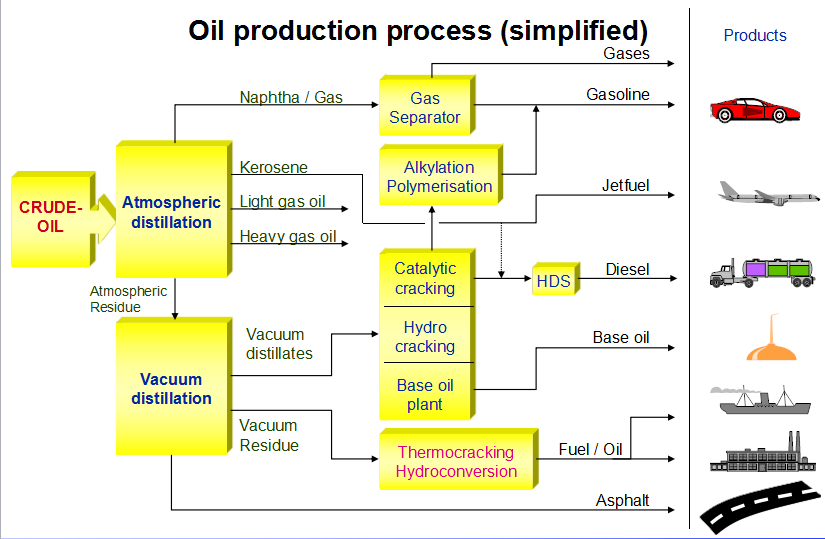 Basic oil and Additive
Basic oil can be of mineral or synthetic type.
Additive gives the performance.
Example of additives
Antioxidants
Anti wear additives
Detergents
Dispersant
Corrosion inhibitor
Synthetic oils
Advantages
Good performance at high and low temperature
High viscosity index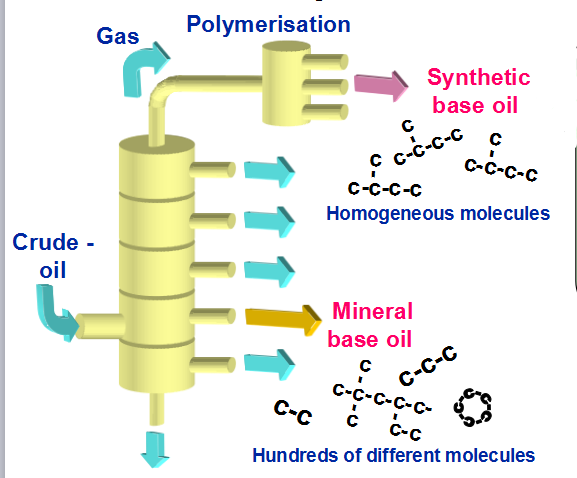 Disadvantages
Expensive
Can affect the seals in the engine
Viscosity
Measurement of fluidity
Dependent of the temperature
Viscosity classes according to SAE standards
Singlegrade "winter oil" SAE 10W (W=winter)
Singlegrade "summer oil" SAE 40
Multigrade "all year around oil" SAE 10W-40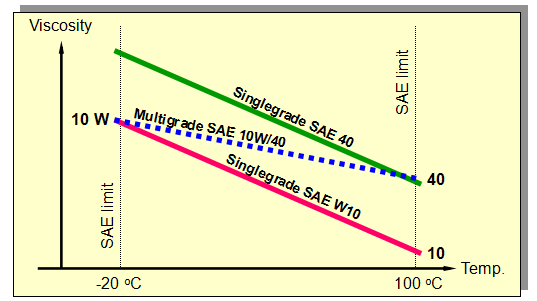 SAE-no for engine oils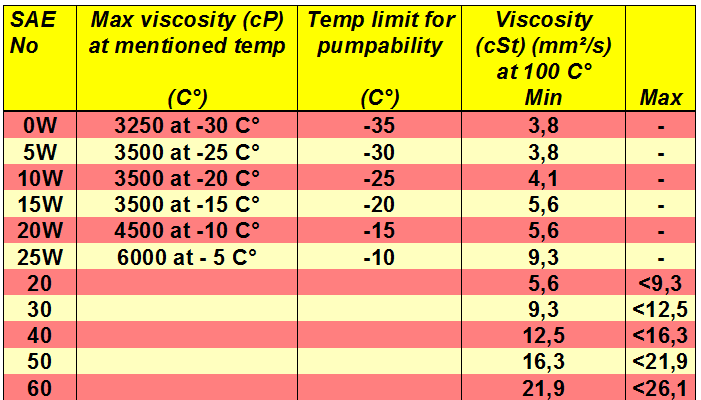 Specifications and Quality classification
API (American Petroleum Institute)
CCMC (Committee of Common Market Constructors) European system.
ACEA (Association des Constructeures d´Automobiles) replaces CCMC as from 1996-01-01
Lubrication oil service classes
Diesel engines
API CE, CF, CF-4, CG-4
CCMC D4, D5
CCMC PD-2 (Passenger car)
ACEA B1, B2, B3 (Passenger car)
ACEA E1, E2
Petrol engines
API SG, SH, SJ
CCMC G4, G5
ACEA A1, A2, A3
Difference between American and European demands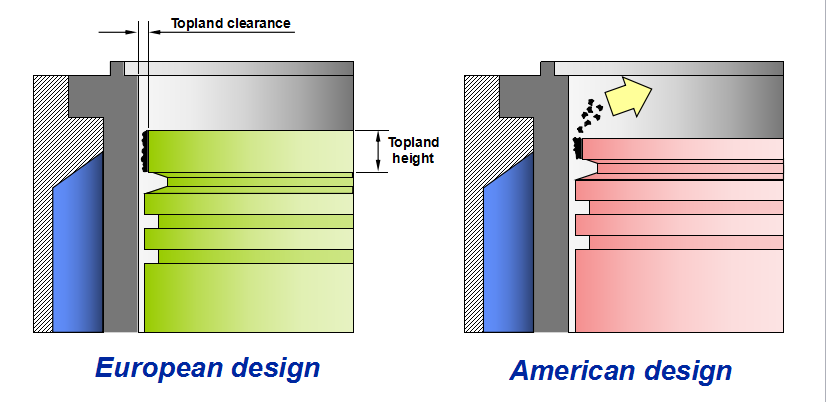 What happens to the oil during the combustion process
Piston ring and Cylinder liner wear
Piston ring wear
Poor oil quality
Poor fuel quality (high sulphur content)
Too long oil change intervals
Malfunction in the exhaust system, cooling system, inlet system
Cylinder liner polishing and glazing
Use of a poor oil quality
Low load running
Long idling periods
Carbon built up in piston ring grooves
Corrosion problems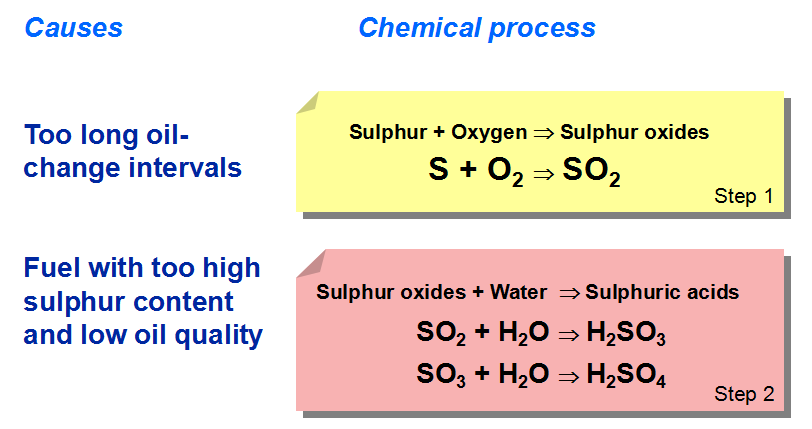 Oil drain intervals
Alterations will occur. - Please see owners manual for each engine type.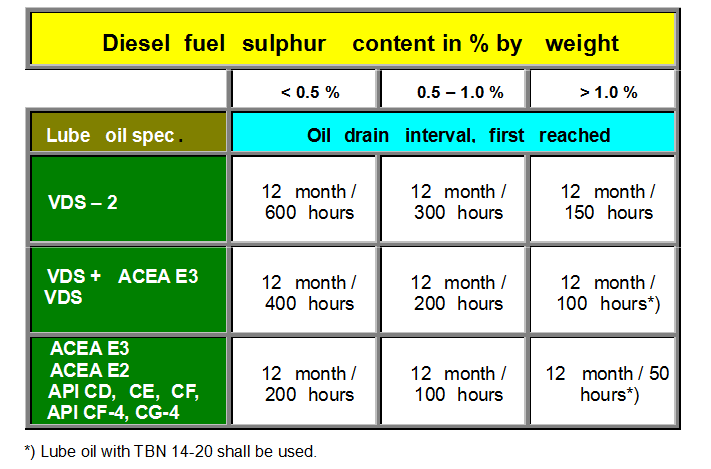 Lubrication oil analysis
TBN - Total Base Number - the ability for the engine oil to neutralise acids
VISCOSITY
WEAR METALS
Fe-Iron: Cylinder liner, camshaft,tappets,valve guides,crankshaft
PB-Lead: Big end,Crankshaft bearing shells (all types of sliding bearings)
Cu-Copper: Same as above
Sn-Tin: Surface layer of sliding bearings
Cr-Chrome: Piston rings, valve rods
Al-Aluminium: Pistons
Ni-Nickel: The layer between the surface and copper on sliding bearing
Si-Silicone: Sand, dirt etc
Insolubles: Carbonised oil, Combustion residues, soot
H2O-Water: Coolant water, Condensation water, water via blow-by
Fuel dilution: Incomplete combustion, leaking injectors
General effect of oil change interval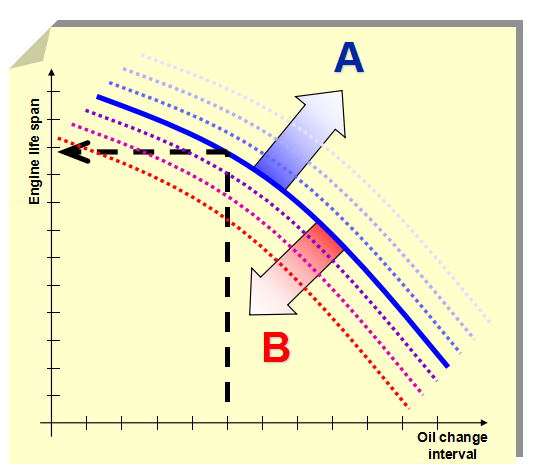 A
Good oil quality
Low sulphur content in fuel
Efficient filtration
Engine air supply
Good operating duty
B
Poor oil quality
High sulphur content in fuel
Long idling periods
High frequency of cold start