Apr. 14, 2020
300KW Cummins diesel generator set manufacturer shares the specifications with you.
1.Diesel generator set specification
Genset model: XG-300GF
Engine model: Chongqing Cummins NTAA855-G7
Alternator: Wuxi Stamford HCI 444FS1
Controller: Deep Sea 7320 MKII
Country of Origin: China
Genset type: open type/silent canopy type/mobile trailer type
Manufacturer: Jiangsu Starlight Electricity Equipments Co.,Ltd.
2.Diesel engine data
General engine data
Manufacturer: Chongqing Cummins Engine Co.,Ltd.
Model:NTAA855-G7
Prime power:343KW/460HP
Standby power:377KW/505HP
Cylinders: 6
Speed: 1500 r/min
Displacement: 14L
Bore x Stroke: 140 x 152 mm
Fuel System: direct injection Cummins PT
Aspiration: Turbocharged & Air-Air Cooled
Fuel Consumption: 85.4L/h(100% prime), 64.7L/h (75% prime), 44.6L/h (50% prime), 24.6L/h(25%).
All data is based on:
--Engine operating with fuel corresponding to grade No.2-D per ASTM D975.
--ISO 3046, Part1, Standard Reference Conditions of : Barometric Pressure:100kPa(29.5in.Hg);Air Temperature:
25°C (77°F) ; Relative Humidity: 30% Output Power Fuel Consumption
--Engine Operating with fuel system, water pump, lubricating oil pump, air cleaner and exhaust silencer, fan, and optional driven components.
Reference Standards:BS-5514 and DIN-6271 standards are based on ISO-3046.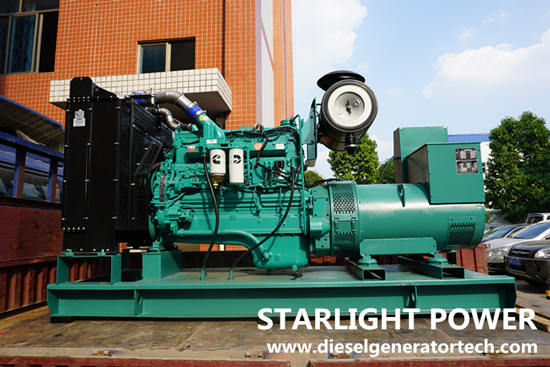 Engine mounting
Maximum Allowable Bending Moment at Rear Face of Block - 1000 lb./ft. (1356 N/m)
Exhaust system
Maximum Allowable Back Pressure -3.0in.Hg ( 10 kPa)
Standard Exhaust Pipe Diameter - 5.0in. (127mm)
Air induction system
Maximum Allowable Intake Air Restriction
-With Clean Filter Element - 3.74 in. H2O (15kPa)
-With Dirty Filter Element - 25 in. H2O (6.22 kPa)
Maximum Intake Pressure Fall from Turbo to Intake Manifold - 5.0PSI (17 kPa)
Maximum Intake Manifold Temperature Rise - 43 °F (24 °C)
Minimum Dirt Holding Capacity - 25g/CFM ( 53 g/L/s )
Cooling system
Coolant Capacity - Engine Only -5.5 U.S. gal (20.8L)
-With Radiator - 16.0U.S. gal ( 60.6 L)
Maximum Coolant Friction Head External to Engine - 6 PSI (41kPa)
Maximum Coolant Pressure (exclusive of Pressure Cap) - 40PSI (276 kPa)
Maximum Static Head of Coolant Above Engine Crank Centerline -46ft. (14.0 m)
Standard Thermostat (Modulating) Range - 180 - 202 °F (82 - 94 °C)
Minimum Allowable Pressure Cap -7.0 PSI (48.2kPa)
Maximum Coolant Temperature - 205 °F (96°C)
Maximum Top Tank Temperature - 212 °F (100°C)
Minimum Top Tank Temperature - 160°F ( 71°C)
Minimum Coolant Expansion Space - 5% of System Capacity
Minimum Coolant Makeup Capacity - U.S. gal (L)
Lubrication system
Oil Pressure @ Idle Speed - Min 15PSI (103 kPa)
@ Governed Speed - 35-50PSI (241 - 345kPa)
Maximum Allowable Oil Temperature - 250°F ( 121°C)
Oil Pan Capacity - Low / High - 7.5 / 9.5U.S. gal. (28.4 / 36.0L)
Total System Capacity - 10.2U.S. gal. (38.6L)
Angularity of Oil Pan - Front Down/Front Up/Side to Side 38°/38°/38°
Fuel system
Type Injection System Direct Injection Cummins PT
Maximum Allowable Restriction to Fuel Pump
-With Clean Fuel Filter - 4.0 in.Hg (13.5 kPa)
-With Dirty Fuel Filter - 8.0in.Hg (27.1kPa)
Maximum Allowable Head on Injector Return Line
-With Check Valve - 22.0in.Hg (6.5kPa)
-Without Check Valve - 8.5in.Hg (2.5kPa)
Minimum Fuel Supply Line Size - 0.625in. (16mm)
Minimum Fuel Return Line Size - 0.5in. ( 13mm)
Maximum Fuel Pump Supply - 98U.S.gal/h (371L)
Fuel Rail Pressure - 149PSI (1028kPa)
Maximum Fuel Temperature 71°F (160°C)
Electrical system
Minimum Recommended Battery Capacity - 24V
-Cold Soak (No Load) - 900CCA
- Minimum Reserved Capacity -320CCA
-Cold Soak (With Load) - 900CCA
- Minimum Reserved Capacity - 320CCA
Maximum Allowable Resistance of Cranking Circuit - 0.002ohm. Standard Cranking Motor (Heavy Duty , Positive Engagement)24volt. Standard Battery Charging System. Negative Ground 35Ampere.
Performance data
Idle Speed -575-650r/min
Maximum No-Load Governed Speed -1800r/min
Maximum over Speed Capability - 2700r/min
Minimum Crankshaft Rotation for unaided Cold Start - 150r/min
Minimum Torque for unaided Cold Start - 375lb.ft. (509Nm)
Exhaust Sound Pressure at 1m from Exhaust Outlet -1500r/min -dBA N/A
3.Alternator data
Alternator: Wuxi Stamford HCI 444FS1
Manufacturer: Cummins Generator Technology(China) Co.,Ltd.
Power capacity: 375kva
Speed: 1500r/min
Automatic voltage regulator(AVR)
Standard
Newage Stamford industrial generators meet the requirements of BS EN 60034 and the relevant section of other international standards such as BS5000, VDE0530, NEMA MG1-32, IEC34, CSA C22.2-100, AS1359.
Other standards and certifications can be considered on request.
Insulation system: class H
Protection: IP23
Rated power factor: 0.8lag
Wingding pitch: two thirds
Stator winding: double layer LAP
Bearing: single bearing
4.Controller data
Model: Deep Sea 7320 MKII
Manufacturer: Shenzhen Haiway Technology Co.,Ltd.
The DSE7320 MKII is a powerful, new generation Auto Mains (Utility) Failure genset control module with a highly sophisticated level of new features and functions, presented in the usual DSE user-friendly format. Suitable for a wide variety of single, diesel or gas Gen-set applications.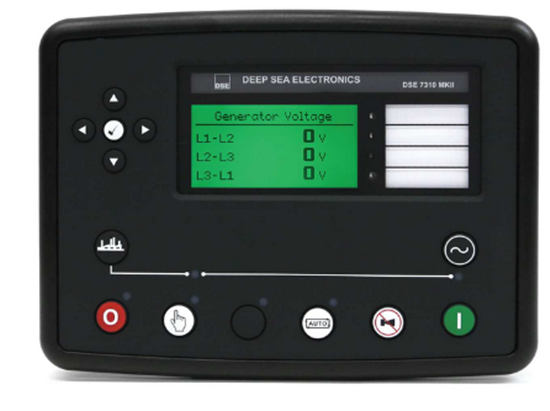 Features
Comprehensive monitoring of the mains (utility) supply and auto changeover.
4-line back-lit LCD text display
Five key menu navigation
Support for up to three remote display units
Configurable inputs (8)
Configurable analogue / digital inputs (6)
Configurable outputs (8)
Tier 4 CAN engine support.
Integral PLC editor.
Manual fuel pump control.
Power monitoring (kW h, kVAr, kv Ah, kV Ar h), reverse power protection, kW overload protection.
Mains monitoring and automatic start and changeover to generator power in the event of a mains (utility) out of limits or failure.
Configurable CT positioning.
Data logging facility
Customisable power up text and images Company logo can be uploaded to the start up splash screen.
Support for 0-10 V & 4-20mA oil pressure senders.
Can be configured for use as a remote display module Single product can be used for dual functionality.
We are a diesel generator manufacturer, having focused on high quality for more than 43 years. If you have purchase plan, please contact us by sales@dieselgeneratortech.com.