Jul. 11, 2020
220KW Cummins silent diesel genset is produced by Jiangsu Starlight factory. It it soundproof, rainproof type, equipped with Cummins diesel engine NT855-GA, alternator Stamford HCI444D1 and control panel SmartGen 6110.
1. Description/technical specification
Genset model: XG-220GF
Genset Output: 275KVA/220KW
Voltage output: 400/230VAC ( can also made as you need)
Frequency: 60Hz
Power factor: 0.8 lagging
Operating mode:Standby power
Mounting: Skid base with anti-vibrating mountings
Country of origin: China
Certificate: ISO, CE
Fuel tank: The set comes with high capacity base integral fuel tank complete with a fuel gauge
The period of validity of the warranty for 220KW Cummins silent genset is 12 months or 1000 run hours whichever comes first after delivery, installed and accepted and commissioned at the final destination.
Supply together with detailed user manual, engine parts catalog, maintenance & repair manual etc.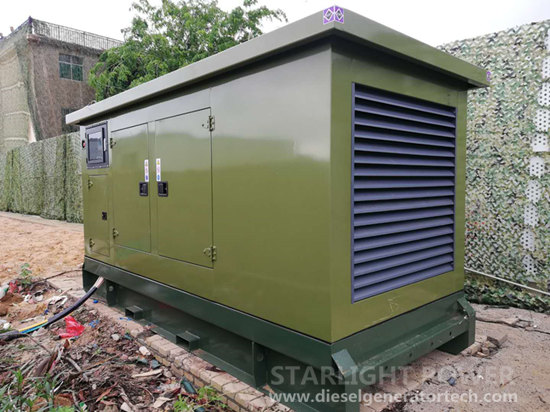 2. General diesel engine data
Engine model: CCEC Cummins NT855-GA
Engine output power: standby power 257kw
Aspiration: Turbocharged
Cylinders: 6
Speed: 1800 r/min
Displacement: 14L
Bore x stroke: 140x152mm
Fuel System: Cummins PT
Fuel consumption: 100%: 59.4L/h, 75%: 45.5L/h, 50%: 32.3L/h
Standard: ISO3046
All data is based on :
Engine Operating with fuel system, water pump, lubricating oil pump, air cleaner and exhaust silencer, fan, and optional driven components.
EXHAUST SYSTEM
Maximum Allowable Back Pressure: 3.0in.Hg (10kPa)
Standard Exhaust Pipe Diameter: 5.0 in. (127mm)
AIR INDUCTION SYSTEM
Maximum Allowable Intake Air Restriction
With Clean Filter Element: 15 in. H2O (3.74kPa)
With Dirty Filter Element: 25in. H2O (6.22kPa)
Minimum Dirt Holding Capacity: 25 g/CFM ( 53g/L/s )
Maximum Allowable Intake Air Temperature ∆T: 30°F (17°C)
COOLING SYSTEM
Coolant capacity - engine only 5.5 U.S. gal (20.8L)
- With radiator 16.0 U.S. gal (60.6L)
- With heat exchanger 13.0U.S. gal (49.2 L)
Max. coolant friction head external to engine 7PSI (48kPa)
Max. coolant pressure (exclusive of pressure cap) 40 PSI (276kPa)
Max. static head of coolant above engine crank centerline 46ft. (14.0m)
Standard thermostat (modulating) range 180~202 °F (82~ 94 °C)
Min. allowable pressure cap7.0PSI (48.2kPa)
Max. coolant temperature 205 °F (96°C)
Max. top tank temperature 212 °F (100°C)
Min. top tank temperature 160 °F (71°C)
Max. allowable top tank temperature for standby / prime power 220/212°F (104/100°C)
Min. recommended top tank temperature 160 °F (71°C)
Min. coolant expansion space 5 % of system capacity
Min. coolant makeup capacity 1.1 U.S. gal (4.2L)
Max. raw water pressure at engine outlet 15PSI (103kPa)
Max. inlet restriction at raw water pump 10in.Hg (34kPa)
Max. raw water pump initial suction lift3.05 ft. (10m)
Min. raw water pipe size 2 in. (51mm)
Allowable pressure drop across keel cooler 4PSI (28kPa)
LUBRICATION SYSTEM
Oil Pressure @ idle speed min. 15PSI (103kPa), @ Governed Speed 35~50 PSI (241~345kPa)
Max. allowable oil temperature 250 °F (121°C) 250 ( 121 )
Oil pan capacity - low / high 7.5/9.5 U.S. gal. (28.4/36.0L)
Total system capacity 10.2 U.S. gal. (38.6L)
FUEL SYSTEM
Type injection system direct injection Cummins PT
Max. allowable restriction to fuel pump
-- With clean fuel filter 4.0in.Hg (13.5kPa)
-- With dirty fuel filter 8.0in.Hg (27.1kPa)
Max. allowable head on injector return line
-- With check valve 6.5 in.Hg (22.0kPa)
-- Without check valve 2.5 in.Hg (8.5kPa)
Min. fuel supply line size 0.625in. (16mm)
Min. fuel return line size 0.5in. (13mm)
Max. fuel pump supply 69 U.S.gal/h (261L)
Fuel rail pressure 184 PSI (1271.5kPa)
Max. fuel temperature 160°F (71°C)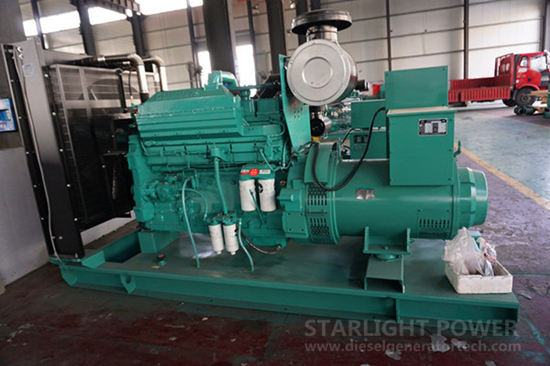 3. Original Stamford alternator HCI444D1
Stamford Alternator is made in complying to the norms: BS EN60034/ BS 5000/ IEC34 etc.
Excitation: Brushless self-excited. AVR controlled.
4. SmartGen controller 6110
SmartGen Control Module 6110: Stillage mounted control panel incorporating an engine control module. Off- Auto- Manual control is selected, via push buttons on the front panel.
Readouts of the Module:
Generator Voltage;
Generator Current;
Generator Frequency;
Engine speed;
Oil Pressure;
Engine coolant temperature;
Engine Hours Run.
Shutdown protection is provided for:
Low Oil Pressure;
High Engine Temperature;
Over and Under Speed;
Emergency Stop;
Failure to start.
5. Supply Key Services Parts:
Oil Filters
Fuel filters
Fuel Water separators
Air Filters
AVR
Starter Module
We have focused on high quality product for more than 43 years, our genset has sold to all over the world every year and get good feedback from customers. If you are have purchase plan of generator recently, welcome to contact us by email (sales@dieselgeneratortech.com) with your order details, we will give your the best price according to your details.