Jun. 02, 2020
Introduction to Perkins 1100 Series 1104C-44TAG2 Power Generation Engine
Building upon Perkins proven reputation within the power generation industry, the newly introduced 1100 Series range of ElectropaK engines now fit even closer to the needs of their customers.
In the world of power generation success is greeted for those providing more for even less. Therefore with this new 1104C-44TAG2 unit, Perkins has engineered for its customers even higher levels of reliability, yet lowered the cost of ownership. And with six cylinder capability from a four cylinder package performance increases, but crucially, bare engine noise is lower than ever before.
Rapid starting and pick-up are naturally builtin especially for cold operation, but where legislation or local markets demand an emissions capability, then the 1104C-44TAG2 satisfies EU 2007 Stage II mobile off-highway legislation; and also complies to TA Luft (1986) regulations.
1100 Series see the marriage of technology to customer need. A 4.4 litre unit very quietly setting a new standard in prime power supply and standby for the power generation industry.
Engine General Data
Model: 1104C-44TAG2
Standard: ISO 8528/1, ISO 3046/1: 1986, BS 5514/1
Prime/standby power: 93.5KW/103
Overload capacity (prime power): Overload of 10% permitted for 1 hour in every 12 hours operation (For standby power, no overload is permitted)
Number of cylinder: 4 vertical in-line
Bore and stroke: 105 x 127 mm
Displacement: 4.41 litres
Aspiration: Turbocharged, air to air
Cycle: 4 stroke
Combustion system: Direct injection
Compression ratio: 18.2:1
Rotation: Anti-clockwise viewed on flywheel
Cooling system: Water-cooled
Total lubrication system capacity: 8.0 litres
Lubricating oil: API CH4/ACEA E5.
Fuel consumption
Prime power (100%): 22.6 L/h
At 75% of prime power: 17.1 L/h
At 50% of prime power: 11.2 L/h
Fuel specification: BS 2869 Class 2 or ASTM D975 D2.
Total coolant capacity: 12.6 litres
Dimension: 1259 x 721 x 966 mm
Dry weight: 550kg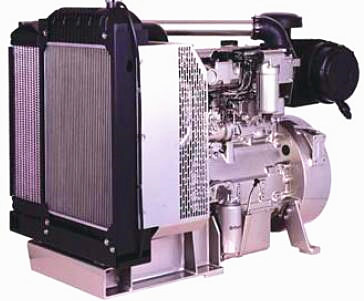 Engine Specifications
Air inlet
Mounted air filter
Fuel system
Rotary type pump
Ecoplus fuel filter
Lubrication system
Wet cast iron sump with filler and dipstick
Spin-on oil filter
Cooling system
Thermostatically-controlled system with gear-driven circulation pump and belt-driven pusher fan
Mounted radiator and piping incorporating air-to-air charge cooler
Electrical equipment
12 volt starter motor and 12 volt 65 amp alternator with
DC output
12 volt shutdown solenoid energised to run
Glow plug cold start aid
Flywheel and housing
Flywheel to SAE J620 size 10/111/2
SAE 3 flywheel housing
Literature
User's Handbook
Optional equipment
24 volt alternator
24 volt starter motor
Workshop manual
Parts book
Features of Perkins 1104C-44TAG2 Engines
Compact and Efficient Power
The Perkins 1100 Series family was developed following an intensive period of customer research. The 3.3 and 4.4 litre engines feature new cylinder blocks which ensure bore roundness is maintained under the pressures of operation, as well as significantly reducing mechanical and combustion noise. A new cross-flow cylinder head design optimises combustion control, and combines with turbocharger and charge cooler technology to achieve the best combination of power delivery and low exhaust emissions.
Cleaner and Quieter Power
The refined structure of the 1100C range leads to an exceptionally low noise signature. To meet environmental needs swirl conditioned air is delivered through the new cross-flow cylinder head, and burns cleanly with the high pressure fuel from an advanced technology rotary pump.
Quality by Design
Class A manufacturing improvements ensure that product reliability meets the high standards demanded by customers. Product design is focused on maintaining Perkins' legendary reputation for durability.
Cost Effective Power
The compact packaging and low noise performance of the 1100C range bring clear benefits to the Genset packager. Low cost of operation is assured by lower fuel and oil consumption, 500 hour service intervals, and the two year warranty.
Product Support
Total worldwide service is provided through a network of 4,000 distributors and dealers. TIPSS - The Integrated Parts and Support System enables customers to specify and order parts electronically as well as service engines with on-line guides and service tools.
Alternator General Data
Brand: Leroy-Somer
Model: LSA 44.3 S6
Insulation class: H
Winding pitch: 2/3 (wdg 6)
Number of wires: 12
Protection: IP 23
Excitation system: AREP
AVR type: R438
Voltage regulation (*): ±1%
Attitude: ≤ 1000 m
Overspeed: 2250 min-1
Air flow: 0.25 m3/s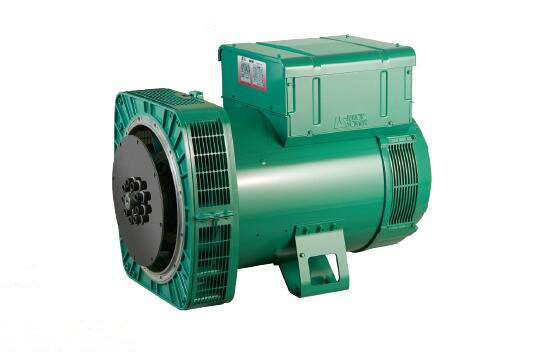 Specially adapted to applications General characteristics
Leroy-Somer LSA 44.3 alternator is designed to be suitable for typical generator applications, such as: backup, marine applications, rental, telecommunications, etc.
Compliant with international standards
The LSA 44.3 alternator conforms to the main international standards and regulations:
- IEC 60034, NEMA MG 1.32-33, ISO 8528-3, CSA / UL 1146 (UL 1004 on request), marine regulations, etc.
It can be integrated into a CE marked generator.
The LSA 44.3 is designed, manufactured and marketed in an ISO 9001 environment and ISO 14001.
Characteristics of Leroy-Somer LSA 44.3 S6 Alternator
Reinforced mechanical structure using finite element modelling
1. Compact rigid assembly to better withstand generator vibrations.
2. Steel frame and terminal box.
3. Aluminium flanges and shields.
4. Two-bearing and single-bearing versions designed to be suitable for commercially-available heat engines.
5. Half-key balancing two bearing.
6. Permanently greased bearings (20 000h).
7. Direction of rotation: clockwise and anti-clockwise (without derating).
Controller General Data
Brand: Deep Sea
Model: DSE 7320 MKII (AUTO START & AUTO MAINS FAILURE CONTROL MODULES)
Introduction to DSE7320 Control Model
DSE7320 MKII module has been designed to allow the operator to start and stop the generator, and if required, transfer the load to the generator either manually or automatically.
Additionally, the DSE7320 MKII automatically starts and stops the generator set depending upon the status of the mains (utility) supply
DSE7320 MKII module monitors the engine, indicating the operational status and fault conditions, automatically shutting down the engine and giving a true first up fault condition of an engine failure by the text LCD display.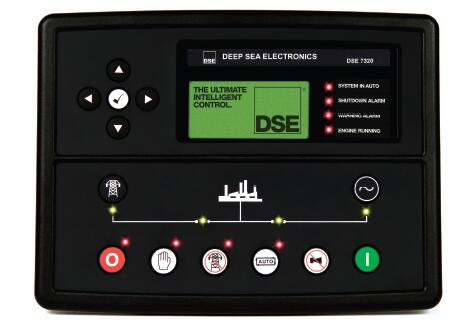 KEY BENEFITS
1. Automatically transfers between mains (utility) and generator (DSE7320 MKll only) for convenience.
2. Hours counter provides accurate information for monitoring and maintenance periods
3. User-friendly set-up and button layout for ease of use
4. Multiple parameters are monitored & displayed simultaneously for full visibility
5. The module can be configured to suit a wide range of applications for user flexibility
6. PLC editor allows user configurable functions to meet user specific application requirements.
Deep Sea Controller RS232 Interface
The dual mutual system utilises the RS232 or RS485 hardware interface to allow multiple modules to communicate to one another. The R232 port can be configured for connection to a modem or remote monitoring equipment (i.e. Building Management System, PLC or PC RS232 port).
Using the RS232 port for dual mutual communication frees up the RS485 interface for connection to a MODBUS engine or remote monitoring equipment (i.e. Building Management System, PLC or PC RS485 port).
While this is a very useful feature in some applications, the obvious drawback is that the RS232 port is no longer available connection to a modem or remote monitoring equipment (i.e. Building Management System, PLC or PC RS232 port).
RS485 Interfaces
The RS485 port on the controller supports the MODBUS RTU protocol and is for connection to a single MODBUS master device only.
The DSE MODBUS register table for the controller is available upon request from the DSE Technical Support Department.
RS485 is used for point-to-point cable connection of more than one device (maximum 32 devices) and allows for connection to PCs, PLCs and Building Management Systems (to name just a few devices).
One advantage of the RS485 interface is the large distance specification (1.2 km when using Belden 9841 (or equivalent) cable. This allows for a large distance between the module and a PC running the DSE Configuration Suite software. The operator is then able to control the module, starting or stopping the engine, selecting operating modes, etc.
The various operating parameters (such as coolant temperature, oil pressure, etc.) of the remote engine are viewed or changed.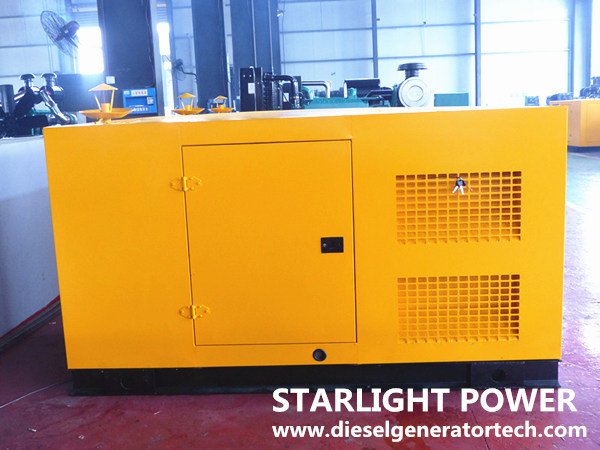 If you are interested in 100KVA silent diesel generator set with the specifications of Perkins 1104C-44TAG2 engine, Leroy-Somer LSA 44.3 S6 alternator and Deep Sea 7320 MKII control module, welcome to contact us for the latest quotation.