Oct. 19, 2019
If you are considering purchasing a 400kva diesel generator set for your factory use or company use, Starlight recommends Cummins and Yuchai brand diesel generator. Both are famous engine brand and recognized by customers.
Cummins is well-known engine brand in the world. Almost all the customers know about it. As for Yuchai, it is Chinese well-known engine brand. If you don't know about how to choose a suitable 400kva diesel generator between Cummins and Yuchai, here Starlight will introduce Cummins and Yuchai in details before giving the price.
Cummins engine is designed and manufactured by Cummins. The Cummins engine has a displacement of 1.4 to 91 liters and a power range of 31 to 3,500 hp. It is widely used in road vehicles such as heavy trucks, medium trucks, bus passenger cars, and recreational vehicles, light commercial vehicles and pickup trucks, as well as construction machinery and mining equipment, agricultural machinery, ships and railways and other non-road equipment.
Cummins engines are among the best in the industry in terms of reliability, durability and fuel economy, and have been leading the industry in meeting the increasingly stringent automotive emissions, off-road motor emissions and shipboard emissions.
Cummins is divided into joint venture Dongfeng Cummins, joint venture Chongqing Cummins and original imported Cummins.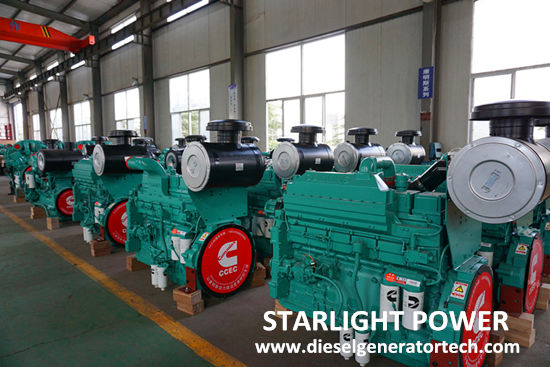 Advantages of Cummins
1. Cummins can develop solutions for different emission standards.
2. With mature matching ability, Cummins' emission control technology is perfectly matched to the engine life cycle and the entire vehicle, so that customers get the best economic benefits.
3. Advanced exhaust emission control technologies, including cooled exhaust gas recirculation (COOLED EGR), selective catalytic oxygen (SCR) and particulate matter filter (DPF).
The power range of Dongfeng Cummins is between 20kw and 400kw. Common models are: 4B3.9-G1, 4BT3.9-G1, 4BTA3.9-G2, 6BT5.9-G1, 6BTA5.9-G2, 6CTA8.3-G2, 6CTA8.3-G3, 6LTAA8.9-G2, 6LTAA13-G3, 6LTAA13-G2, QSZ13-G2, QSZ13-G3, etc.
The power range of Chongqing Cummins is between 200KW and 1500kw. Common models are: NT855-GA, NTA855-G1A, MTAA11-G3, NTA855-G2A, NTAA855-G7A, KTA19-G3, KTA19-G4, KTAA19-G5, KTAA19-G6A, KTA38-G2, KTA38-G2A, KTA38-G5, KTA38-G9, KTA50-GS8, KTA50-G15, etc.
The power range of original imported Cummins is between 120kw and 2000kw. Common models are: KTA19-G3, KTA19-G4, VTA28-G5, VTA28-G6, KTA38-G5, KTA38-G9, KTA50-G3, KTA50-G8, QSK60-G3, QSK60-G4, QSK78-G18, etc.
Characteristics of Dongfeng Cummins B series and C series diesel engine
B Series
1. More fuel-efficient: from the advanced design and sophisticated manufacturing of Cummins in the United States, the fuel consumption is much lower than similar products.
2. Powerful: The design of the exhaust gas bypass valve makes the low-speed performance more perfect and the power is better.
3. Excellent reliability: The cylinder block and cylinder head adopt integrated design to prevent water leakage and oil leakage, and the parts are more than 25% less than other similar products. The failure rate is greatly reduced.
4. Lower maintenance cost: fewer parts and lower usage failures, resulting in a significant reduction in engine overall maintenance cost. Maintenance time is more than 50% less than other similar products.
5. Excellent cold start performance: equipped with intake air electric preheating setting and 6.6KW high power starter, which completely improve the cold start performance of the engine.
C Series
1. Originated from Cummins' advanced design and sophisticated manufacturing, the use of China's economic improvement, fuel consumption is 20% lower than domestic similar products.
2. The low-speed power is fully upgraded with better starting performance. Faster acceleration and stronger climbing performance.
3. A sufficient margin is reserved for the design of key components. The strength is more than 30% of other similar products. The engine life is longer.
4. Equipped with intake air electric preheating setting and 7.8KW high power starter.
Both B and C series engines meet EU Stage II emission standards.
Yuchai Position and Honor in China
1. Top 500 manufacturing companies in China
2. China machinery industry top 100
3. Won the Chinese quality award nomination award
4. China recognizes that Yuchai technical center ranks first in engine industry
5. National engineering laboratory of efficient, energy-saving and environment-friendly internal combustion engines
6. From China II to China VI, Yuchai is China's first enterprise issuing the first set of engine and placing the first batch of products on the market.
Yuchai owns 42 series of light, medium and heavy duty diesel engines including vehicle, marine, engineering machinery, agricultural machinery and power generation equipment diesel power. The power covers 6~25000 horsepower; Yuchai has passed ISO/TS16949 quality certification. With high horsepower, high torque, high reliability, low fuel consumption, low emission, low noise, strong adaptability and perfect and convenient service, Yuchai products have become the preferred supporting power for domestic automobiles, engineering machinery and agricultural machinery.
Yuchai diesel engine. It mainly produces 1~6 cylinder diesel engines for vehicles, construction machinery, agricultural, marine and generators.
Comparison of price and parameters between 400kva Cummins generator and Yuchai generator
Brand

Cummins

Yuchai

Model

NTAA855-G7A

YC6K520-D30

Price

USD26,000

USD17,857

Displacement (L)

14

12.16

Aspiration

Turbocharged, air to air intercooled

Turbocharged & Intercooled

Bore and stroke (mm)

140 x 152

129 x 155

No. of cylinder

6

6

Compression ratio

14.0 : 1

16.5 : 1

Cooling way

Water cooling

Prime power (kw)

-

356

Standby power (kw)

407

382

Engine oil capacity

38.6

36

Fuel system

Direct Injection Cummins PT

Electronically-controll high pressure common rail

Fuel consumption g/kWh

200

196

Dry weight of diesel engine (kg)

1270

1275

Alternator

Starlight TFW2-320-4A

Controller

SmartGen 6110

Accessory

Battery, muffler, elbow, maintenance tool, etc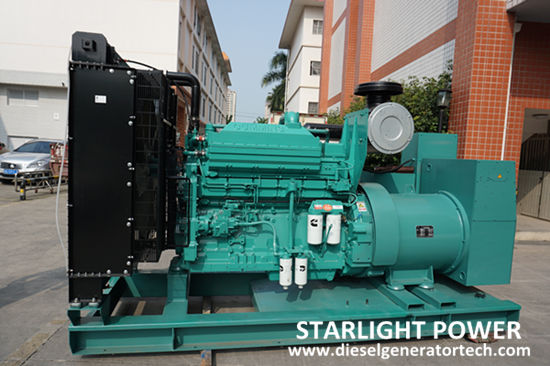 We can also provide Stamford, CSIC Siemens, ENGGA, Shanghai KEPU and other brands of all-copper brushless alternators for customers to choose from. Different brands of AC generators, the price will also be different.

If you want to know more characteristics about Yuchai YC6K series generating engine, please refer to this article – Yuchai Power for 280KW to 2400KW Generator Set
By comparing the basic parameters and price, you can choose the right diesel generator set according to your budget. Cummins has sales service centers covering many countries, you can buy the engine spare parts easily. If you worry you cannot buy Yuchai engine parts, then you are wrong. Yuchai has 45 offices at home and abroad, more than 1600 service stations, 29 branches and 212 stores for diesel engine accessories, forming a win-win market view with customers.