Jul. 16, 2019
3.6 Operating Conditions of Deutz Diesel Generator Engine
3.6.1 Winter Operation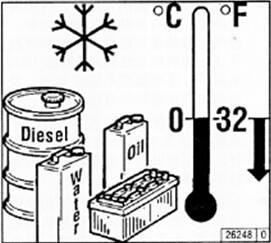 Lube Oil Viscosity
- Select the oil viscosity (SAE grade) according to the ambient temperature prevailing at the time when the engine is started, see 4.1.2
- Keep shorter periods between oil changes when operating at temperature below -10℃, see 6.1.1.
Diesel Fuel
- Use winter-grade diesel engine fuel for operation below 0℃, see 4.2.2
Coolant

- Set the water/antifreeze mix to suit the lowest temperature likely to occur
Additional Maintenance Jobs
- Drain the sludge from the fuel tank once a week (by undoing the sludge drain plug)
- Adjust the oil filling in the oil bath air cleaner (if fitted) to the prevailing ambient temperature as in the case of engine oil.
- At the temperature below -20°C, lubricate the flywheel ring gear with low-temperature grease from time to time through the pinion hole (if necessary remove starter)
Cold-Starting Aids
—At temperature near or below freezing point, start with flame-type heater plug, see 3.2.1. This not only lowers the starting limit temperature, but proves also useful at temperatures normally not requiring a starting aid.
Battery
- Cold starting requires a good state of charge of battery, see 6.7.1
- The cold starting limit temperature can be lowered by 4°C~5°C by heating the battery up to 20°C. To do so, remove the battery and store it in a warm place.
3.6.2 High Ambient Temperature, High Altitude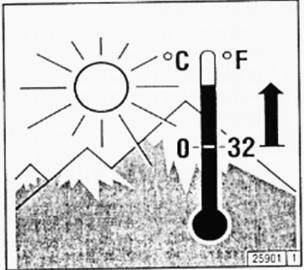 With increasing altitude and rising ambient temperatures the density of the air tends to decrease, which affects the maximum power output, the exhaust gas quality, exhaust gas temperature level and in extreme cases, the starting behavior. Under transient running conditions, operation is permissible at altitudes up to 1000 meters, at ambient temperatures up to 30°C.
If an engine is operated under more severe conditions (at higher altitudes or ambient temperatures) it will be necessary to reduce the injected fuel quantity and thus engine power.
In case of doubt concerning such engine applications, ask your engine or equipment supplier whether, in the interest of operational reliability, severe lifespan and exhaust gas quality (smoke), an engine derating had been considered necessary, or simply contact your service representative.
4.1 Lube Oil
4.1.1 Quality Grade
The lube oil grade is defined by specifications. CF-4, CG-4, CH-4
4.1.2 Viscosity
The lube oil viscosity of the SAE grade is selected according to the viscosity diagram alongside.
The ambient temperature is decisive of the correct choice of the lube oil grade
Should the temperatures temporarily fall below the limits of the SAE grade selected, this will merely affect the starting performance, but will not cause any engine damage.
The application limits should not be exceeded over lengthy periods of time in order to keep wear down to a minimum.
For all-year application, multi-grade oils shall be used.
4.2 Fuel
4.2.1 Quality Grade
Use commercial brands of diesel fuel with a sulfur content of less than 0.5%. If sulfur content is higher than 0.5%, oil change intervals should be reduced, see 6.1.1.
4.2.2 Winter-grade Fuel
At low temperature, waxing may occur and clog the fuel system, causing operational trouble. In case of sub-zero ambient temperatures it is recommended to use winter-grade diesel fuel. Normally such fuel is offered at the filling station in good time before the cold season starts (at temperatures down to -20°C)
At temperatures below -20°C, kerosene should be added to the diesel fuel. The relevant percentages are given in the diagram at the left.
If summer-grade diesel fuel has to be used at temperatures below zero, up to 60% kerosene may be added.
In most cases, adequate resistance to cold is also attained by adding a flow improver(fuel addictive)
4.3 Coolant
4.3.1 Water quality for Coolant Preparation
The values given below must not be exceeded. A special test kit (order number 1213 0382) can be obtained from Hebei Huabei Diesel Engine Co., Ltd, to check the quality of the water available.
| | | |
| --- | --- | --- |
| Water quality | Min. | Max. |
| PH-value at 20°C | 6.5 | 8.5 |
| Chloride ion content (mg/dm3) | - | 100 |
| Sulfate Ion Content (mg/dm3) | - | 100 |
| Total Hardness (°dGH) | 3 | 20 |
4.3.2 Coolant Preparation
The preparation and monitoring of coolant in liquid-cooled engines is especially important, because corrosion, cavitation and freezing can lead to engine damage.
The coolant is prepared by mixing a cooling system protective liquid with the cooling water.
The cooling system must be monitored regularly (see 5.1)
The water level and the cooling system protective liquid concentration should both be checked.
The cooling system protective liquid concentration can be checked with a commercially available tester.
Attention: When nitrite-based cooling system protective liquids are mixed with amine-based liquids, harmful nitrosamines are formed.
4.3.3 Cooling System Protective Liquid
Cooling system protective agents can be obtained under order number 0101 1490 (5 Liters). They can provide effective protection against corrosion, cavitation and freezing. The concentration of the cooling system protective liquid in the coolant should not fall below/exceed the following limits:
| | |
| --- | --- |
| Cooling system protective liquid | water |
| Max.45 VOL.% | 55% |
| Max 35 VOL % | 65% |
Other cooling system protective liquids, e.g. chemical corrosion inhibitors, can, in exceptional circumstances, be used in the coolant, in consultation with Hebei Huabei Diesel Engine Co., Ltd.
Order the cooling system protective liquid from: Hebei Huabei Diesel Engine Co., Ltd.
Attention: Cooling system protective liquids must be disposed of in accordance with environmental regulations.
The protective agents against freezing, sold in the current market, have been well mixed by the manufacturers, so it is not necessary to re-add the water. Pls carefully read the instructions in its package.
Protective Agent [% by vol.]

Protection against freezing to [°C]

Cooling system capacity (Liters)

18

20

22

25

27

30

32

35

Protective agent (liters)

35

-22

6,3

7,0

7,7

8,75

9,5

10,5

11,2

12,3

40

-28

7,2

8,0

8,8

10

10,8

12

12,8

14

45

-35

8,1

9,0

9,9

11,3

12,2

13,5

14,4

15,8

50

-45

9,0

10

11

12,5

13,5

15

15

17,5
Maybe you also like: Introduction to Deutz Diesel Engine BF12M1015CP