Jul. 13, 2019
Diesel Engine BF12M1015CP is innovated on the basis of Deutz AG Germany BFM1015 Engine. This Engine is characterized by compact structure, big power, light weight, low fuel consumption, low noise level, good displacement, high reliability, long lifespan, easy maintenance and etc.
BF12M1015CP is one high-speed, four-stroke,turbocharged,water-cooled diesel engine, with 90°V structure, power range 500KW~740KW, rated speed 1500 r/min~1800 r/min, so as to meet different customers'demands.
BF12M1015CP can be widely applied into the fields of Generator sets, Construction Machinery and so on.
1.1 Safety and Warning
Shut down the engine before carrying out repair and maintenance, and ensure the engine should not be accidentlly and suddenly started.
Stop the engine while filling fuel and coolant. Abide by the related industrial safety regulations and rules while running the engine in an enclosed space or underground
1.2 Maintenance and Care
Sound care and maintenance practices will ensure that the engine continues to meet the requirements placed on it. Recommended service internals must be observed and service and maintenance work carried out conscientiously. Special care should be taken under abnormally demanding operating conditions
2.1 Engine Model Designation
2.1.1 Rating Plate
The model designation, the engine serial number
And the performance data are stamped on the rating plate. While purchasing the spare parts, pls show the engine model and engine serial number.
2.1.2 Position of Rating Plate
The rating plate C is affixed to the crankcase.
2.1.3 Engine Serial Number
The engine serial number is engraved on the crankcase itself (as the arrow in the pic) and on the rating plate.
2.1.4 Numbering of Cylinders
The cylinders are numbered consecutively from either cylinder bank A or B, beginning at flywheel end.

2.2 Engine Illustration
2.2.1 Cylinder A-BF12M1015CP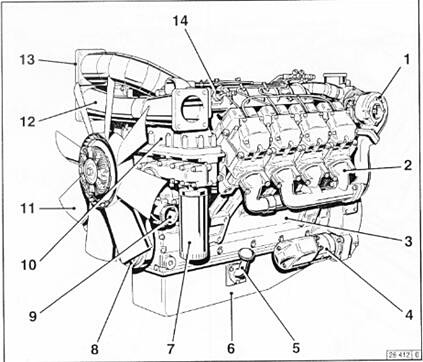 1 Turbocharger
2 Exhaust manifold
3 crankcase
4 starter
5 oil filler neck
6 oil pan
7 oil filter
8 V-belt pulley and vibration damper
9 coolant connection from heat exchanger to engine
10 oil cooler
11 cooling fan
12 intake airpipe manifold (come out of intercooler)
13 intake airpipe manifold (go into intercooler)
14 flame-type heater plug sytem(A-side)
2.2.2 Cylinder B-BF12M1015CP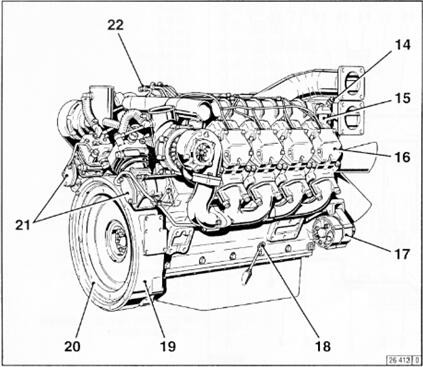 15 Flame-type heater plug sytem (B-side)
16 oil filler neck
17 cylinder head
18 alternator
19 oil dipstick
20 SAE housing
21 Flywheel
22 Air Compressor
23 Fuel Connecting line
2.3 Lubrication System Illustration
2.3.1 BF12M1015CP Lube Oil Circuit Schema (Wet Sump Lubrication)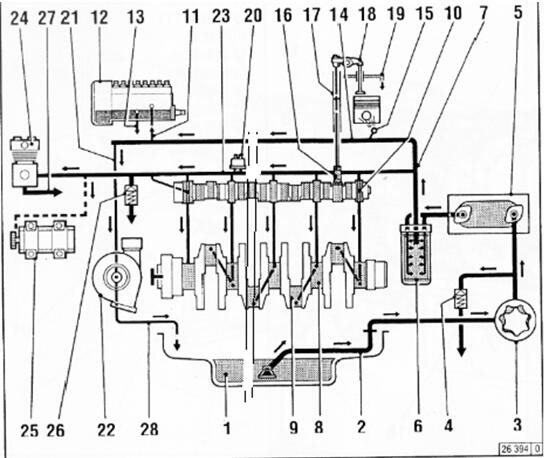 1 oil pan
2 intake pipe
3 oil pump
4 overpressure relief valve
5 oil cooler
6 spin-on oil filter
7 main oil bores
8 main bearing
9 big-end bearing
10 camshaft bearing
11 oil supply to injection pump
12 injection pump
13 return oil from injection pump to crankcase
14 line to spray nozzle
15 spray nozzle with pressure-holding valve for piston cooling
16 tappet with control groove for pulse lubrication of rocker arms
17 pushrod, oil supply to rocker arm lubrication
18 rocker arm
19 oil return bore in cylinder head to crankcase
20 oil pressure sensor/oil pressure switch
21 oil line to exhaust turbocharger
23 oil to compressor (hydr.pump)
24 compressor
25 hydraulic pump
26 pressure-holding valve (adjustable)
27 oil return line from compressor (hydr.pump)to crankcase
28 Oil return line from turbocharger to crankcase
3.1 Commissioning
3.1.1 Filling in Engine Oil
As a rule, the engines are delivered without oil filling. Fill in lube oil through the oil filler neck (arrow).
3.1.2 Filling Oil Bath Air Cleaner With Engine Oil
Fill engine oil into bowl 1 of oil bath air cleaner (if fitted) up to the arrow mark.
3.1.3 Filling the Fuel Tank
Use only commercial-grade diesel fuel. For fuel quality grade.see 4.2
Use summer- or winter-grade fuel, depending on the ambient temperature
3.1.4 Filling/Bleeding Cooling System
Connect coolant inlet 1 and coolant outlet 2 to external coolant tank.
Fill in coolant into cooling system
Start engine and run up to normal operating temperature until thermostat opens (line 2 warms up)
Check coolant level in external cooling system, top up coolant if necessary.

3.1.5 Other Preparations
Check battery and battery cable connections.
Trial run
- 10 min. Upon completing the preparations, run the engine for a short trial run of about 10 minutes under low load.
During and after trial run
- Check the engine for leaks
After the engine has been stopped
- Check oil level and top up if necessary, see 6.1.2
- Retense V-belts, see 6.5
Breaking-in
During the breaking-in phase, it is recommended to check the oil level twice a day. After the breaking-in phase, checking once a day will be sufficient.
3.2 Starting
3.2.1 Electric Starting
Before starting, make sure that nobody is standing in the immediate vicinity of the engine or its driven machine.
After repair work, Check if all removed guards are put back in place and all tools are taken away from the engine.
When starting with flame-type heater plugs, do not use any other additional starting aids (e.g. Injection with start pilot)
Do not actuate the starter for more than 20 seconds at a time. If the engine does not start, wait one minute before repeating the attempt.
If the engine does not start after two attempts, trace the cause with the aid of the Diagnosis Chart (see 7.1)
3.3 Monitoring Systems
3.3.1 Engine Oil Pressure
Oil Pressure Pilot Lamp
The oil pressure pilot lamp lights up with operating voltage applied and engine shut off.
The oil pressure pilot lamp must go out when the engine is running.
Oil Pressure Gauge
The pointer of the oil pressure gauge must not indicate the minimum oil pressure (see 9.1).
3.3.2 Coolant Temperature
The pointer of the coolant temperature indicator should remain in the green sector and enter the yellow-green sector only in exceptional cases. If the pointer enters the orange sector, the engine is overheating. Turn it off and establish the cause from the Diagnosis Chart (see 7.1).

3.3.3 Coolant Level
Lamp of coolant level indicator lights up (contact via float switch/level sensor when min. Coolant level has been reached):
Turn engine off and establish cause from the Diagnosis Chart (see 7.1)
Functional check of coolant level:
insert key into position 1 or 2 (Float switch or leel sensor) Pilot lamp lights up for about 2 seconds.
- Coolant level is ok: lamp goes out.
- Coolant level is not ok: lamp does not go out.
3.3.4 Lube Oil Level
Lamp of lube oil level indicator lights up (contact via float switch/level sensor when min.lube oil has been reached.)
Turn engine off and establish cause from the Diagnosis Chart(see 7.1)
Functional check of lube oil level:
insert key into position 1 or 2 (Float switch or leel sensor) Pilot lamp lights up for about 2 seconds.
- Lube oil level is ok: lamp goes out.
- Lube oil level is not ok: lamp does not go out
3.4 Mechanical Shutdown
3.4.1 Mechanical Shutdown
Set speed control lever 1 to low speed position
Actuate shutdown lever 2 until engine comes to standstill. Charging-current and oil pressure pilot lamps light up when engine has come to standstill
3.4.2 Electric Shutdown
Turn key counter-clockwise (to position 0) and pull it off. Pilot lamps go out.