Dec. 28, 2017
This Engineering Bulletin is a general description of correct usage and maintenance requirement for Chongqing Cummins engine lubrication oil, The purpose of this Engineering Bulletin is to update and simplify the lubrication usage prescription of Chongqing Cummins Engine Co.,Ltd (CCEC), and to update and simplify recommendations and guidelines for the end user.
CCEC prescribes the use of a high quality, diesel engine oil such as SAE15W/40, API CF-4 for NT, KT and M11 mechanical injector engine or SAE 10W/30,API CF-4 for NT, KT and M11 mechanical injector engine used in the altiplano regions of Qinghai and Xizang, API CH-4 for QSK and Mll electro-injector/ electro-control engine,API CF-4 oils can be used, but the drain interval must be reduced to 250 hours. High quality filters such as FleetguardR or their equivalent.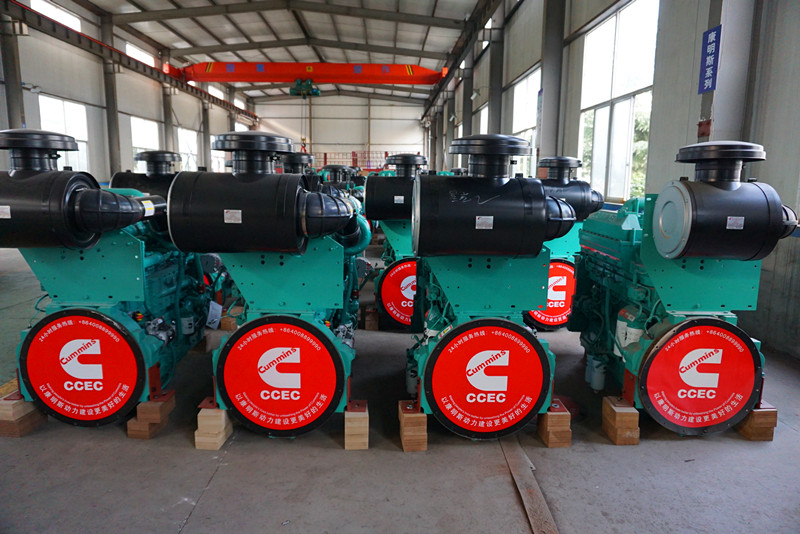 CCEC bases oil drain recommendations on oil performance classifications and duty cycle. Maintaining the correct oil and filter change interval is a vital factor in preserving the integrity of an engine. Consult your Operation and Maintenance manual tor detailed instructions on determining the oil change interval tor your engine.
One full flow filter and one bypass filter are strongly used on all engines of CCEC (except for standby G-set). Customer do Not permit to take down whichever full flow or bypass filter.
This Bulletin includes six sections. In this article, we will learn the first section.
SECTION 1: CCEC DIESEL ENGINE OIL PRESCRIPTIONS
CCEC prescribes the use of a high quality, diesel engine oil meeting American Petroleum Institute (API) performance classification CF-4 or above (QSK, M11 electro-inject/ electro-control engine.prescribed use CH-4, APl CF-4 oils can be used, but the drain interval must be reduced to 250 hours). If the engine must operate without CF-4 grade oils, CD grade oils are permitted (except ()SK, M11 electro-inject/ electro-control engine),but drain intervals must be shorted as requirement.
Do Not use oils under CD grade uniformly.
Special "break-in"oils are not recommended tor use in new or rebuilt CCEC engines. The oil suppliers are responsible for the quality and performance of their products.
1. Multi-grade Oils CCEC primary prescription is for the use of 15W40 multi-grade tor normal operation at ambient temperatures above -15°C [5°F]. The use oil multi-grade oil reduces deposit formation, improves engine cranking in low temperature conditions, and increases engine durability by maintaining lubrication during high temperature operating conditions. Since multi-grade oils have been shown to provide approximately 30 percent lower oil consumption, compared with mono-grade oils, it is important to use multi-grade oils to be certain your engine will meet applicable emissions requirements. While the preferred viscosity grade is 15W-40, lower viscosity multi-grades can be used in colder climates.
See Figure 1: Prescribed SAE Oil Viscosity Grades at Ambient Temperatures.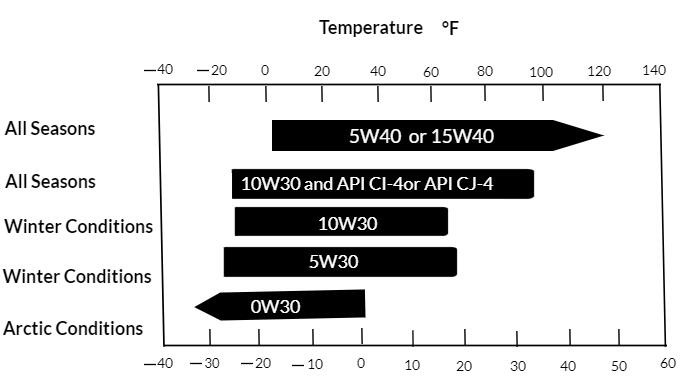 Oils meeting API Cl-4 and CJ-4 and a 10W30 viscosity grade, must meet a minimum High Temperature / High Shear viscosity of 3.5 cS t., and ring wear / liner wear requirements of Cummins Inc. and Mack tests. Thus, they can by be used over a wider temperature range than 10W30 oils meeting older API performance classifications. As these oils will have directionally thinner oil films than 15W40 oils, top quality FleetguardR filters must be used above 20°C [70°Fl. Some oil suppliers might claim better fuel economy for these oils. Cummins Inc. can neither approve nor disapprove any product not manufactured by Cummins Inc. These claims are between the customer and the oil supplier, Obtain the oil supplier s commitment that the oil will give satisfactory performance in Cummins?engines, or do not use the oil.
2. Monograde Oils
Use of monograde oils can affect engine oil control. Shortened drain intervals might be required with monograde oils, as determined by close monitoring of the oil condition with scheduled oil sampling.
CCEC do Not Recommend use monograde oils
3. CCEC oil application and recommended drain interval see Table 1.
Table 1 Drain Intervals: Hour







M11Engine

NT Engine

K38/50

QSK19/38

APIClassification

CCEC Oil Grade




PT System

ISM/electro control

ALL

ALL

ALL

ALL

CF-4

F

Oil used

Prescribe

Permit

Prescribe

Prescribe

Prescribe

Permit

Interval

250

150

250

250

250

250

CH-4

H

Oil Used

Recommend

Prescribe

Recommend

Recommend

Recommend

Prescribe

Interval

400

250

400

400

400

400

CI-4

I

Oil used

Recommend

Recommend

Recommend

Recommend

Recommend

Recommend

Interval

500

400

500

500

500

500
Notes: 1. API CD&CF are without limit to sulfur content, simplex CG-4&CH-4 011 demand sulfur content less than 0.05 percent. But sulfur content of domestic fuel can not meet less than 0.05 percent currently. CCEC recommended H or I grade oil can meet all requirement of CF-4/CH-4/CI-4, without limit to sulfur content. Therefore, CCEC recommends H or I grade oil to low emission electro-injector engine.
2. CCEC recommends-10W/30 CF-4 or above oil to engine used on tableland. When ambient is above -15 centigrade,permit to use 15W/40 CF-4,CH-4 oils in worse condition,but need control drain interval within 150,250 hours. CCEC special high oil is recommended to automobile and constructional machine.
3. CH-4 oils work with Fleetguard? LF9009 filter can extend drain interval to 500 hours.
4. This drain interval is based on Cummins? recommended drain interval and domestic engine working mode and fuel quality, uncontradicted with Cummins inc. recommended drain interval.
5. When better grade oil used, user must fully consider the endurance of filters, and shorten filter change interval suitably. Filter change interval is 250 hours general.