Dingbo GTF Series Generator
Dingbo GTF series brushless three-phase synchronous high voltage generator is made by adopting the domestic and foreign advanced technology and combining with the practical experience of producing high voltage generator. They have merits that are reasonably structured, reliable, efficient, energy saving, low noise, anti-vibration, long life, easy installation and maintenance. In addition, the products also meet the standard of IEC and domestic standard.

The generator is box-shaped structure, the base used Q235-B steel plate welded into a box-shaped, solid structure, good resistance to deformation. Both sides have windows to facilitate ventilation and easy to maintenance.




For more types, please contact us



Excellent Structural Design
The revolving shaft is made from 45# steel which is hardened and tempered. The material has stable mechanical properties and good stiffness. the stator core is laminated by steel plates which are made from good magnetic performance cold rolled silicon, and take the measures of the corona. The windings are Class H insulation materials. The end can be reliable fixed and banded.
The rotor core is produced after the overlapping of the full circle salient pole slices made by cold-roll silicon steels. There is a block to fix the winding poles, so it is sturdy, reliable and has a good heat dissipation performance.
The coil winding insulation use the solvent-free varnish and the coil core is processed by vacuum pressure impregnation, thus making the winding have high mechanical, electrical, insulation and moisture resistance performance.
The rotor of precise dynamic balancing is strictly according to ISO1940 standard, and the sealed ball bearings make the engine perform in balance state.
Additional temperature measurement devices will be installed in such important parts as the sealed ball bearings to facilitate the on-site observation and remote motoring in the purpose of ensuring the safety and reliable operation of the engine.
Bearing lubrication is equipped with grease installations and lubricating oil recovery set.
GTF-800~1500KW-560 10.5kV Series Generators
Performance Characteristics
· Particular exciting system design and high-ability for nonlinearity load
· Easy to install and maintenance
· Rotors have been dynamic balance, adopt sealed bearing
· Standard IP22 and IP23 protection class (It can be configured according to user requirements)
· Advanced automatic voltage regulation controller, provide ±2.5% or 1% voltage regulation factor
· Apply the latest standards manufacturing.
| | |
| --- | --- |
| Options | Accessories |
| Winding temperature detection (RTD) | Air filter |
| Winding temperature protection thermistor | Parallel droop device |
| Anti condensation heater | PMG excitation of permanent magnet generator |
Type

Rated Power

(KW)

Rated Capacity

(KVA)

Rated Voltage

(V)

Rated Frequency (Hz)

Rated Speed

(r/min)

Power Factor(Lag)

Insulation Class

Protection Class

Efficiency

(%)

GTF-800-560S

800

1000

10500

50

1500

0.8

H/H

IP23

94.6

GTF-1000-560M

1000

1250

10500

50

1500

0.8

H/H

IP23

95.0

GTF-1200-560M

1200

1500

10500

50

1500

0.8

H/H

IP23

95.4

GTF-1500-560L

1500

1875

10500

50

1500

0.8

H/H

IP23

95.8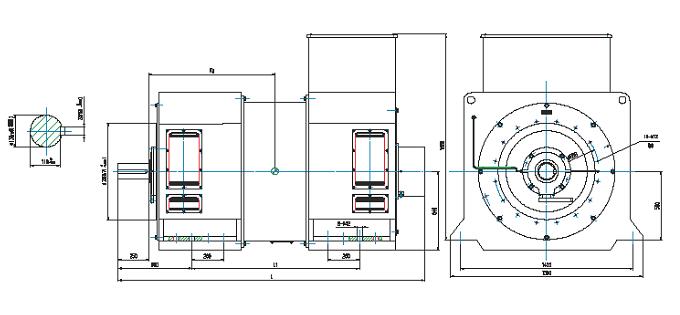 GTF-2000~3200KW-630 10.5kV Series Generators Technical Parameters
Type

Rated Power

(KW)

Rated Capacity

(KVA)

Rated Voltage

(V)

Rated Frequency (Hz)

Rated Speed

(r/min)

Power Factor(Lag)

Insulation Class

Protection Class

Efficiency

(%)

GTF-2000-630S

2000

2500

10500

50

1500

0.8

H/H

IP23

95.44

GTF-2200-630S

2200

2750

10500

50

1500

0.8

H/H

IP23

95.71

GTF-2500-630M

2500

3125

10500

50

1500

0.8

H/H

IP23

95.87

GTF-2800-630M

2800

3500

10500

50

1500

0.8

H/H

IP23

96.02

GTF-3000-630L

3000

3750

10500

50

1500

0.8

H/H

IP23

96.14

GTF-3200-630L

3200

4000

10500

50

1500

0.8

H/H

IP23

96.27