Advantages of Dingbo portable gensets/truck mounted diesel generator
The design of our portable gensets are innovative. We also equip with sound attenuated enclosure generator set.
The advantages are as follows:
1. Steel plate suspension structure; equipped with mechanical parking braking (Hand brake) and air braking for connecting the tractors.
2. The portable trailer adopts height adjustable bolt type traction frame, which is suitable for all kinds of height tractors, with large turning angle and high mobility.
3. The four corners of the frame are equipped with mechanical support device; the three sides of the trailer have operation and maintenance platform; the tail is equipped with a pedal, etc.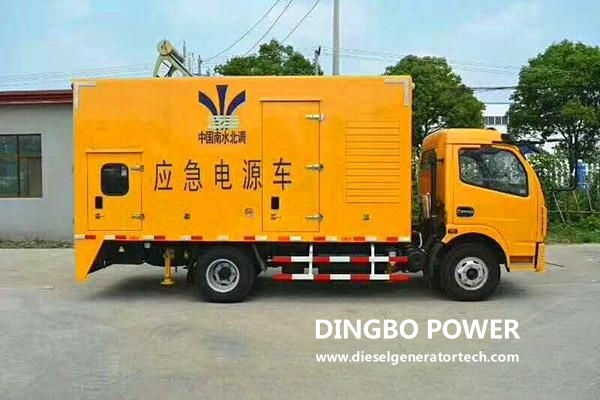 We can supply the following configurations:
1. Traction: adopting movable hook, 360 degree turntable, flexible steering, to ensure driving safety.
2. Braking: it has a reliable air brake interface and hand brake system which can ensure driving safety.
3. Support: to ensure the stability of the power van operation, it is equipped with four mechanical or hydraulic support device.
4. Doors and windows: The front is equipped with a ventilating window, the rear is equipped with a folio door, and the two sides are also equipped with doors that allow the operators to get in and out.
5. Lighting: there is a explosion-proof lamp inside the car, a workbench is equipped on the right side, and with a work desk lamp, which is convenient for operators to work.
6. Sound-proof: both the body and the door of the electrical power unit are decorated with double layers, and also equipped with sound absorbing panel silencer; the exhaust pipe is packaged with insulation cotton, the minimum noise can be controlled within 75dB(A).
7. Car size: it can be designed according to the specification, the operators can walk around, it is easy to operate and maintain.
8. Beautiful external appearance: adopting polymer polyurethane paint, the color can be customized by customers, the exhaust pipe exhausts downward, to ensure a beautiful apperance.
9. Fire fighting: it is equipped with two fire extinguishers.
Related Technical Documents