Apr. 22, 2019
Yuchai is the largest internal combustion engine production base in China. It developed the largest high speed diesel engine YC20VC for power generation in China. In the Yuchai high speed diesel engine spectrum, YC20VC has the largest power, weight and size.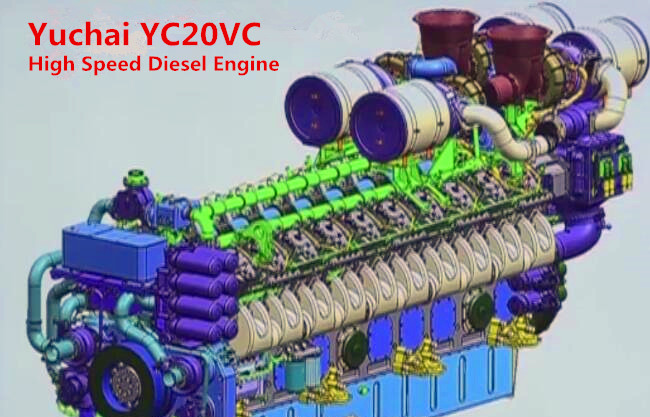 There is very little development experience that can be used for reference. This poses a great challenge to Yuchai's design, casting, processing and testing capability. This high-speed diesel engine has been conceptually designed since 2015. Three full years of design, casting, assembly, and testing, the ignition ceremony was held in on December 18, 2017.
The successful development of the YC20VC engine broke the monopoly of imported engines in the field of high-power and high-speed power generation diesel engines above 2000kW, which effectively promoted the innovative development of China's engine industry.
Characteristics of YC20VC High Speed Diesel Engine for Power Generation
Yuchai YC20VC engine adopts advanced technologies such as high-strength lightweight technology, high-pressure common rail fuel injection technology and high-efficiency thermal management technology, and has reached the international advanced level in terms of power, economy, emissions, NVH, etc. The engine meets the emission requirements of non-road National III and IMO Tier III, and has the ability to upgrade to non-road national IV emission standards.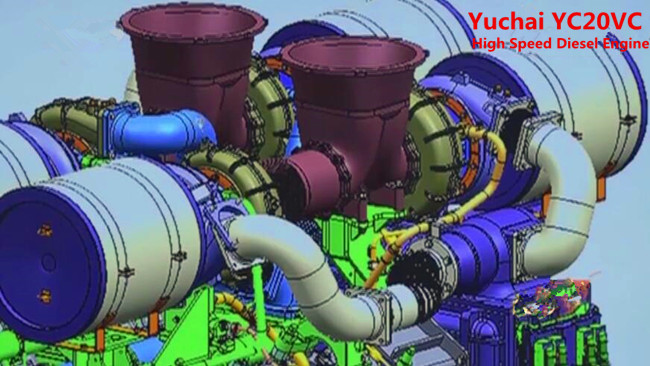 Yan Ping, chairman of Yuchai Group, said, "YC20VC engine is another masterpiece of Yuchai after YC6T, YC6C, YC12VC and YC16VC. The research and development of YC20VC high-speed diesel engine symbolizes Yuchai's progress from medium-sized professional vehicle power to comprehensive high power engine, which is of epoch-making significance. At the same time, it shows that the Yuchai R&D team's understanding of high-power engines and design & development ability are constantly improving."
Yuchai YC20VC engine has a maximum power of 4200 kW and a rotational speed of 1800 rpm, which fills the power gap of domestic (China) high-speed and high-power diesel engine with a power range of more than 3,500 kW. The product technical index has reached the international advanced level, and it has completely independent intellectual property rights, which is the embodiment of major equipment localization.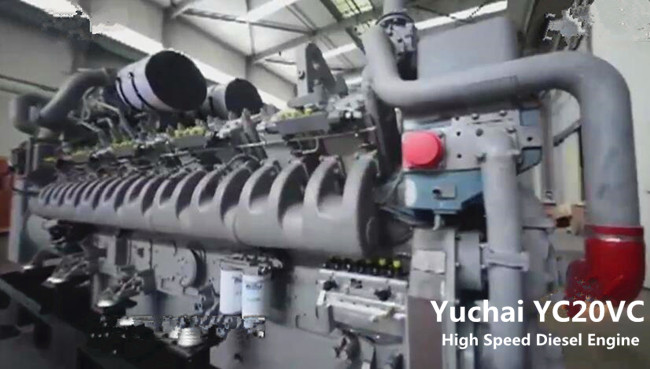 This model is mainly used for power generation in government agencies, large –scale shopping malls, transportation hubs and data centers. It is also the ideal power for the main engine of 1000~1500 tons public service ship and the auxiliary engine of 2000~6000 tons public service vessel.
Guangxi Yuchai was established in 1951, mainly producing hoe and farming tools. With the tide of national innovation, Yuchai has opened up a new world through its own innovation. Today, Yuchai has become the world's highest-end diesel engine manufacturing field, and has built the most complete internal combustion engine manufacturing base in China. In the past five years, more than 60 new engine products have been launched.
Starlight Power has cooperated with Yuchai Power since 2015 and has been the core OEM partner of Yuchai Power in China. Starlight company can provide 20KW to 2500KW low voltage Yuchai diesel generator and 60KW to 1200KW Yuchai gas generator set with good quality. If you are interested, send inquiry to our email address: sales@dieselgeneratortech.com.