Dec. 11, 2019
Recently, Starlight won the bid for one unit 500kw Cummins silent diesel generator set of the Chinese People's Liberation Army (academy). Thanks to the PLA National Agency for their strong support to Starlight.
The PLA purchased a mobile Cummins generator set with sound attenuated enclosure, using isolation, noise reduction, sound absorption and other noise reduction technologies, the noise level can reach less than 75 decibels. The product has good mobility, strong adaptability and rapid power supply, and has been widely used in military, municipal engineering construction, film and television production and other fields. In addition, the silent generator set has the characteristics of small size, light weight, low fuel consumption, high power, reliable work, convenient supply and maintenance of accessories.
The genset has passed the weapons and equipment quality management system certification, ISO9001:2015 quality management system certification, ISO14001:2015 environmental management system certification, ISO 45001:2018 occupational health and safety management system certification, CE certification, etc., its reliable stability, economy, power, durability and environmental safety are welcomed by users.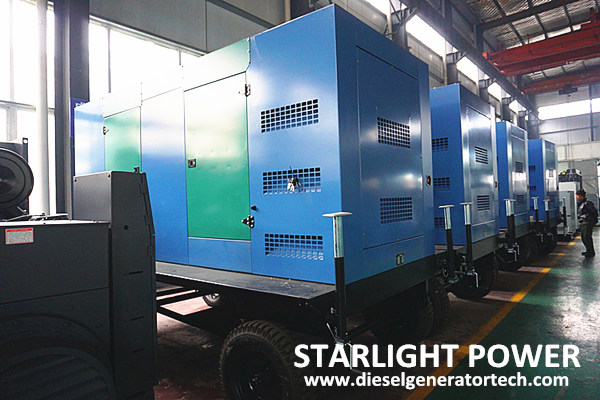 500KW Cummins Silent Diesel Generator Set Technical Data
Type: XG-500GF
Rated frequency: 50Hz
Rated voltage: 400V
Rated speed: 1500rpm
Starting mode: Electric start
Dimension: 4500 x 200 x 2400 mm
Weight: 7000 kg
Noise level: 75dB at 7 meters distance
Engine: Cummins KTA19-G8
Bore and stroke: 159 x 159 mm
Displacement: 19L
Compression ratio: 13.9:1
Aspiration: Turbocharged and Aftercooled
Fuel system: Cummins PT
Fuel consumption: 209 g/kWh
Standby power: 575kw
Alternator: Starlight TFW2-500-4A (Single Bearing)
Insulation class: H
Protection class: IP22
Phase: 3 phase 4 wire
Controller: SmartGen HGM6110N (Automatic Control Module)
Genset Standard Features:
1. Radiator 50°C
2. Fans are driven by belt, with safety guard
3. 24V charger alternator
4. 24V starter motor
5. Dry type air filter, fuel filter, oil filter
6. 4 pole main circuit breaker, 1200A
Accessories: industrial silencer, battery charger, 24V DC battery, shock pad, built in 8 hours fuel tank, maintenance tool, etc.
Jiangsu Starlight Electricity Equipments Co., Ltd., founded in 1974, is a professional manufacturer of diesel generator sets. Since 1992, Starlight has been: "Quality qualified generator set manufacturer" of the National Internal Combustion Engine Generating Set Quality Supervision and Inspection Center, and is a demonstration enterprise for military-civilian integration. Starlight will continue to adhere to the development of innovation and military-civilian integration to provide customers with the highest quality diesel generating sets.
If you are interested in our Cummins diesel generator, please contact us to get the price or send us an inquiry directly by email: sales@dieselgeneratortech.com. You can choose open type, silent type or mobile trailer generator set with different brands.