Dec. 07, 2019
Recently, Jiangsu Starlight signed 400kw Yuchai open type diesel generator set with Langfang Xinao fanneng Equipment Sales Co., Ltd. under Xinao group. The diesel genset is used as standby power supply for comprehensive energy project in the industrial park.
This is the second cooperation between Xinao group and our company. For the first time, in December 2018, they purchased 360kw silent cummins diesel generator set for energy supply and biological waste recycling project in the industrial park.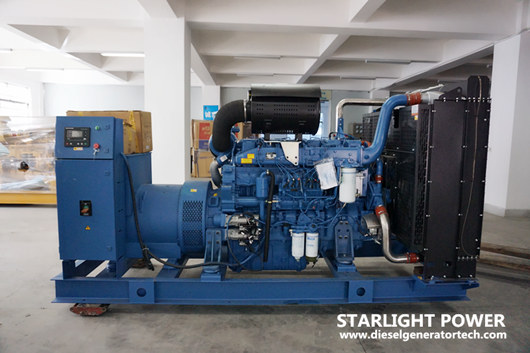 Xinao Group is with the mission of "building a modern energy system and improving people's living quality", after 30 years of development, has formed a clean energy industry chain running through the downstream distribution, midstream trade storage and transportation, upstream production and a life and health product chain covering health, culture, tourism, real estate and other fields.
In this cooperation project, it is proposed to build four 45t/h sub high pressure circulating fluidized bed biomass boilers, two 9MW back pressure steam turbine generator sets, and build a 11km main heating pipe network. It is an honor for Jiangsu Starlight to cooperate with Xinao Group.
Configuration of 400kw Yuchai diesel generator set
1.Set type: open type
2.Prime/standby power: 400kw/440kw
3. Powered by Yuchai diesel Engine YC6T660L-D22
4. With Shanghai Kepu alternator TFW2-400-4A (Optional Stamford / Leroy Somer / Marathon / Siemens / Engga / Starlight Alternator)
5. Dry type air filter, fuel filter, oil filter
6. Electric start with 24V DC battery
7. Daily fuel tank for 8 hours operation
8. ATS, Deepsea 7320 controller (Optional ComAp / Smartgen control panel)
9. Comply with ISO, CE standard
Jiangsu Starlight is authorized as OEM supplier of Yuchai diesel engine for generator set. Yuchai powered diesel generator sets with its high reliability, low use and maintenance cost win the loyalty of many customers in the field of army, transportation engineering system and mine industries.
Characteristic of 400kw/500kva Yuchai diesel generator set
1.Digital control system, with high intelligent
2.Low fuel consumption and lubricating oil consumption
3.Lose noise, low vibration
4.Strong power. it can output nameplate rated power below 1000m altitude, and can overload 110% of rated power for 1 hour in 12 hours.
5..Warranty 12 months or 1000 running hours, whichever comes first
6.1168 service office centers, providing fast after-sale service in time
Jiangsu Starlight supplies 25kva-3125kva diesel generators powered by Yuchai engine, and other brands: Cummins, Volvo, Perkins, Shangchai, Deutz, Weichai, Ricardo etc. If you plan to purchase, please contact us directly by email sales@dieselgeneratortech.com, or call us +86 134 8102 4441. 02 4441