Jiangsu Starlight Signed Contract of 2 Sets of 500kW Cummins Genset
Sep. 20, 2022
Recently, Jiangsu Starlight Electricity Equipments Co., Ltd. signed a manufacturing agreement on two sets of 500KW diesel generators, which are powered by Chongqing Cummins engine KTAA19-G6A, and reached a cooperative relationship.
It is understood that Starlight Power Group is responsible for the whole process from production to installation of the 500KW Cummins generator set. The signing of the cooperation between two sets of 500KW Chongqing Cummins generator sets marks another small step for Starlight Power Group in the production and construction of diesel generator sets. In the future, under the principle of win-win cooperation, Starlight Power Group will be responsible for maintaining two 500KW Chongqing Cummins generator sets and helping the customer manage the diesel genset.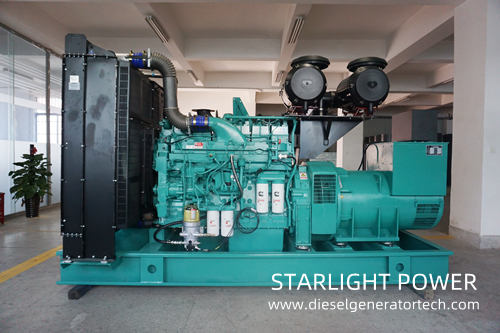 Here is main technical datasheet of 500kW/625kVA Cummins diesel generator set:
Specifications

Supplier

Jiangsu Starlight Electricity Equipment Co.,Ltd

Model

XG-500GF

Prime Power

500KW/625KVA

Standby Power

550KW/687.5KVA

Rated voltage

400V

Rated current

900A

Power factor

0.8LAG

Frequency

1500RPM

Speed

50Hz

Engine model

Chongqing Cummins KTAA19-G6A

Prime power of engine

N/A

Standby power of engine

610KW

Number of cylinders

6, inline

Bore and stroke

159 x 159 mm

Displacement

19 Liters

Aspiration

Turbocharged , Air-to-air Cooled

Cycle

4 stroke

Combustion system

Direct injection, Cummins PT

Compression ratio

13.9:1

Rotation

Anti-clockwise, viewed from flywheel end

Total lubricating capacity

84.4 litres

Cooling system

Water-cooled

Total coolant capacity

112 litres

Fuel consumption at 1500 rpm

Standby power(maximum)

216g/kw.h

Alternator

Cummins Stamford HCI544FS1

Prime power of alternator

500KW

Standby power of alternator

550KW

Insulation class

H

Winding pitch

2

Wingding leads

12

Protection

IP23

Excitation system

Brushless, self-excited

AVR type

AS440

Voltage regulation (*)

±1%

Short-circuit current

300% (3 IN) : 10

Total Harmonic Distortion THD (**) in no-load

< 4%

Waveform: NEMA = TIF (**)

< 50

Waveform: I.E.C. = THF (**)

< 2%

Overspeed

2250 R.P.M

Altitude

≤1000M

Air flow

2.5 m3/s (50 Hz) - 2.8 m3/s (60 Hz)
Starlight Power has advanced testing equipment, modern production technology, professional manufacturing technology, perfect quality management system, and strong technical research and development capabilities. It can provide 3KW~2500KW various specifications of ordinary, automatic, four protection, automatic switching, low noise and mobile generator sets, high quality and low energy consumption to meet the diverse power needs of customers, and can also meet users with different voltages and different frequencies. It is required to create a parallel power supply system for multiple units. If you are interested in Cummins generators or any question on generator, welcome to send email to sales@dieselgeneratortech.com.