Aug. 19, 2020
Recently, Starlight Power signed a contract with an engineering construction company for 1800kw MTU silent diesel generator set. Thanks for the customer's support in this cooperation.
The engineering construction company was founded in 1993, business scope includes construction engineering, municipal engineering, mechanical and electrical equipment installation, decoration engineering contracting, etc. Over the past 43 years, Starlight Power company has always provided good product and technical support and good after-sales service for our customers.
The 1800KW MTU silent genset has reasonable structure design, modular structure design, convenient maintenance, excellent engine load response characteristics, and meets the national emission standard. There is no need to do additional purification and dust removal treatment. The noise level is 80dB @7m, which meets the National noise index. Our technicians will be responsible for installation, commissioning and technical operation training.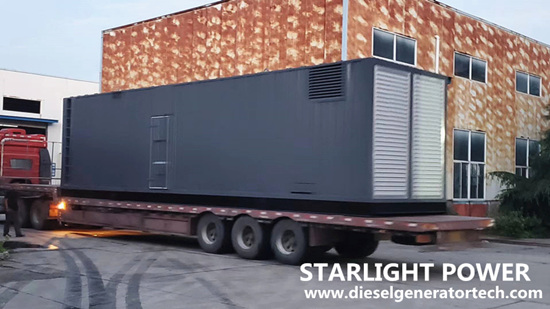 The supply list of 1800KW MTU silent diesel generator set includes 1800kw genset, MTU engine, Marathon alternator, Deep Sea controller, rubber shock absorber, water tank( 50℃), 200AH battery(4 pcs), 220V battery charger, silencer, bellows, Oil water separator, water jacket heating equipment(2KW), silent case, fuel tank 2000L, output cabinet switch, ABB circuit breaker, accessories: instrument, transformer, etc.
Technical specifications for silent type 1800KW MTU diesel generator set
Manufacturer: Jiangsu Starlight Electricity Equipments Co.,Ltd.
Genset model: XG-1800GF
Type: silent type ( weather & soundproof)
Prime power: 1800KW
Rated voltage: 230/400V
Rated frequency: 50Hz
Rated current: 3240A
Overall size: 9x2.6x2.78m
Net weight: 15000kg
The special treatment technology of MTU/DDC on cylinder block can completely avoid the influence of high sulphur content of domestic diesel oil on diesel engine. It also ensures that in a large number of practical use in China, the MTU continuous operation failure time record is more than 10 times higher than that of other international advanced EFI diesel engines.
MTU/DDC's unique electronic management system can detect the hidden trouble of diesel engine all the time. It can show 385 fault codes.The type of fault diagnosis is several times higher than that of other international advanced EFI diesel engines.
Max. availability, minimum downtime and max. efficiency in 24/7 continuous use. Compared with the EU stage III A / EPA Tier 3, the series 1600, 2000 and 4000 save 5% fuel and the engine's life is up to 20%.
Technical specifications for MTU diesel engine
Manufacturer: MTU
Engine model: 16V4000G23
Engine power: prime/standby: 1980KW/2475KW
Number of cylinder: 16
Capacity of oil: 300L
Fuel consumption: 192g/KW.h
Technical specifications for Marathon alternator
Manufacturer: Marathon
Model: MX-1800-4
Rated speed: 1500rpm
Type: Brushless self excitation
Bearing: single bearing
Alternator efficiency: above 95%
Protection level: IP23
Insulation class:H
Technical data for Deep Sea controller
Manufacturer: Deep Sea make: UK
Model: DSE7320
Starlight power generator set power range is from 20KW to 2750KW, if you interested in diesel generator set, welcome to contact us by email sales@dieselgeneratortech.com.