Jun. 06, 2020
On June 3, 2020, we won the tender of 640KW silent generator set. The genset is used for real estate project. The purchaser is a real estate developer, before this order, they have bought 7 units diesel generator set from our company, power range is from 400KW to 800KW. Our generator quality is satisfied with client, so they cooperate with us again and again. Thanks for their cooperation.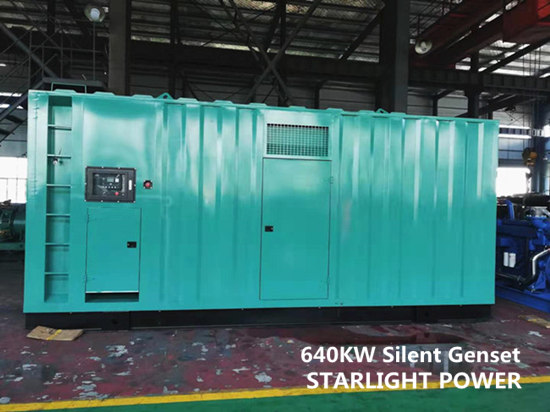 640KW silent generator is equipped with Perkins engine, Stamford alternator and Deep Sea controller, which is meet CE and ISO standard. The technical datasheet is as follow:
640KW 800KVA silent generator technical datasheet
Manufacturer: Jiangsu Starlight Electricity Equipments Co.,Ltd.
Prime power/capacity: 640KW/800KVA
Standby power/capacity: 704/880KVA
Diesel engine: Perkins 4006-23TAG3A
Alternator: Stamford LVI634C1
Controller: Deep Sea 7320
Speed: 1500rpm
Frequency: 50Hz
Rated current: 1152A
Rated voltage: 230/400V
Power factor: 0.8lag
Overall size: 6.3*2.6*2.78m
Net weight: 12000kg
Standard: CE, ISO9001, ISO14001 etc.
Perkins diesel engine 4006-23TAG3A technical data
Manufacturer: Perkins Engine Co.,Ltd.
Prime power/capacity: 705KW/881KVA
Standby power/capacity:776KW/970KVA
Speed/frequency: 1500rpm/50Hz
Number of cylinders: 6
Cylinder arrangement: Vertical, In line
Cycle: 4 stroke, compression ignition
Induction system: Turbocharged
Compression ratio: 13.6:1
Bore x Stroke: 160 mm x 190mm
Cubic capacity: 22.9 litres
Direction of rotation:Anti-clockwise viewed on flywheel
Firing order: 1, 5, 3, 6, 2, 4
Cylinder 1: furthest from flywheel
Total weight of electrounit (engine only): 2524kg(dry), 2663kg(wet)
Fuel system
Recommended fuel: to conform to BS2869 1998 Class A1, A2
Type of injection system: Direct injection
Fuel injector: Combined unit injector
Fuel injector pressure: 220 ATS (NOP) 1400 bar maximum operating pressure
Fuel consumption: 100% prime load: 172L/h, 100% basic load: 137L/h, 75%: 130L/h, 50%: 90L/h.
Note: all data based on operation to ISO 3046/1, BS 5514 and DIN 6271 standard reference conditions.
Alternator Stamford LVI634C1 technical specification
Manufacturer: Cummins Generator Technologies(China) Co.,Ltd.
Power capacity: 800kva
Protection level: IP23
Connecting wire: 3 phase 4 wire
Voltage regulation mode: AVR
Rated voltage: 230/400V
Excitation mode: brushless and self-exciting
Standard: BS EN 60034, BS 5000, VDE 0530, IEC34, AS 1359 etc.
Genset control panel
Manufacturer: Deep Sea UK
Model: DSE7320
The DSE7320 is a powerful, new generation Auto Mains (Utility) Failure genset control module with a highly sophisticated level of new features and functions, presented in the usual DSE user-friendly format.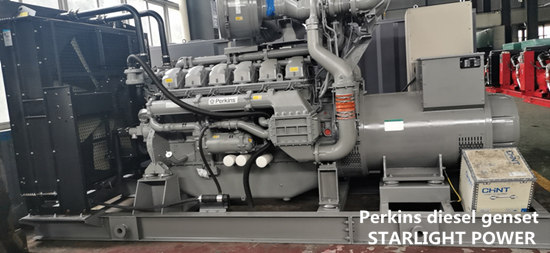 We are authorized as the OEM supplier of diesel engine of genset by Perkins company, Perkins generator set supplied by our company is with good performance, reliability and durability, power range is from 8kw to 1980kw. We have focused on high quality product for more than 44 years, if you are interested, welcome to contact us by email sales@dieselgeneratortech.com or call us +8613481024441.