Sep. 05, 2022
On July 16, our company received the notice of winning the bid from Guangxi Tietou Daling Investment Co., Ltd. (a subsidiary of Guangxi Poly Real Estate Group). For the goods and installation projects, a total of two diesel gensets were purchased, with powers of 400KW and 800KW respectively. Up to now, Poly·Lingxiu Qiancheng has purchased a total of 6 units from our company, while Poly Group has purchased as many as 30 units from our company.
Poly Real Estate Group Co., Ltd. is the only overseas listed real estate company of China Poly Group, a large central enterprise supervised by the State-owned Assets Supervision and Administration Commission of the State Council of the People's Republic of China (SASAC). It is listed on the main board of Hong Kong. Since its establishment 30 years ago, it has intensively cultivated three major business sectors: real estate development, real estate investment and property management, with operations in more than 100 countries around the world and more than 100 cities in China.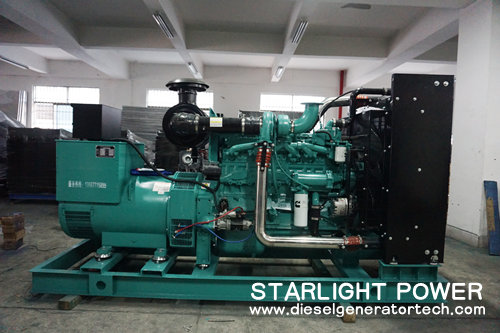 Since Poly Group cooperated with our company in July 2012, it has purchased more than 30 units in our company, with a power range as low as 150KW and as high as 1000KW, involving nearly 20 projects. For example, in July 2012, it was used in Poly. One 400KW diesel generator in Poly City project; 4 units of 200KW-600KW diesel generator used in Poly · Shanjianqing project in 2014 and 2016; Crew and so on. It is reported that our company also signed a Strategic Cooperation Agreement with Poly Real Estate Group in July 2016. This project contract is also formulated on the basis of following this strategic agreement, and continues to maintain the friendly cooperative relationship between the two.
The two diesel generator sets purchased by the user have the advantages of large power output, low fuel consumption, low noise, low emission, easy start-up, strong reliability, stable performance, simple operation and convenient maintenance. Our company also provides transportation, installation, commissioning, noise reduction in the computer room, assistance in acceptance, training, maintenance and other services. In the process of using Xingguang's products for many years, users are very satisfied with Xingguang's product quality and after-sales service.
Jiangsu Starlight Electricity Equipment Co., Ltd. has been deeply involved in the diesel generator set industry for more than 45 years. It has first-class testing equipment, advanced production technology, professional manufacturing technology, perfect quality management system, and strong R&D technical strength. For more details, please call the Starlight Hotline +8613481024441.