May. 24, 2022
On April 15, the delegation of Jiangsu Starlight Power Group went to Yulin, the headquarters of Yuchai Group, to visit and study and receive professional skills training from Yuchai Company. The relevant leaders of Yuchai Marine Electric Power gave a detailed explanation of Yuchai's enterprises and products.

During the visit, the Starlight Power delegation visited Yuchai Foundry Center, Engineering Research Institute Test Center, Manufacturing Center, Power Exhibition Hall, etc. Through this visit, the Starlight Power delegation truly experienced Yuchai's international leading overall equipment scale, high-end scientific and technological research and development strength, intelligent manufacturing level, lean production management and strong corporate culture.
After the visit, Yuchai Group Marine Power held a skills training and exchange meeting for the Guangxi team. At the meeting, the leaders of the two sides reviewed the past friendly cooperation, and exchanged views on the issues of market feedback and the continued expansion of cooperation in the future. In particular, Yuchai has given strong support to Starlight Power's pre-sale, sales and after-sales service. For example, in terms of after-sales service, once the Yuchai generator set of users buy from Starlight Power fails, it needs technical support from Yuchai. Quickly respond within hours and provide relevant technical guidance or door-to-door service, which truly allows users to "buy with confidence and use with confidence".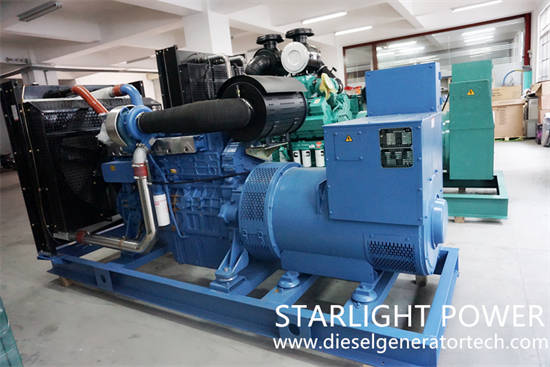 Over the years, Jiangsu Starlight Power Group and Yuchai Group have maintained a close cooperative relationship, and are Yuchai's largest OEM mainframe supporting partner in China. Yuchai also hopes to support China's national power brand, Yuchai Machinery, in the publicity and promotion of Starlight Power, so as to help the national brand to enter the international stage and achieve win-win development.
In the future, Starlight Power will continue to maintain friendly and cooperative relations with Yuchai Group, and cooperate with Yuchai to provide users with strong R&D strength, advanced testing equipment, modern production technology, professional manufacturing technology and perfect quality management system. Build high-quality Yuchai diesel generator sets. For more details, please contact us with sales@dieselgeneratortech.com.