Jul. 22, 2022
Recently, Starlight Power has another good news of winning the bid, and it has successfully become the winning bidder for the procurement, installation and noise reduction of the generator set in the AB block of the Nanning Greenland Xicheng International Huadu Project of Greenland Group. A total of 3 generators won the bid this time, with powers of 400KW, 500KW and 656KW respectively. Before that, Greenland Group had purchased 4 generator sets from Starlight Power and put them into normal use as emergency backup power.

Greenland Group is a global diversified enterprise group founded in 1992. It is a global real estate company leader and a global super high-rise landmark office building creator. On a global scale, it has formed a multi-faceted pattern of "focusing on real estate development as the main business, and developing emerging industries such as large infrastructure, large finance, and large consumption at the same time". It entered Nanning in November 2013. In more than three years, five projects of Nanning Greenland Center, Wuxiang Greenland Center, Nanning Greenland International Huadu, Greenland Central Plaza, and Greenland Xicheng International Huadu have landed successively.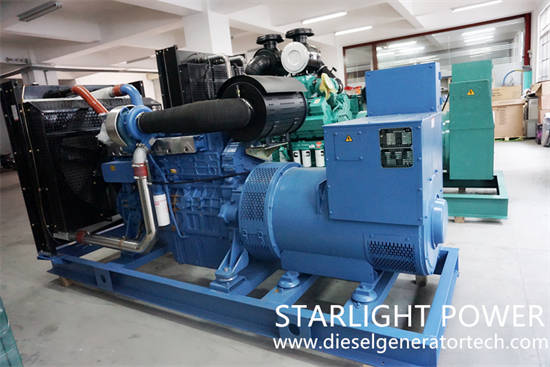 It is understood that since 2015, Greenland Group has purchased a total of 7 diesel generator sets from Starlight Power, with a power range of 150KW-720KW. For example, each of the 630KW and 720KW diesel generator sets purchased from Starlight Power in October 2015 is used for the backup power supply of the Nanning Greenland Center Project. In May 2018, one 150KW and one 600KW diesel generator set was purchased from Starlight Power for backup power supply of Nanning Greenland Central Square Project. Thank you Greenland Group for its support to Starlight Power's products and services over the years!
Jiangsu Starlight Electricity Equipments Co.,Ltd. is one of the earliest manufacturers of generating sets in China. It has first-class testing equipment, advanced production technology, professional manufacturing technology, perfect quality management system, and strong R&D technical strength. It can provide 3KW-2500KW various specifications of universal, automatic, four protection, automatic switching, low noise and mobile, etc., high-quality, low-energy generating sets to meet all customers' power needs, and can also meet users' different voltages and different frequency requirements, as well as the parallel-connected power supply system of multiple units, use excellent talents to build excellent enterprises, create excellent products, create excellent services, and strive to build excellent domestic enterprises. For more product details, please contact us with sales@dieselgeneratortech.com.