Jul. 08, 2022
On November 7th, Starlight Power and Guangxi Power Grid Co., Ltd., a wholly-owned subsidiary of China Southern Power Grid, successfully signed a 640KW Perkins van generator set and a 1200KW Cummins van generator set, both of which are used in the Qingxiu Branch of Nanning Power Supply Bureau. The total value of the project is more than three million yuan.

According to statistics, since 2014, China Southern Power Grid and the Nanning Branch of Starlight Power Corporation have signed a total of 35 diesel generator sets. For example: 10 20kw Ricardo generator sets purchased from Starlight Power in 2014; 23 Yuchai generator sets with a power range of 100KW-200KW purchased from Starlight Power in 2017; 1 400KW silent power generation set purchased from Starlight Power in 2017 and so on. Thanks to China Southern Power Grid for its support to Starlight Power over the years!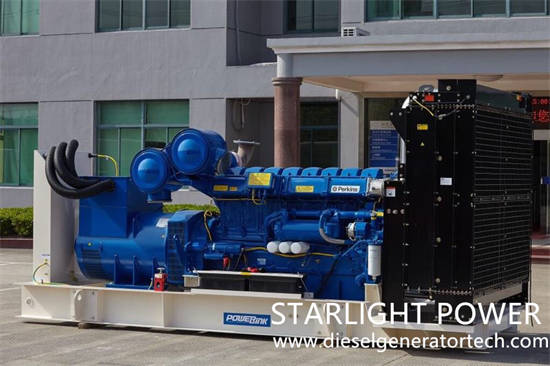 The silent van diesel generator set purchased by the user has the following advantages: low noise, compact overall structure and small footprint. The cabinets are all detachable structures, made of spliced steel plates, coated with high-performance anti-rust paint, and have noise reduction and rain-proof functions. The inside of the box adopts a multi-layer barrier impedance mismatched muffler structure and a built-in large impedance muffler. The design of the box body is reasonable. There is a large-capacity fuel tank inside the box body, and there are two inspection doors on the left and right at the same time, so as to facilitate the troubleshooting of the unit. At the same time, there is an observation window and an emergency shutdown button on the box, so as to observe the operation of the unit and stop the unit at the fastest speed when an emergency occurs to avoid damage to the unit.
Jiangsu Starlight Electricity Equipments Co.,Ltd. is a manufacturer of professional generators, diesel generator sets, Cummins generator sets, Volvo generator sets, etc. The company has advanced testing equipment, excellent production technology, professional manufacturing technology, perfect quality management system, and Strong R&D technical strength. It can provide 15KW-2500KW various specifications of universal, automatic, four protection, automatic switching, low noise and mobile, etc., high-quality, low-energy generating sets to meet customer power needs, and can also meet users' different voltages and different frequencies, as well as the power supply system of multiple units connected in parallel, welcome customers to inquire. For more details, please contact us with sales@dieselgeneratortech.com.