Dec. 18, 2021
Recently, Starlight Power and Guangxi Lingyue Real Estate Co., Ltd. successfully signed two 656KW non-acting diesel generator sets, which are respectively used for the emergency backup power supply of Poly Lingxiu Qiancheng Building 10 and Building 12.

In addition, Starlight Power is also responsible for the installation of diesel generator sets for the project, including generator exhaust spray washing device system installation, door system installation, ceiling sound-absorbing and sound-absorbing system installation, wall sound-absorbing system installation, air inlet system installation, and exhaust system installation. Wind system installation, heat insulation system installation, etc.
The Poly Lingxiu Front City Project is located at the foot of Qingxiu Mountain, Nanning 5A scenic spot, and is adjacent to Yongjiang River in the south. It covers an area of about 2,000 acres. It is planned for 210,000 square meters of commercial buildings, 170,000 square meters of ecological business, 200 acres of parks, and so on.
Jiangsu Starlight Electricity Equipments Co.,Ltd. has been a strategic supplier of diesel generator set supply and installation supporting projects for Poly Group for more than ten consecutive years. Since 2008, it has maintained a good cooperative relationship with Poly Group.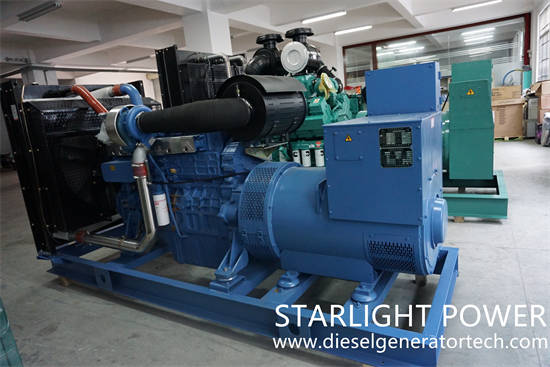 According to statistics, Poly Group has purchased more than 30 diesel generator sets in Jiangsu Starlight Electricity Equipments Co.,Ltd., with a power range of 150-1000KW, and a total of 17 projects are involved. The Poly Lingxiu Qiancheng Project purchased 10 diesel generator sets from Jiangsu Starlight Electricity Equipments Co.,Ltd., including 400KW generator sets, 800KW generator sets, 2 630KW generator sets, 2 600KW and 800KWA static generator sets, and so on.
Jiangsu Starlight Electricity Equipments Co.,Ltd. is an OEM partner of Shangchai for many years. It has more than 40 years of experience in the production and manufacturing of diesel generator sets. It can provide users with various specifications of 15KW-2500KW. And other high-quality, low-energy generating sets to meet all customers' power needs. In addition, it can also meet the requirements of users with different voltages and different frequencies, as well as the power supply system of multiple units connected to the network. There are 64 sales and service departments nationwide, providing long-term technical consultation, free debugging, free maintenance, and free training services for users. Welcome contact us by email sales@dieselgeneratortech.com