Mar. 15, 2022
On July 24, Starlight Power and Fujian Mengzheng Biotechnology Co., Ltd. successfully signed an ATS switch cabinet for Starlight Power's diesel generator set and dual power automatic control switch. The product has self-start/stop function, integrates digitalization and intelligence, and realizes automation of measurement and control process, which is conducive to reducing human error, simple operation, safe and reliable.

Fujian Mengzheng Biotechnology Co., Ltd. was established on May 29, 2018 with a registered capital of 72 million yuan. Based on the introduction of domestic and foreign advanced biological methods to produce products, the company integrates high technology and modern management, and advocates scientific health preservation, healthy diet, advocating green production of biological products, energy saving and emission reduction, focusing on ecological environmental protection, and committed to promoting the green development of my country's chemical, pharmaceutical, health care products, food additives, and feed additives industries.
It is understood that Fujian Mengzheng Biotechnology Co., Ltd. has purchased a 500KW Chongqing Cummins diesel generator set from Starlight Power in June this year. During the use of the product, users have expressed great approval for Starlight Power's products and after-sales service. This time, Fujian Mengzheng Biotechnology Co., Ltd. once again chose Starlight Power as the procurement supplier. For this, Starlight Power expresses its sincere thanks to Fujian Mengzheng Biotechnology Co., Ltd. for its support and trust in Starlight Power.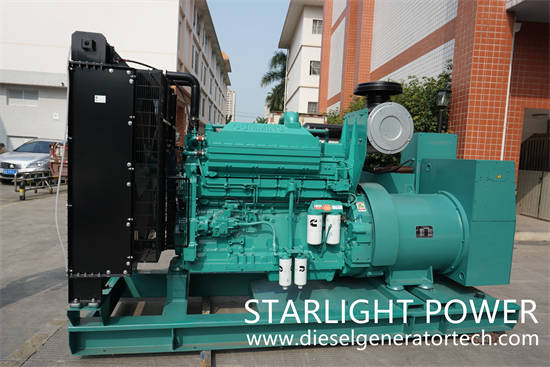 The ATS switching cabinet purchased by the user is based on a microprocessor, which can accurately detect the two-way three-phase voltage, make accurate judgments on the abnormal voltage, and control the ATS switching after a delay. The product has the function of sending a signal to start the diesel generator set after the abnormal delay of one power supply. ATS switch cabinet is used as the automatic transfer switch of the main and standby dual-circuit power supply, mainly used for the first-level load stipulated by the state and the second-level load that requires a backup power supply.
The main and backup power sources can be grids, generator sets, batteries, etc. The main and backup power supply can be customized by the user, the main switching time of the switch is 1S, and the user can make a specific delay according to the actual situation. When the main and backup power supplies supply power at the same time, the main power supply has priority.
Jiangsu Starlight Electricity Equipments Co.,Ltd. is an OEM partner of Shangchai for many years. It has more than 40 years of experience in the production and manufacturing of diesel generator sets. It can provide users with various specifications of 15KW-2500KW. And other high-quality, low-energy generating sets to meet all customers' power needs. In addition, it can also meet the requirements of users with different voltages and different frequencies, as well as the power supply system of multiple units connected to the network. There are 64 sales and service departments nationwide, providing long-term technical consultation, free debugging, free maintenance, and free training services for users. Welcome contact us by email sales@dieselgeneratortech.com