Nov. 16, 2021
Recently, Jiangsu Starlight Electricity Equipments Co.,Ltd. and Beihai Minggao Real Estate Development Co., Ltd., a subsidiary of Yunxing Group, successfully signed an 800kw non-moving diesel generator set, which is used for emergency backup power supply of Yunxing·Haijingtai. In addition, Jiangsu Starlight Electricity Equipments Co.,Ltd. is also responsible for the noise reduction project of the generator room of the project.

The Beihai Jingtai Project is located at the intersection of Haijing Avenue and Shanghai Road in Beihai City. It covers an area of about 26 acres, with a total construction area of about 70,000 square meters, and 35% green area. It is composed of 3 high-rise and super high-rise buildings. It is one of the top 100 real estate companies in China. The first coastline work of Yunxing Group.
Yunxing Group was established in 1993 and has more than 30 subsidiaries. Its development projects cover more than 70 real estates in 18 cities across the country. After 27 years of development, it has formed multiple links including real estate development, construction and property management, etc.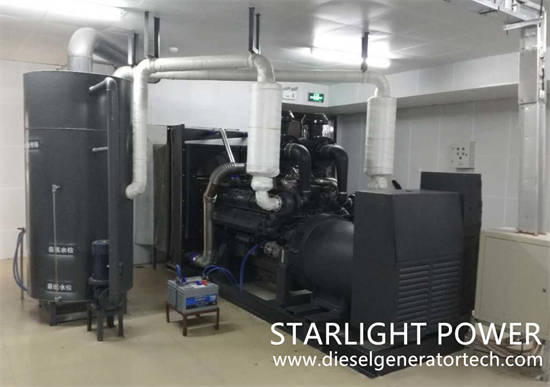 As an integrated comprehensive real estate development service system. Starlight is a sincere strategic partner of Yunxing Group for fifteen years. Since its cooperation with Yunxing Group in 2006, it has signed dozens of diesel generator sets with a power range of 400KW-1000KW. Thanks to Yunxing Group and its subsidiaries for choosing Starlight Power as the supplier again for this diesel generator set procurement project, and thank them for their support to Starlight Power.
The diesel generator set purchased by this user adopts a diesel engine developed and produced by Wuxi Power Engineering Co., Ltd., which has the advantages of high power, low fuel consumption, low noise, low emission, easy start, strong reliability, stable performance, simple operation, and convenient maintenance. Since it was put on the market, it has been well received by users.
Jiangsu Starlight Electricity Equipments Co.,Ltd. is a Chinese diesel generator set OEM manufacturer authorized by Wuxi Power Engineering Co., Ltd. It has more than 40 years of diesel generator set production experience, and can provide various specifications of 30KW-2500KW. High-quality, low-energy-consuming generator sets such as noise and mobile to meet all customers' power needs. For more details, please contact us with sales@dieselgeneratortech.com