Jul. 28, 2022
On September 11, Starlight Power and Hezhou Yibai Hi-Tech Trading Co., Ltd. successfully signed a 500KW Ricardo generator set for the emergency backup power supply of Hezhou Dermatology Prevention and Treatment Institute. The unit adopts Ricardo R series diesel engine, which is a new generation of power jointly developed by Starlight Power and British Ricardo Company. In addition, Starlight Power provides spare parts and services such as 8-hour fuel tank, starting battery, muffler, shock absorber, oil for the first time, installation and debugging, and one-year maintenance.

Hezhou Dermatology Prevention and Treatment Center was founded in 1959 and officially listed as "Wuzhou District Dermatology Prevention and Treatment Center" in 1973. In 1988, with the approval of the Guangxi Health Department, a mental hospital was added, and in 1996, a regional STD prevention and treatment center was established. In 2002, it was renamed as Hezhou Dermatology Prevention and Treatment Institute due to the removal of the land into a city. It is the only city-level skin and STD prevention and treatment institution in Hezhou City. It is mainly responsible for the planning, implementation, guidance and supervision of the city's prevention and treatment of leprosy, skin diseases, venereal diseases, and mental illnesses. Starlight Power is honored to be a qualified supplier of diesel generator sets of Hezhou Dermatology Prevention and Treatment Institute! Thank you Hezhou Yibai Hi-Tech Trading Co., Ltd. and Hezhou Dermatology Hospital for their support and trust in Starlight Power!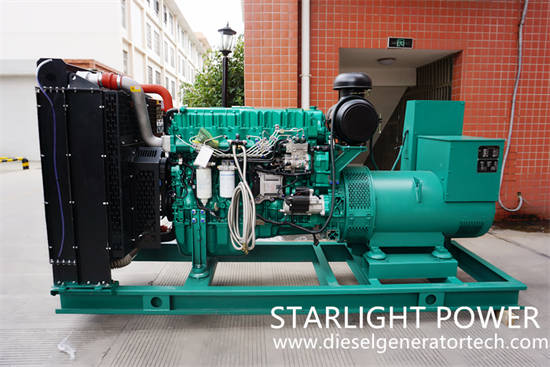 Jiangsu Starlight Electricity Equipments Co.,Ltd. is a manufacturer of professional generators, diesel generator sets, Cummins generator sets, Volvo generator sets, etc. The company has advanced testing equipment, excellent production technology, professional manufacturing technology, perfect quality management system, and Strong R&D technical strength. It can provide 15KW-2500KW various specifications of universal, automatic, four protection, automatic switching, low noise and mobile, etc., high-quality, low-energy generating sets to meet customer power needs, and can also meet users' different voltages and different frequencies, as well as the power supply system of multiple units connected in parallel, welcome customers to inquire. For more details, please contact us with sales@dieselgeneratortech.com.