Jun. 09, 2022
On January 10, Starlight Power and Shanxi Nanfeng Real Estate Development Co., Ltd. successfully signed a 1250KW Yuchai diesel generator set, which is used for emergency backup power supply in AD Times City, Taiyuan, Shanxi.

Shanxi Nanfeng Real Estate Development Co., Ltd. is affiliated to the mainland real estate professional development organization, Nanhai Group, which is affiliated to Hong Kong Hengfeng Group. The core area ofWanbailin District, Shanxi Province, is a large-scale urban complex integrating star-rated hotels, commercial clusters, Grade-A office buildings, and SOHO apartments. Thank you to Shanxi Nanfeng Real Estate Company for choosing Starlight Power as the supplier for this diesel generator set purchase, and thanks to Nanhai Group for its support to Starlight Power.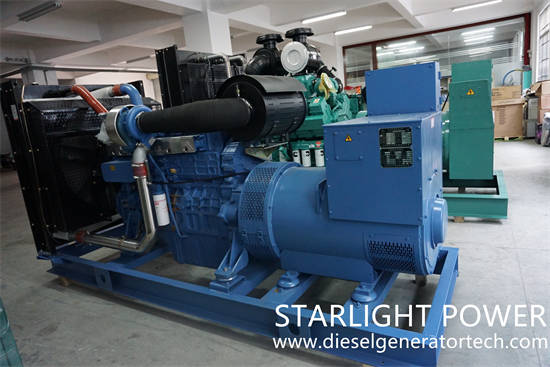 The supporting power of the Yuchai diesel generator set purchased by the user adopts the high-quality diesel engine produced by Yuchai Group. The product has the advantages of compact structure, large power reserve, stable operation, good speed regulation performance, low fuel consumption, low emission and low noise.
Jiangsu Starlight Electricity Equipments Co.,Ltd. is an OEM partner of Shangchai for many years. It has more than 40 years of experience in the production and manufacturing of diesel generator sets. It can provide users with various specifications of 15KW-2500KW. And other high-quality, low-energy generating sets to meet all customers' power needs. In addition, it can also meet the requirements of users with different voltages and different frequencies, as well as the power supply system of multiple units connected to the network. There are 64 sales and service departments nationwide, providing long-term technical consultation, free debugging, free maintenance, and free training services for users. Welcome contact us by email sales@dieselgeneratortech.com.