Starlight Power Successfully Signed A 1000KW Yuchai Generator Set
Jun. 09, 2022
Recently, Starlight Power and China Construction Fifth Engineering Bureau No. 3 Construction Co., Ltd. successfully signed a 1000KW Yuchai generator set, which is used as a backup power source for the Changsha Smart Terminal Industry Double Creation Incubation Base Project. In addition to providing high-quality diesel generator sets, Starlight Power is also responsible for the transportation, hoisting, installation and commissioning, and noise reduction of air intake and exhaust.

China Construction Fifth Bureau Third Construction Co., Ltd. was established in 1971 with a registered capital of 1.5 billion yuan and total assets of 14.453 billion yuan. Its comprehensive strength ranks among the top among many third-level independent legal person enterprises of China State Construction Engineering Corporation (23rd in the Fortune Global 500 in 2018). Thanks to the central large-scale powerful enterprise, China Construction Fifth Bureau Third Company for choosing Starlight Power as the supplier for this diesel generator set procurement project, and thanks to the China Construction Fifth Bureau Third Company for its support and trust in Starlight Power.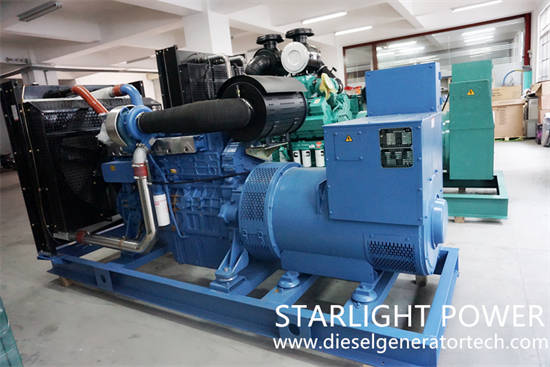 The diesel generator set supplied by Starlight Power this time has the following characteristics: the external spraying part of the unit is subjected to surface pickling treatment, anti-rust spraying, epoxy resin powder electrostatic spraying, etc. It can effectively ensure the reliable quality of the inner and outer coating, and can meet the continuous full load running test for 12 hours without interruption, excessive temperature, and insufficient power output. The continuous output power is stable and can effectively ensure the continuity of power generation. A high-efficiency original shock absorption device is provided between the generator set and the ground, which can meet the performance and shock absorption requirements of the diesel generator set.
Jiangsu Starlight Electricity Equipments Co.,Ltd. has 64 sales and service departments across the country, providing users with one-stop service of design, supply, debugging and maintenance at any time. Looking forward to your inquiry, please send email to us for details sales@dieselgeneratortech.com.