Jan. 16, 2023
Recently, Starlight Power and Nanning China Merchants Huize Real Estate Co., Ltd. successfully signed a contract for the purchase and installation of a 600KW Shangchai diesel generator set. The generator set is equipped with a self-starting and self-stopping device. The motor is made of pure copper wire. It uses a special shock absorber for the generator set, which is stable, reliable, fuel saving and energy saving. It is the guarantee of providing continuous and reliable power for the housing community.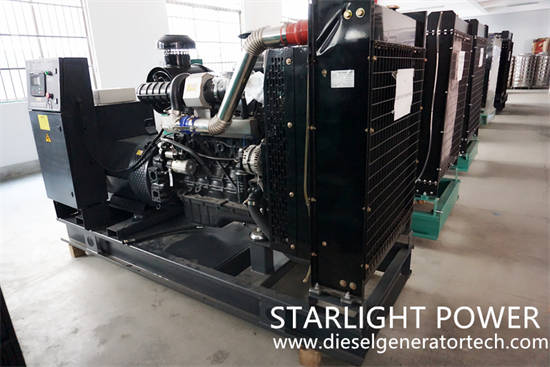 Performance characteristics of Shangchai generator set:
1. Optimize all sealing gaskets to enhance the safety and reliability of diesel engine.
2. Double small pumps and double oil pumps are designed symmetrically to enhance the cooling and lubricating capacity, reduce the shape of water tank and meet the requirements of different ambient temperatures.
3. The drain pipe is changed into a two-stage assembly, the sealing structure is optimized, and the probability of air leakage is reduced. The intake pipe is changed into a casting structure.
4. Redesign the fuel pipeline, optimize the layout of other peripheral pipelines and air filters, protect the design, make the layout reasonable, and make the appearance more industrial design.
5. The expansion and break connecting rod is used to make maintenance more convenient.
To purchase diesel generators, welcome to Starlight Power for consultation. For many years, Starlight Power has relied on high-quality products, good services and the care of friends from all walks of life. Xingguang Power carries forward the spirit of "pragmatic innovation, pioneering, unity and hard work, and dare to be the first", adheres to the serious work policy of "treating people with sincerity and exchanging heart for heart", and wins the strong support of posts and telecommunications, finance, petrochemical, metallurgy, transportation and other aspects. At present, we can provide 15KW-2500KW universal, automatic, four-protection, automatic switching, low noise and mobile generator sets of various specifications, high quality and low energy consumption to meet customers' power demand, and also meet users' requirements of different voltages and frequencies, as well as multiple units' parallel grid-connected power supply system. For more details, please contact us with sales@dieselgeneratortech.com.