Jan. 21, 2022
Recently, Jiangsu Starlight Electricity Equipments Co.,Ltd. and Guangdong Tabai Group Co., Ltd. Jiaoling Branch successfully signed a 600KW Cummins diesel generator set, which is used for backup power supply for production line projects.

Guangdong Tower Group Co., Ltd. is a group company with cement as its main business, and is listed as one of the 60 large-scale enterprises supported by the national cement industry structural adjustment. At present, three major cement production bases have been built in Meizhou, Huizhou, Guangdong, and Longyan, Fujian. The existing cement production scale is 20 million tons, and it has more than 30 wholly-owned, holding and joint-stock concrete enterprises. Thanks to Guangdong Tower Group Co., Ltd. for choosing Starlight Power as the supplier in this diesel generator set procurement project, and thank you to the Tower Group for its support and affirmation to Starlight Power.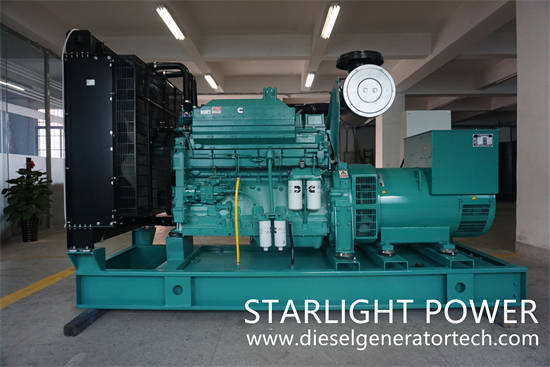 The Cummins diesel generator set purchased by this user is a brand-new, advanced, mature, complete, safe and reliable power supply product produced by Starlight Power. The speed that can output rated power, voltage and frequency can be reached from starting within 15 seconds. In addition, the product also has a good heat dissipation function to meet the normal use in high temperature environment. In terms of after-sales service, Starlight Power provides free repair and replacement of damaged parts. The quality guarantee period is one year after the installation and acceptance, and the product is maintained for life.
Jiangsu Starlight Electricity Equipments Co.,Ltd. is a manufacturer of professional generators, diesel generator sets, Cummins generator sets, Volvo generator sets, etc. The company has advanced testing equipment, excellent production technology, professional manufacturing technology, perfect quality management system, and Strong R&D technical strength. It can provide 15KW-2500KW various specifications of universal, automatic, four protection, automatic switching, low noise and mobile, etc., high-quality, low-energy generating sets to meet customer power needs, and can also meet users' different voltages and different frequencies, as well as the power supply system of multiple units connected in parallel, welcome customers to inquire. For more details, please contact us with sales@dieselgeneratortech.com