May. 31, 2022
Recently, Starlight Power and Zhongtian Construction Group Co., Ltd. successfully signed a 360KW Ricardo diesel generator set for the backup power supply of Guigang Zhongliang·Guobin No. 1 project.

Zhongtian Construction Group Co., Ltd. (referred to as Zhongtian Construction Group) is a modern large-scale enterprise group with distinctive characteristics, mainly engaged in housing construction, real estate development, traffic roads and bridges, and new material development. Zhongtian Construction Group has more than 10 real estate development subsidiaries under its jurisdiction, with an annual development of more than 500,000 square meters of commercial housing. It is a national civilized unit, a national top 500 enterprise, a national top 50 private enterprise, and China's top ten charitable enterprises. Thanks to Zhongtian Construction Group for choosing Starlight Power as the supplier for this diesel generator set procurement project, and thanks to Zhongtian Construction Group for its support to Starlight Power.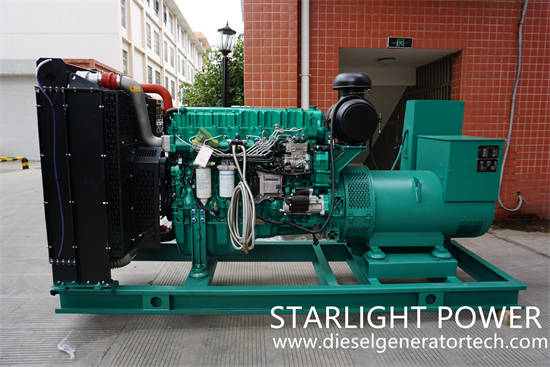 The Ricardo generator purchased by the user this time adopts the R series diesel engine, which is a new generation of power jointly developed by Starlight Power and the British Ricardo Company. The product has the characteristics of low fuel consumption, low noise, low emission, large torque, easy starting, small size, high power, high reliability, and convenient operation and maintenance. In recent years, Starlight Power has learned from others' strong points, constantly digested and absorbed foreign advanced technology. On the basis of the introduction and development of the British Ricardo R series diesel engine, it has successively introduced the Italian Fiat casting technology, the German Hautinger cold core shooting machine, and the German Leidse three. Coordinate measuring instruments and other advanced technology and equipment make the reliability and life of R series diesel engines reach the advanced level of similar products in the world.
Jiangsu Starlight Electricity Equipments Co.,Ltd., as an OEM supporting manufacturer authorized by Cummins to provide Chinese diesel generator sets, has professional manufacturing technology, perfect quality management system and strong R&D technical strength. It can provide users with generator sets of various specifications from 15KW to 2500KW. It can also provide users with one-stop service of design, supply, debugging and maintenance at any time. welcome contact us by email sales@dieselgeneratortech.com.