Jul. 05, 2022
Recently, Starlight Power and China Railway 11th Bureau Group Construction and Installation Engineering Co., Ltd. successfully signed a 600kw and a 800kw Yuchai generator set, both of which are used for the emergency backup power supply of the Zunyi high-speed rail new city project.

China Railway Eleventh Bureau Group Construction and Installation Engineering Co., Ltd. is a wholly-owned subsidiary of China Railway Eleventh Bureau Group, with a registered capital of 1 billion yuan. It has the first-class qualification for general contracting of construction engineering and municipal public works. It also has secondary qualifications for foundation foundation, building electromechanical installation, steel structure, railway, electromechanical engineering general contracting, environmental protection, and fire protection facilities. As well as four-level qualifications for fire protection facilities, surveying and mapping, and commercial blasting. After more than 20 years of development and accumulation, the company has formed a relatively complete qualification system centered on the main business of housing construction. The construction field involves more than 20 provinces, municipalities and autonomous regions across the country. Thanks to China Railway 11th Bureau Group Construction and Installation Engineering Co., Ltd. for its support to Starlight Power!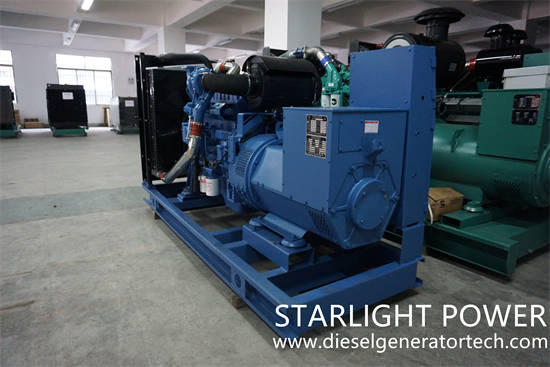 The Yuchai generator set purchased by this user adopts a digital control system and is highly intelligent. It has low vibration, low noise and high reliability. It adopts Yuchai's proprietary piston ring sealing technology, and its lubricating oil consumption is more than 50% lower than that of domestic products with the same power range. It has the advantages of compact structure, convenient operation, stable operation, low fuel consumption, low noise and low emission, and meets the national environmental protection requirements.
Jiangsu Starlight Electricity Equipments Co.,Ltd. is one of the earliest manufacturers of generators and diesel generator sets in China. The company was established in 1974 and the company occupies an area. With an area of 86,000 square meters and a building area of 45,000 square meters, it has 64 sales and service departments across the country to provide users with one-stop service of design, supply, debugging and maintenance at any time. Welcome customers to come to consult and visit. Looking forward to your inquiry, please send email to us for details sales@dieselgeneratortech.com.