Starlight Power Signs Two 400KW Ricardo Generator Sets
Jan. 03, 2023
On September 25, Starlight Power and Guangxi Furui Real Estate Development Co., Ltd. successfully signed a procurement contract for two 400KW Ricardo generator sets. The unit is equipped with Ricardo engine and Starlight dual generator, and the controller brand is Zhongzhi. The service content includes transportation, self starting, self stopping, installation in place, muffler, starting battery, 8-hour stainless steel oil tank, exhaust and smoke exhaust, smoke exhaust pipe (within 6 meters), shock absorber, first filling of engine oil, 100L diesel for commissioning, and a set of accompanying documents. The service content does not include wires, cables and civil engineering.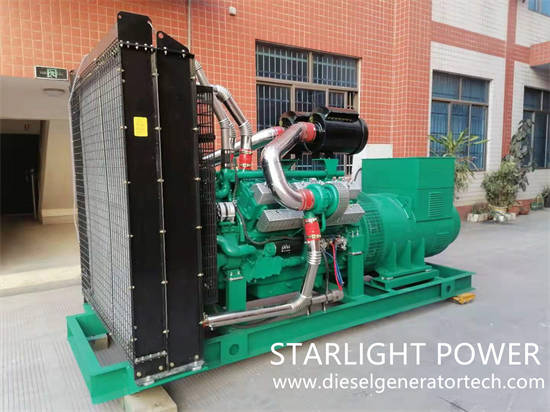 The Ricardo generator set ordered by the user adopts an integral forged steel crankshaft and a high-quality alloy cast iron cylinder head. The whole machine has the features of small volume, light weight, low vibration, low noise, low oil consumption and high reliability, and is popular with users.
Starlight Power has advanced testing equipment, modern production technology, professional manufacturing technology, perfect quality management system, and strong technical research and development capabilities. It can provide 3KW~2500KW various specifications of ordinary, automatic, four protection, automatic switching, low noise and mobile generator sets, high quality and low energy consumption to meet the diverse power needs of customers, and can also meet users with different voltages and different frequencies. It is required to create a parallel power supply system for multiple units. If you are interested in our product or any question on generator, welcome to send email to sales@dieselgeneratortech.com.