May. 09, 2022
On April 16, Starlight Power and China Construction Eighth Bureau Second Construction Co., Ltd. successfully signed a 330KW diesel generator set and a 150KW outdoor rain-proof diesel generator set, both of which are used for education and poverty alleviation in Longzhou County, Nanning (Phase I) Project backup power supply.
China Construction Eighth Bureau Second Construction Co., Ltd. is a construction enterprise with a history of 54 years. It integrates general contracting of housing construction, installation of mechanical and electrical equipment, decoration design and construction, steel structure and municipal construction. It has general contracting for housing construction engineering construction. Special-grade qualifications, the operating areas are distributed in major cities in Shandong, Henan, Guangxi, Jiangsu, Anhui, Gansu, Shaanxi, Jiangxi, Sichuan and other provinces and three municipalities directly under the Central Government, Beijing, Chongqing and Shanghai, with an annual operating scale of nearly 12 billion yuan. After years of precipitation, it has developed into an important backbone enterprise in the construction field. Thanks to China Construction Eighth Bureau Second Construction Co., Ltd. for choosing Starlight Power as the supplier for this diesel generator set procurement project, and thanks for its support and trust in Starlight Power's generator products.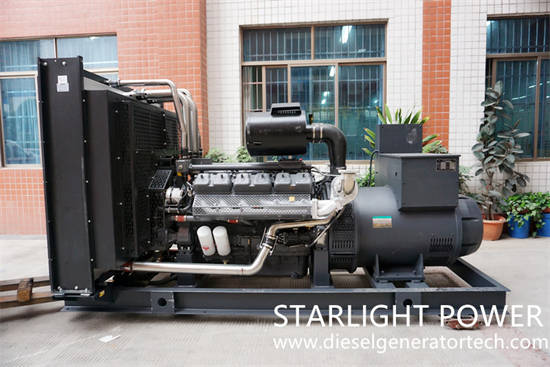 The diesel engines of the two diesel generator sets purchased by the user adopt advanced technologies such as supercharging and intercooling, which have superior performance, compact layout, further enhanced reliability, and effectively improve the emission and noise indicators, thereby improving the operating environment of the diesel engine. The units are all self-starting, including CC intelligent control device (with overload and short-circuit protection device), base oil tank, battery, muffler, vibration reduction device, automatic start line, etc. In terms of specifications, the products meet the design requirements, and meet the "GB/T4712 Classification Requirements for Automatic Diesel Generator Sets" and "GB12786-91 General Technical Standards for Automatic Diesel Generator Sets", which fully meet the supporting requirements of users.
Founded in 1974, Jiangsu Starlight Electricity Equipments Co.,Ltd. is a wholly-owned subsidiary of Jiangsu Starlight Power Group. It is one of the earliest manufacturers of generator sets in China. Starlight Power has 64 sales and service departments, which provide users with long-term technical advice, free debugging, free maintenance, and free training services. Looking forward to your inquiry, for more details, please contact us with sales@dieselgeneratortech.com.