May. 12, 2022
On April 17th, Starlight Power and Guangxi Jinchuan Sunshine City Industrial Co., Ltd. successfully signed two 450KW non-dynamic diesel generator sets, which are used for the supply and installation of diesel generator sets of Nanning Sunshine City Lijingwan Phase 2.2 and Phase 2.3, Guangxi project. It is understood that this is the second cooperation between Guangxi Jinchuan Sunshine City Industrial Co., Ltd. and Starlight Power. In 2014, it purchased a 500KW diesel generator set from Starlight Power for the backup power supply of Nanning Sunshine City Feiliwan Project.

Sunshine City Lijingwan developed by Guangxi Jinchuan Sunshine City Industrial Co., Ltd. is located at the intersection of Nanning ASEAN Business District and Wuxiang Business District, covering an area of 375 mu. Among them, the high-rise residential area is about 480,000 square meters, the commercial area is about 60,000 square meters, and the townhouses are about 55,000 square meters. Thanks to Guangxi Jinchuan Sunshine City Industrial Company for choosing Starlight Power as the supplier again for this diesel generator set purchase, and thanks to Guangxi Jinchuan Sunshine City Industrial Company for its support to Starlight Power.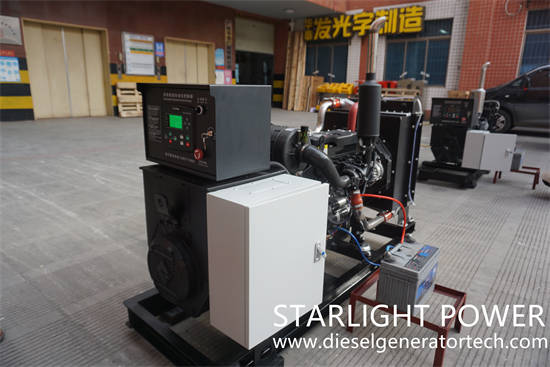 The two 450KW passive diesel generator sets purchased by the user have the advantages of high power, low fuel consumption, low noise, low emission, easy start-up, strong reliability, stable performance, simple operation and convenient maintenance. In addition, Starlight Power also provides the design of the environmental noise reduction project of the generator room, the installation and commissioning of the generator set, the acceptance, the provision of technical data, the technical training and the after-sales maintenance and other services. Really let users "buy with confidence, use with confidence"!
Jiangsu Starlight Electricity Equipments Co.,Ltd. is one of the earliest manufacturers of generators and diesel generator sets in China. The company relies on high-quality products and good services. It has been widely recognized by users in many fields. At present, it can provide various specifications of diesel generator sets in the power range of 15KW-2500KW. For more details, please contact us with sales@dieselgeneratortech.com.