Mar. 09, 2022
Recently, Starlight Power and Changzhou Jihe Machinery Co., Ltd. successfully signed two sets of 300KW Chongqing Cummins diesel generator sets for export to Iraq projects, and will be delivered to Shanghai port on August 2. The generator coil of the unit is made of copper wire and is equipped with wearing parts for one year, including 4 sets of "three filters" for each unit, starting batteries, mufflers, silent boxes and so on. In addition, Starlight Power also provides one year or 1000 hours of operation (first come) warranty service.

Changzhou Jihe Machinery Co., Ltd. was established in 2012 with a registered capital of 1 million yuan. It mainly deals in diesel engine parts, agricultural machinery, agricultural metal tools, CNC machine tools, auto parts, iron castings, amplifier vests, railway equipment and accessories, sales of wood products, plastic products, rubber products, metal products and metal materials, mold processing and sales, self-operated and agency import and export business of various commodities and technologies, etc. Good products and technical support, sound after-sales service. Thanks to Changzhou Jihe Machinery Co., Ltd. for choosing Starlight Power as the supplier in this diesel generator set procurement project, and thanks to Changzhou Jihe Machinery Co., Ltd. for its support to Starlight Power.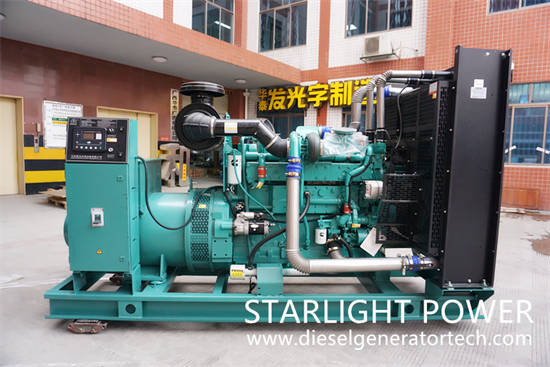 The Sino-US joint venture Chongqing Cummins diesel generator set purchased by the user has the characteristics of small size, light weight, low fuel consumption, high power, reliable operation, convenient spare parts supply and maintenance, and its reliable stability, economy, power and durability. And environmental safety and global three-guarantee service are welcomed by users at home and abroad.
Jiangsu Starlight Electricity Equipments Co.,Ltd. is one of the earliest manufacturers of generating sets in China. It has first-class testing equipment, advanced production technology, professional manufacturing technology, perfect quality management system, and strong R&D technical strength. It can provide 3KW-2500KW various specifications of universal, automatic, four protection, automatic switching, low noise and mobile, etc., high-quality, low-energy generating sets to meet all customers' power needs, and can also meet users' different voltages and different frequency requirements, as well as the parallel-connected power supply system of multiple units, use excellent talents to build excellent enterprises, create excellent products, create excellent services, and strive to build excellent domestic enterprises. For more product details, please contact us with sales@dieselgeneratortech.com