Aug. 12, 2021
On September 24, 2020, Jiangsu Starlight Electricity Equipments Co.,Ltd. and Shanghai Dianke Intelligent Co., Ltd. successfully signed four Cummins diesel generator sets. It is reported that these four generator sets will all be used in the YED3 contract section of the Sanming area of Puyan Expressway from Youxi Zhongxian to Jianning.

The business of Shanghai Dianke Intelligent System Co., Ltd. covers smart traffic management, smart highway, smart public transportation, smart municipal, big data research and development applications, etc. The company has a number of first-level qualifications issued by the ministry of construction, the ministry of transport and other competent authorities, and has industry-leading smart city related expertise and strong scientific research strength, the company is responsible for the YED3 contract section of the Puyan expressway from Youxi Zhongxian to Jianning Lixin Section of the Sanming expressway. The starting point of the same section of the project is the Huakou Hub Interchange, and the end point is the Dongjiafang Hub Interchange, with a total length of 188.535 kilometers. It is an important part of the national expressway. It is the northwestern area of Fujian Province leading to the coastal cities of Fujian Province and Jiangxi Province and other inland provinces and cities important fast track.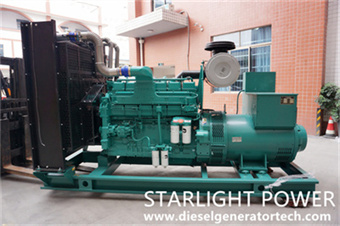 The four diesel generator sets purchased by the user this time are two 250KW Cummins diesel generator sets and two 300KW diesel generator sets. Cummins is a company that designs, produces and sells diesel engines and CNG engines in the world today. Cummins engine has the advantages of small size, light weight, low fuel consumption, high power, reliable work, convenient parts supply and maintenance, etc. It has better performance, better quality and more guaranteed service among similar products, so it is well received by users.
Jiangsu Starlight Electricity Equipments Co.,Ltd., as an OEM supporting manufacturer authorized by Cummins to provide Chinese diesel generator sets, has professional manufacturing technology, perfect quality management system and strong R&D technical strength. It can provide users with generator sets of various specifications from 15KW to 2500KW. It can also provide users with one-stop service of design, supply, debugging and maintenance at any time. welcome contact us by email sales@dieselgeneratortech.com