Jul. 29, 2022
Recently, Jiangsu Starlight Electricity Equipments Co.,Ltd. and Xinjiang Beixin Road and Bridge Group Co., Ltd. successfully signed 9 diesel generator sets, including 3 150KW units, 1 160KW unit and 2 220KW units. 1 250KW unit, 1 300KW unit, 1 400KW unit. The total turnover amounted to more than 1 million. These nine units are used for emergency backup power supply of Fujian Shunshao Expressway Project.

Xinjiang Beixin Road and Bridge Group Co., Ltd. was established on August 7, 2001 with a registered capital of 560 million yuan. It is a state-owned listed enterprise controlled by XPCC and its main business is "road and bridge construction". It has five business divisions and dozens of holding (participating) companies under its jurisdiction, with more than 3,000 employees. The group has the first-level general contracting of highway engineering construction, the first-level professional contracting of highway pavement engineering, the first-level professional contracting of highway subgrade engineering, the first-level professional contracting of bridge engineering, the second-level general contracting of municipal public works construction. Thanks to Beixin Road and Bridge Group for choosing Starlight Power as the supplier in this diesel generator set procurement project, and thanks to Beixin Road and Bridge Group for its support to Starlight Power!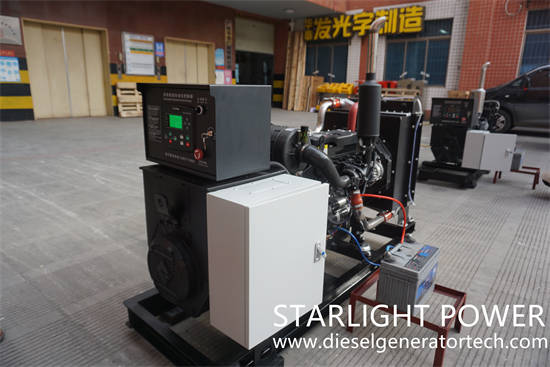 The diesel generator sets purchased by the user are complete sets, including the generator set main engine, fuel system (including fuel tank), cooling system (water tank), exhaust system (including muffler, elbow, bellows, etc.), battery pack ( Including battery cable, charger, etc.), foundation, shutters, 1000L oil quantity, installation accessories, etc. The product meets the standard. In addition, Starlight Power also provides value-added services such as pure spare parts for diesel generator sets, technical consultation, installation guidance, free commissioning, free maintenance, unit transformation and personnel training, so that users can buy and use with confidence.
Jiangsu Starlight Power Generation Equipment Co., Ltd. was founded in 1974 and is one of the earliest manufacturers of generators and diesel generator sets in China. The company has a registered capital of 218.88 million yuan. The company covers an area of 86,000 square meters and a building area of 55,000 square meters. There are more than 660 employees, including 456 professional technicians and 106 senior technicians. It has 46 sales and service outlets nationwide. The main products are diesel engines, generator sets, and diesel generators, providing users with a one-stop service of design, supply, debugging and maintenance at any time. Starlight has always insisted on using first-class talents, building first-class enterprises, manufacturing first-class products, creating first-class services, and making every effort to build a first-class domestic enterprise. If any question please feel free to visit our website https://www.dieselgeneratortech.com/ or send email to sales@dieselgeneratortech.com.