Jul. 06, 2022
On November 10, 2021, Starlight Power and Guangzhou Xinhonghua Trading Co., Ltd. successfully signed a 600KW silent van Cummins diesel generator set for export to Ethiopia.

Ethiopia is a northeastern African country with a 3,000-year-old civilization. The capital is Addis Ababa, and its economy is mainly based on agriculture and animal husbandry. It is adjacent to Djibouti and Somalia to the east, Sudan and South Sudan to the west, Kenya to the south, and Eritrea to the north. The plateau occupies 2/3 of the country's area, with an average altitude of nearly 3,000 meters, known as the "Roof of Africa".
It is understood that the customer initially negotiated with Starlight Power in July 2021. After two months of repeated communication, Starlight Power finally won the trust of the customer. In addition, the customer also ordered a 500kw and 1000kw silent van-type Cummins generator set from Starlight Power. Thank you Ethiopian customers for their strong support to Starlight Power!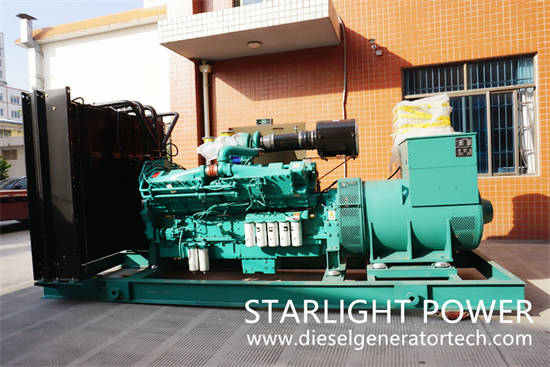 The brand of the unit ordered by this customer is Cummins. Cummins is the world's largest enterprise that designs, manufactures and sells diesel engines and compressed natural gas engines. It has invested more than 140 million US dollars in China. As the largest foreign investor in China's engine industry, Cummins has eight joint-venture and wholly-owned manufacturing enterprises in China, among which Dongfeng Cummins produces B, C and L series diesel engines, and Chongqing Cummins produces M, N and K series diesel engines. The products comply with ISO 3046, ISO 4001, ISO 8525, IEC 34-1, GB1105, GB/T 2820, CSH 22-2, VDE 0530 and YD/T 502-2000 "Technical Requirements for Diesel Generator Sets for Communication" and other standards.
As an OEM manufacturer of diesel generator sets authorized by Cummins, Starlight Power produces Cummins generator sets with high quality, low fuel consumption, low noise, high output power, guaranteed performance, and reliable stability, economy, power and durability. If you still have questions, please contact Jiangsu Starlight Electricity Equipments Co.,Ltd. We will provide you with a professional diesel generator purchase guide and configure a suitable diesel generator set for you. Looking forward to your inquiry, please send email to us for details sales@dieselgeneratortech.com.