Mar. 15, 2022
Recently, Starlight Power and Hunan Industrial Equipment Installation Co., Ltd. successfully signed a 400KW imported silent box-type Perkins diesel generator set. This unit is used for the emergency backup power supply for the project of increasing capital and expanding the annual output of 116,280 units of nickel-metal hydride power battery modules for vehicles in Xiang'an Seventh Branch.

It is understood that Hunan Industrial Equipment Installation Co., Ltd. is affiliated to Hunan Construction Engineering Group Co., Ltd., founded in 1958, a state-owned legal person sole proprietorship company, with a registered capital of 1.5 billion yuan. It is a national large-scale comprehensive construction enterprise and a national high-tech enterprise. It has mechanical and electrical engineering, electric power engineering, metallurgical engineering, construction engineering, municipal public works, petrochemical engineering six construction general contracting qualifications and so on.
The company has more than 3,200 employees, including 160 senior titles, 740 intermediate titles, and 300 first-level construction engineers. It has 20 branches, located in Hunan, Shanghai, Suzhou, Shenzhen and other places, and has 10 holding companies. Involving real estate development, pressure vessel production and installation, property management, testing and debugging and other related industries, it is one of the most comprehensive building installation and construction enterprises with the strongest comprehensive strength and the largest scale in China, with an annual output value of more than 8 billion yuan.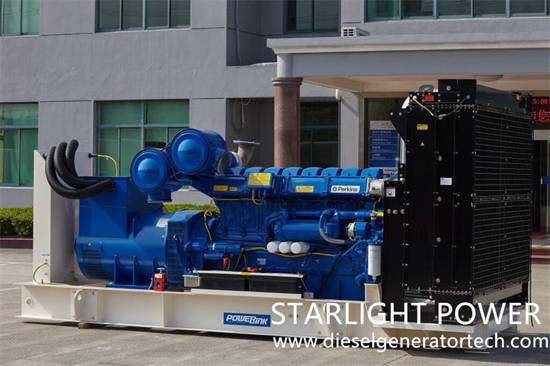 Starlight Power is very honored to be the supplier of the diesel generator set procurement project of Hunan Industrial Equipment Installation Company. Thanks to Hunan Industrial Equipment Installation Company for its support to Starlight Power.
The Perkins diesel generator set purchased by the user adopts the British Perkins diesel engine produced by the British Perkins (Perkins) Engine Co., Ltd., and is equipped with a starlight generator. The product has the advantages of excellent shock absorption performance, low noise, low vibration, low fuel and oil consumption rate, long operating life, long overhaul time, advanced control system, etc. It has high emission standards, high economy, high stability and high reliability. Features such as sex are favored by users.
Founded in 1974, Jiangsu Starlight Electricity Equipments Co.,Ltd., as an OEM supporting manufacturer authorized by Cummins to provide Chinese diesel generator sets, has professional manufacturing technology, perfect quality management system and strong R&D technical strength. It can provide users with generator sets of various specifications from 15KW to 2500KW. It can also provide users with one-stop service of design, supply, debugging and maintenance at any time. welcome contact us by email sales@dieselgeneratortech.com