Jul. 11, 2022
On June 21, 2022, Starlight Power and Nanning Ronghe Hyde Real Estate Development Co., Ltd., a subsidiary of Ronghe Group, successfully signed a 1088KW non-dynamic diesel generator set, which is used for the emergency backup power supply of the Ronghe Wuxiang Yard A plot. In addition, Starlight Power is also responsible for the environmental protection construction of smoke exhaust and noise reduction in the computer room of the project.

Ronghe Wuxiang Courtyard is located at No. 25, South Jinliang Road, Pingle Avenue, Wuxiang New District, Nanning. The project covers a total area of 168 mu. The total planning is about 28 mu of high-rise residential buildings, with a plot ratio of 2.5, a green space ratio of 35%, and a parking space ratio of 1:0.9. It is understood that Ronghe Hyde Real Estate previously purchased a 640KW Shangchai generator set from Starlight Power in January 2022 for the backup power supply of the Ronghe Wuxiang University and Institute project.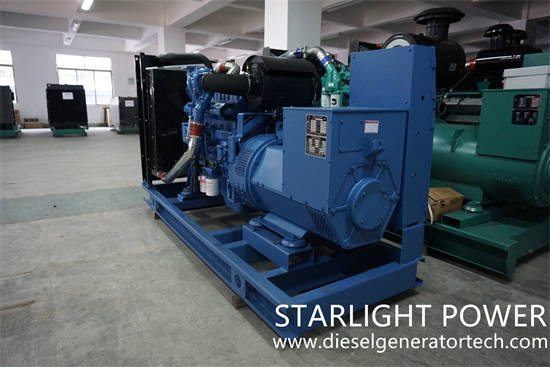 Starlight Power is the strategic partner of Ronghe Group for 2021-2023 diesel generator sets. Since 2012, they have maintained long-term friendly cooperation. Ronghe Group has purchased dozens of diesel generator sets from Starlight Power, ranging from 200KW to 1088KW. Thanks to Ronghe Group and its subsidiary Ronghe Hyde Properties for continuing to choose Starlight Power as the supplier for this non-dynamic diesel generator set procurement project, and thanks to Ronghe Group and Ronghe Hyde Properties for their support and trust in Starlight Power!
The supporting power of the 1088KW passive diesel generator set purchased by the user is the WD360TAD120 passive diesel engine produced by Wuxi Power Engineering Co., Ltd., and the generator is the Inge generator produced by Inger Yangjiang Electric Co., Ltd. The product has the advantages of high power, low fuel consumption, low noise, low emission, easy to start, strong reliability, stable performance, simple operation and convenient maintenance.
Founded in 1974, Jiangsu Starlight Electricity Equipments Co.,Ltd. is a wholly-owned subsidiary of Jiangsu Starlight Power Group. It is one of the earliest manufacturers of generator sets in China. Starlight Power has 64 sales and service departments, which provide users with long-term technical advice, free debugging, free maintenance, and free training services. Looking forward to your inquiry, for more details, please contact us with sales@dieselgeneratortech.com.