Nov. 12, 2021
On April 13, 2021, Jiangsu Starlight Electricity Equipments Co.,Ltd. and Guilin Aerospace Electronics Co., Ltd. successfully signed an 800KW Yuchai silent box-type diesel generator set, which is used for emergency backup power supply of your organization.

Guilin Aerospace Electronics Co., Ltd. (China Aerospace Science and Technology Corporation Ninth Research Institute 165 Plant) is a core enterprise in the development and manufacturing of high-reliability electromechanical components (components) in China. It is located in Guilin, China, with more than 50 An aerospace company with a history of more than one year, mainly produces and operates relays (electromagnetic relays, solid state relays, time-delay relays, special relays, microwave relays), electrical connectors, special switches, functional control components and other products. The products are widely used in aerospace, aviation, weapons, ships, electronics and industrial automatic control fields. Thank you very much for Guilin Aerospace Electronics Co., Ltd. for choosing Starlight Power as the supplier for this diesel generator set procurement project, and thank Aerospace Electronics for supporting Starlight Power.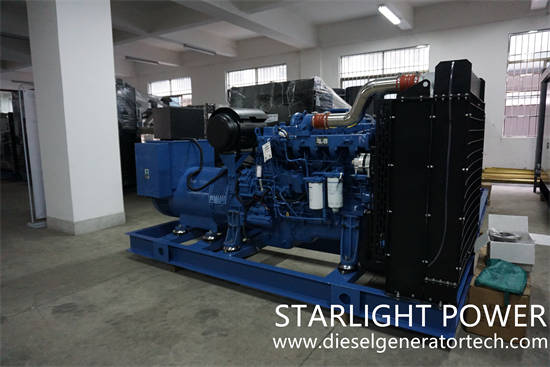 "Energy saving, emission reduction, green manufacturing" has always been advocated by people. The diesel generator set purchased by the user this time uses a diesel engine produced by Yuchai. Yuchai began to develop and produce six-cylinder diesel engines in 1981. The stable and reliable quality has won the favor of users and has been listed as an energy-saving product by the country, confirming the brand status of "Yuchi Machinery, Ace Power". The product has the advantages of compact structure, large power reserve, stable operation, good speed regulation performance, low fuel consumption, low emissions, low noise, etc., and is widely used in military, civilian, marine and other fields. In addition, the silent box configured by Starlight Power for aerospace electronics adopts noise reduction technologies such as vibration isolation, silencing, sound insulation, and sound absorption. The noise level can reach below 80 points (dB). It has significant low noise performance and has multiple shielding impedances. Mismatched sound insulation cover reduces the impact of noise on users.
Jiangsu Starlight Electricity Equipments Co.,Ltd. is a diesel generator set manufacturer with more than 40 years of production experience. Its main brands include Yuchai generator sets, Cummins generator sets, Volvo generator sets, etc., and 64 sales and service departments nationwide. Users provide one-stop service of design, supply, debugging and maintenance. Welcome contact us by email sales@dieselgeneratortech.com