Nov. 26, 2021
On March 2, Jiangsu Starlight Electricity Equipments Co.,Ltd. and Nanning Yiwen Real Estate Development Co., Ltd., a subsidiary of Xincheng Holding Group, successfully signed a 630KW and 400KW non-moving diesel generator set, both of which are used for emergency backup power supply for Nanning Xincheng Yuejun Fenghua Project. In addition, Jiangsu Starlight Electricity Equipments Co.,Ltd. is also responsible for the environmental protection and noise reduction project of the generator room of the project.

The Xincheng·Yuejun Fenghua project covers an area of 98 acres and has a plot ratio of 3.0. It is an American-style metropolitan quality community built by Xincheng Holding Group next to Wandamao, Wuxiang East, Nanning. Founded in 1993, Xincheng Holding Group is a comprehensive operator of China's first-tier powerful brand cities. After 26 years of rapid development, New Town Holdings Group has become a comprehensive real estate group that spans residential real estate and commercial real estate. It has been among the top 20 in China's real estate industry for ten consecutive years. Its current total assets exceed RMB 290 billion. Thank you Xincheng Holding Group for choosing Starlight Power as the supplier for this generator procurement project, and thank Xincheng Holding Group and its subsidiary Nanning Yiwen Real Estate for their support to Starlight Power.
The diesel generator set purchased by the user this time has the advantages of high power, low fuel consumption, low noise, low emission, easy start, strong reliability, stable performance, simple operation and convenient maintenance. In terms of intelligent and humanized design, the unit can realize various control functions such as automatic start, automatic input, automatic withdrawal, automatic shutdown, automatic protection, and automatic paralleling.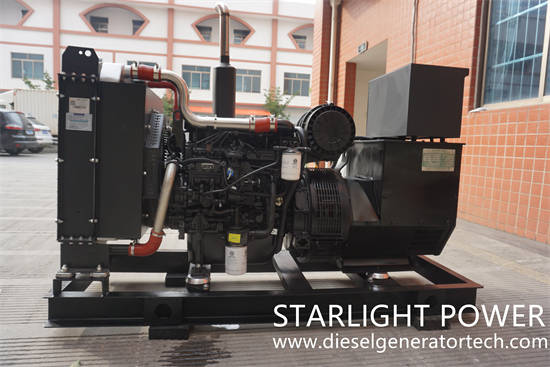 For example, when the mains power is interrupted, the unit can be started immediately, and can be put into normal full-load operation within 15 seconds, and it is in a stable state, after the mains returns to normal for 10 seconds to 30 seconds, the load is automatically converted to mains, the unit continues idling and will automatically stop after about 300 seconds. When the voltage exceeds the range, the frequency exceeds the range, the oil pressure is low, overcurrent, the cooling water temperature is high/low, under/over speed, three automatic start failures, low fuel and other abnormal conditions. It can realize automatic shutdown protection, and has sound and light alarm function.
Jiangsu Starlight Electricity Equipments Co.,Ltd. is a professional manufacturer of generators, diesel generator sets, Shangchai generator sets, Volvo generator sets, etc. It has 64 sales and service departments, and provides users with one-stop service of design, supply, debugging and maintenance at any time. Welcome the majority of users call for consultation. For more details, please contact us with sales@dieselgeneratortech.com