Apr. 07, 2022
On June 14, 2021, Starlight Power and Fujian Mengzheng Biotechnology Co., Ltd. successfully signed a 500KW Chongqing Cummins diesel generator set. This unit is used for emergency backup power supply of your unit. The unit has the function of self-start and self-stop, and has reliable stability, economy, power, durability and environmental safety, which can greatly meet the needs of users for emergency power consumption. In addition, Starlight Power's product warranty period implements three-guarantee service, one year warranty or 1000 hours of operation (from the date of completion of equipment commissioning and acceptance), whichever comes first, and implements a lifetime service system.

Fujian Mengzheng Biotechnology Co., Ltd. was established on May 29, 2018 with a registered capital of 72 million yuan. The project is divided into two blocks A and B. It is planned to build glucosamine hydrochloride, L-alanine, methylglycine Diacetic acid, chitin, vitamin series products, chitosan, N-acetyl, chondroitin sulfate, arginine, tryptophan, p-toluenesulfonyl chloride and derivatives, beta carotene and other product lines. Based on the introduction of domestic and foreign advanced biological production technology, the company integrates high technology and modern management, advocates scientific health preservation, healthy diet, green production of biological products, energy saving and emission reduction, and focuses on ecological environmental protection. Green development of chemical, pharmaceutical, health care products, food additives, and feed additives industries. Thanks to Fujian Mengzheng Biotechnology Co., Ltd. for choosing Starlight Power as the supplier for this diesel generator set procurement project, and thanks to Fujian Mengzheng Biotechnology Co., Ltd. for its support to Starlight Power.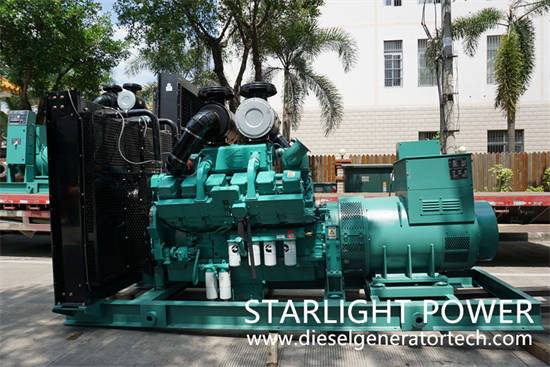 Founded in 1974, Jiangsu Starlight Electricity Equipments Co.,Ltd. is a professional manufacturer of generators and diesel generator sets. It is one of the earliest manufacturers of generators and diesel generator sets in China. The company has first-class inspection equipment, advanced production technology, professional manufacturing technology, to provide you with 3KW-2500KW various specifications of popular, automatic, four protection, automatic switching, low noise and mobile, etc., high quality, low energy consumption. The generator sets can meet all the power needs of customers, and can also meet the requirements of users with different voltages and frequencies, as well as multiple parallel-connected grid-connected power supply systems. For more details, please feel free to visit our website https://www.dieselgeneratortech.com/ or send email to sales@dieselgeneratortech.com.